There are many benefits that the VA offers to veterans. Being in a VFW Post exposes one to many other veterans whose wealth of experience can be useful; plus, the Post has a Service Officer who specializes in working with veterans on their VA Claims.
The Post Commander himself has benefited greatly from the VA. Following is the list of the various services he has received from the VA, and that benefitted him, that may be of interest to other veterans:
· VA Home loan - got him into a house with no downpayment
· Never had to pay PMI (Private Mortgage Insurance)
· GI Bill --- paid (tuition & books) for Grad school (MBA @ Georgia State --- Summa Cum Laude)
· Had both knees replaced by a top surgeon (Dr. Howard Chansky*) --- both knees are great
· Had cataract surgery in both eyes; now has excellent vision & no longer needs reading glasses
· Had right hip replacement (again Dr. Howard Chansky) - right hip is great
Total cost to the Post Commander for all the above was less than $1,000 (for take-home medications).
* Dr. Howard Chansky is the Chair of the Department of Orthopedics and Sports Medicine @ the University of Washington (UW). He specializes in Knee Replacement & Hip Replacement surgeries. In 2019 he was, and still does, work at the Seattle VA Hospital twice a week. Reportedly he has done well over 1,000 surgeries in his 31 years of experience.
The Post Commander is delighted with the results of both knee replacements and the right hip replacement. No stress and no pain.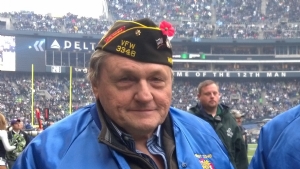 Commander, Carl "Chris" Christophersen
Blackburn Aurora VFW Post 3348
# # #