Coronavirus (COVID-19) Relief Bill Contains Nearly $20 Billion for Veterans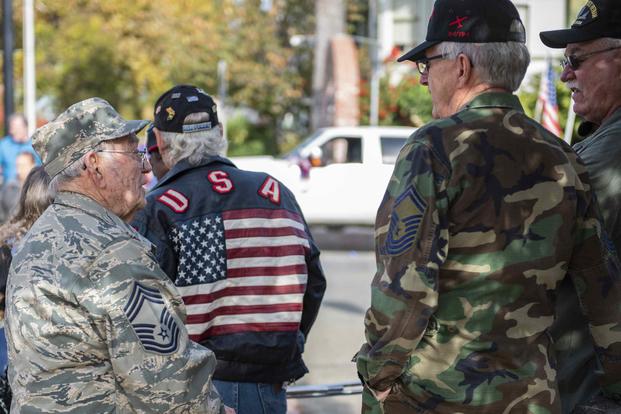 Two retired Chief Master Sergeants talk with each other during the 17th Annual Yuba-Sutter Veterans Day Parade in Marysville, California, November 11, 2019. (U.S. Air Force/Airman Jason W. Cochran)
March 26, 2020 --- Military.com | By Patricia Kime
The massive $330 billion coronavirus relief bill expected to be approved Wednesday (March 5, 2020) by the Senate contains $19.57 billion for the Department of Veterans Affairs (VA) to ensure that veterans are receiving the care they need during the current pandemic.
Senate Appropriations Committee Vice Chairman Senator Patrick Leahy, Democrat-Vermont, reported that $15.85 billion of the VA-marked funds will go to the VA to cover treatment for veterans with COVID-19 at VA hospitals, civilian urgent care clinics and emergency rooms. The funds are to be used for overtime for staff, personal protective equipment, test kits and other resources.
Another large portion of the bill -- $3.1 billion -- will go to building infrastructure for veterans care, including equipping and staffing for temporary hospitals, clinics and mobile treatment centers, and for remodeling existing facilities, including state-run veterans homes, to isolate and care for veterans with the highly contagious illness.
Funding also will go to support VA information technology networks to ensure they can handle the increase of telemedicine services needed as more routine appointments become virtual visits. The bill also includes provisions for the VA to enter agreements with telecommunications companies to give veterans better access to high-speed internet. That would allow vets to get mental health counseling remotely through telehealth during the crisis.
Related: Navy Is Hardest-Hit Service in Coronavirus Outbreak
The funding is in addition to a $150 billion coronavirus relief fund for State, local and tribal governments for additional resources for the pandemic. U.S. Senate Minority Leader Senator Chuck Schumer, Democrat-New York, called the massive infusion of money into the nation's hospitals and clinics a "Marshall Plan" for the U.S. health system.
In a letter sent to fellow senators, Schumer praised the negotiations that led to $150 billion being marked for the system. "We cannot begin to heal our economy until we can turn the tide against the COVID-19 pandemic. As a result of our negotiations, the amount of funding for hospitals and medical facilities has greatly -- greatly -- increased," Schumer said.
The proposed legislation seeks to help vulnerable veterans, including those who are homeless and susceptible to contracting the coronavirus, and families and veterans receiving support services, grants or per diem, allotting $590 million for them. "This funding will help veterans get treatment and provide support for those who are homeless or at risk of eviction," according to Leahy's release.
"Funding is also included for keeping veterans within VA-run nursing homes and community living centers safe from coronavirus." For VA health care providers working overtime, the bill temporarily lifts salary caps to ensure workers get paid for every hour worked.
The bill also:
· Ensures that home health care workers have personal protective equipment and necessary equipment to protect veterans and themselves.
· Lifts some restrictions on accessing VA health services, to include telephone enrollment and renewals and waivers for late paperwork.
· Allows veterans with limb loss who need help with their prosthetics to see a community provider during the pandemic.
· Allows the VA to consider providing pensions or other income-related benefits to veterans and family members, even if other emergency funding benefits place them over VA income thresholds.
As of March 24, 2020 --- 296 veterans under the VA health care system tested positive for COVID-19. This includes at least 60 housed in VA hospitals, 2 in VA nursing homes and 3 in community hospitals. Four veterans have died as a result of coronavirus infections.
Leahy said legislation is just the start of a response that will "come in phases" over the coming months. "Today our response is providing direct assistance to the American people, injecting new resources where they are needed most, and moving our country a step closer to emerging from this crisis stronger than we were before," he said.
===============
Why the Navy's Hospital Ship Mercy Is Going to L.A. Instead of Washington State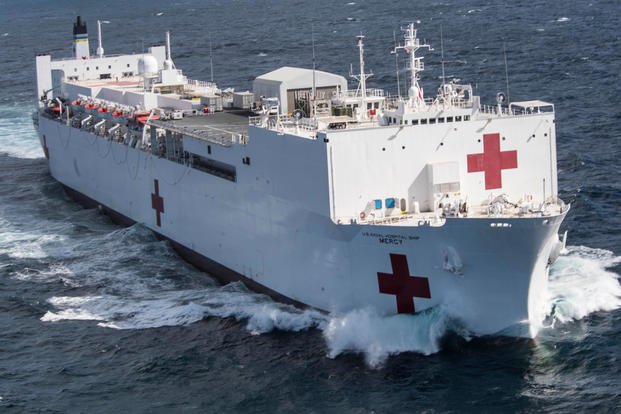 Military Sealift Command hospital ship USNS Mercy (T-AH 19) departs Naval Base San Diego in support of Pacific Partnership 2018 (PP18), February 23, 2018. (U.S. Navy photo/Kelsey L. Adams)
March 24, 2020 --- Military.com | By Gina Harkins
The U.S. Navy's West Coast hospital ship will leave San Diego and head north --- 125 miles up the coast to Los Angeles, where it will help relieve demands on local hospitals during the coronavirus crisis.
It's one of two 1,000-bed Navy hospital ships that will deploy to a U.S. city as the country braces for medical facilities to be taxed by rising numbers of critical COVID-19 patients. And even though Washington State has seen the highest number of West Coast coronavirus cases, officials say California is going to need the hospital ship Mercy more in coming days and weeks.
"Even though there are more cases right now in Washington State, the projected needs for beds in California is 5 times more than that of Washington," Pete Gaynor, the Federal Emergency Management Agency's administrator said. Washington was the 1st State in the U.S. to report a coronavirus case in January 2020. Since then, the State has been hit hard by the virus, reporting nearly 2,000 cases and 95 deaths due to the fast-spreading illness.
Now, analysis is showing the demand for medical care will be higher in California, Gaynor said. The Mercy will leave Naval Base San Diego on Monday (March 24, 2020) with more than 800 U.S. Navy medical personnel and support staff, according to a news release from 3rd Fleet. Once in L.A., it will treat non-coronavirus patients.
"This will allow local health professionals to focus on treating COVID-19 patients and for shore-based hospitals to use their intensive-care units and ventilators for those patients," the release states. The Navy's East Coast hospital ship, the Comfort, will go to New York. But that isn't expected to happen for weeks as the ship undergoes maintenance in Virginia.
New York has nearly 17,000 coronavirus cases, and Governor Andrew Cuomo is pleading for the U.S. Army Corps of Engineers to begin construction on hospitals there, as experts warn the state's system will become overwhelmed.
California Governor Gavin Newsom last weekend asked Trump to stage the Mercy in the Port of Los Angeles through September 1, 2020. "Our state and health care delivery system are significantly impacted by the rapid increase of COVID-19 cases," he wrote in a March 18, 2020 letter to Trump. "... We project that roughly 56% of our population -- 25.5 million people -- will be infected with the virus over an 8-week period."
===============
Doctor with protective gloves holding a ventilator mask.
March 22, 2020--- USA Today
'Trying to be prepared' in Seattle, home of Patient One
Respiratory therapists, who take care of patients who struggle to breathe, are aware of the pressures that comes from a swift, sudden need for ventilators. "This is something that we have thought about most of our careers," said Carl Hinkson, Director of Providence Regional Medical Center's pulmonary service line.
Providence, in Snohomish County just north of Seattle, treated the nation's 1st known patient with COVID-19, a 35-year-old man who became ill in January after returning from Wuhan, China. The hospital brought the man to health through a combination of oxygen and medications.
An ambulance waits outside the Life Care Center of Kirkland, WA during the Coronavirus (COVID-19) outbreak
Providence has a roster of 44 ventilators, and the staff is "using a good portion of that capacity right now," Hinkson said. Still, Hinkson is optimistic his hospital can handle a surge of COVID-19 patients. His staff has worked long hours, but the hospital contracted with a private company that provides traveling respiratory therapists on a temporary basis. It allowed Hinkson to give time off to one therapist who worked 20 of the last 24 days.
Hinkson is aware of the hard decisions doctors in Italy are making about how to prioritize treatment of desperately ill patients. "We've done a good job of planning and trying to be prepared so that we will avoid those problems," Hinkson said. "Planning and social distancing should help us not having to make those decisions."
'First come, first served doesn't hold true'
Government public health experts have planned for a scenario in which there are too many patients and too few ventilators. In a July 2011 report completed by a U.S. Centers for Disease Control and Prevention (CDC) ethics subcommittee, planners said the "principle of sickest first" for critical care might no longer apply during a severe pandemic because it "may lead to resources being used by patients who ultimately are too sick to survive."
When there's a severe shortage of life-saving medical resources "priority is given to those who are most likely to recover," the report said. Medics in war, for example, might first treat wounded soldiers more likely to return to health. Or emergency workers managing a cholera outbreak in a refugee camp will first give limited IV fluids to moderately dehydrated people because they are more likely to recover than sicker patients.
When these decisions have to be made, however, "health care workers should be the top priority," Emanuel said, because they "save other people and put themselves purposely in harm's way to save others." The goal is to "save the most lives and the most life years," he said. "First come, first served doesn't hold true. It's not because you're not a worthy person."
The Italian College of Anesthesia, Analgesia, Resuscitation and Intensive Care published guidelines for doctors on how to manage the crisis currently gripping the nation. If faced with a scarcity of resources, doctors are told to consider prioritizing treatment for healthy individuals under the age of 80. Stefano Fagiuoli, a doctor at a hospital in Bergamo, said his hospital needs doctors, nurses, ventilators and protective gear.
A USA TODAY analysis of cases found that 2 weeks after cases began to spread in U.S. communities, America's trajectory is similar to Italy's over the same period. U.S. public health officials hope to avoid a similar skyrocketing of cases through aggressive measures encouraging social distancing and discouraging large gatherings.
"There's going to be a very rough road in the weeks and months ahead of us," Francis Collins, director of the National Institutes of Health told USA TODAY. Italy is "trying to manage the situation and make awful decisions about who gets a ventilator and who doesn't. God help us if this happens more broadly across the world and we certainly hope that it doesn't happen here."
'Nobody is going to have an unlimited claim on a limited resource'
Nancy Berlinger is a research scholar at the Hastings Center in Garrison, NY, and put together an ethics guide for health care organizations treating coronavirus patients. Berlinger said medical workers and family members often must make difficult choices during non-emergency times involving end-of-life care, such as whether a dying person should be put on a ventilator to temporarily extend life.
But a pandemic involving an infectious disease brings many other factors into play, she said. With COVID-19, hospitals don't yet have a vaccine or proven medications to halt the disease, so they must support people with breathing machines to give their immune systems time to recover and fight the virus.
Because hospitals might face a crush of patients with the same breathing problems at the same time, beds and ventilators may not be available to care for everyone. Hospitals might need to decide which patients are more likely to recover. Or a patient's time on a ventilator could be limited to allow treatment for others.
"First come, first served is not the best way to make decisions about access to care," Berlinger said. "That would give priority to the people who are diagnosed first. So, we have to think that nobody is going to have an unlimited claim on a limited resource."
Sick at home with COVID-19: How to care for your loved ones infected with coronavirus
Some States already have adopted guidelines for the medical community to consider during a pandemic. In 2015, the New York State Task Force on Life and the Law updated its voluntary guidelines on how to triage patients in the event of an influenza pandemic. Dr. Howard Zucker, New York State Commissioner of Health, warned there may be an inadequate number of ventilators.
"New York State may have enough ventilators to meet the needs of patients in a moderately severe pandemic," Zucker said in the report. "In a severe public health emergency on the scale of the 1918 pandemic, however, these ventilators would not be sufficient to meet the demand."
Officials from the state Department of Health, the Governor's Office and other agencies are working on an emergency update of the guidelines for use during the COVID-19 pandemic, said Samuel Gorovitz, a task force member and former dean of arts and sciences at Syracuse University. The group debated how to handle New York hospitals with more ventilators than others, as well as hospitals with more patients who need ventilators than others, he said.
"One walks a very fine line in making these decisions," Gorovitz said. "One of the concerns is how to walk through this nightmare and not induce panic or despair and yet do the things that serve the greatest needs."
Chloroquine is being tested as a COVID-19 treatment: 'It's a good drug, but you've got to be careful'
There are several projections on how many patients might flood U.S. hospitals. In a report on a moderate flu pandemic, the U.S. projected 200,000 Americans would need the most extreme level of care: a bed in a hospital intensive care unit. If the pandemic worsens to levels of the 1918 Spanish flu pandemic, 2.9 million would need ICU care, according to a CDC report.
The CDC's worst-case-scenario envisions up to 210 million Americans infected by December. An estimated 21 million people would need hospital care and 200,000 to 1.7 million could die by the end of the year. State Governors are working diligently to find a way to get more tests and ventilators --- as well as more much needed masks, gloves, hospital beds, etc.
=============
'Tens of Thousands' of Guard Personnel to Be Called Up in Coronavirus Response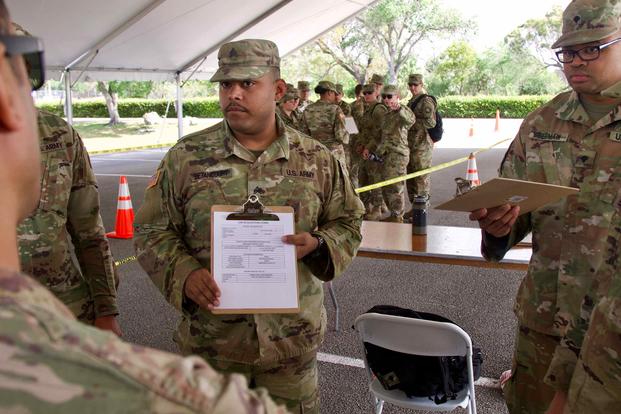 Florida National Guard Sergeant (Sgt.) Jeff Betancourt, with the 124th Infantry Regiment, reviews the scripting process with medics at a COVID-19 Community Based Testing Site, March 19, 2020. (U.S. Army/Sgt. Michael Baltz)
March 20, 2020 --- Military.com | By Matthew Cox
As novel coronavirus cases rise, some 2,050 citizen soldiers and airmen have been activated by State Governors, and that number will likely double by the weekend, the head of the National Guard Bureau told defense reporters at the Pentagon on Thursday. U.S. Air Force General Joseph Lengyel said he expects tens of thousands of Guardsmen to be called up over the coming weeks.
Governors in 27 States have activated parts of their National Guard units to counter the effects of the contagious virus, known as COVID-19, with medical testing, transportation, logistics support and, potentially, law enforcement responsibilities, he said.
"It's hard to tell what the exact requirement will be," Lengyel added, "but I am expecting tens of thousands of Guard members to be used inside the states as this grows, and I think states have the capacity to do those kinds of things."
Related: A Soldier Compared Coronavirus Quarantine to Prison. Pentagon Vows to 'Do Better'
Lengyel described the pandemic as a "historic event unlike any we have faced in recent years." "When there is a hurricane, you can see it on a map; you have a sense of how hard the storm will hit and how long the story will last," he said. "With COVID-19, it's like we have 54 separate hurricanes, one in every State, territory and the District of Columbia."
But for now, there is no plan to federalize Guard personnel on active-duty status, he stressed to reporters. If President Trump "wanted to mobilize the National Guard under Title 10 Federal status, he could do that," Lengyel said. "But that would not make sense in this situation. The best use of the National Guard is to use the National Guard for the unique authorities that it has, and that is to remain under the command and control of the networks within the states.
"If you mobilize all of the National Guard, it's going to cost billions and billions and billions of dollars, and a lot of people won't have things to do," he said. "There is no need right now to have 450,000 Guardsmen on duty." The Guard is "uniquely qualified and postured to act under the command and control of the governors in the States and so, if you were to federalize them, you would lose that ability," Lengyel added.
He cited the Posse Comitatus Act of 1878, which prohibits active-duty military personnel from being used as law enforcement. "If you keep the National Guard under the command and control of their Governor, in what we call Title 32 or state active-duty status, they have additional authorities that can assist law enforcement," Lengyel said. "If you were to federalize the National Guard, then you would lose that ability."
If the situation requires it, Governors can order the Guard to assist with police patrols and enforce laws -- "anything that the law enforcement capacity normally does, they could be augmented with National Guard troops. Do I see it happening now? I don't see any demand signal that's demanding that we are going to use the National Guard in that kind of scenario, but they could," Lengyel said. "Governors could under the command and control of law enforcement in their states, they could use their National Guard."
=====================
The Return of M*A*S*H: Army Corps on Standby to Build Tent Hospitals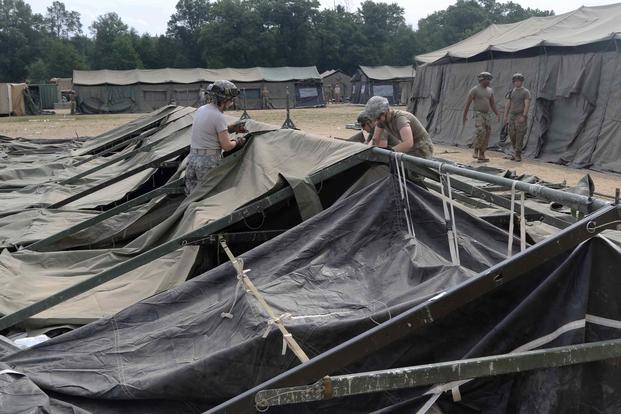 FILE PHOTO -- U.S. Army medical personnel under the 803rd Medical Center assemble a field hospital tent during the Combat Support Tactical Exercise in Fort McCoy, WI, August 12, 2019. (U.S. Army/Sergeant 1st Class Gary A. Witte, 207th Regional Support Group)
March 18, 2020 --- Military.com | By Richard Sisk
Military mobile hospitals are on standby to back up local hospitals in combating the coronavirus outbreak. In addition to the mobile hospitals, the U.S. Army Corps of Engineers has been alerted to be ready to renovate empty buildings to serve as isolation units for a potential surge of coronavirus patients, which could overwhelm local facilities.
Mobile Army Surgical Hospitals (MASH) were made famous by the TV show about the Korean War. The last MASH unit was deactivated in 2006, however, its successor was combat support hospitals, which transitioned to modular field hospitals in 2017.
The military is "ready, willing and able" to commit field hospital units and the Corps of Engineers, but we're starting the process to mobilize them. Although preparations are underway, the military resources will be called upon only if needed."
The president said he was looking into the possibility of mobilizing the Corps of Engineers, and he may be is closer to giving the order. Should the military be given the go-ahead, field hospitals and the Corps of Engineers would likely deploy first to the hardest-hit areas -- New York, California and Washington state.
New York Governor Andrew Cuomo has pleaded for assistance from the military. "It's only a matter of time before our state's intensive care unit beds fill up," Cuomo said at a news conference Monday. "The federal government must act." The Corps of Engineers has "tremendous capacity." "This is what they do, this is what they do. They build hospitals," Cuomo said. However, Pentagon officials cautioned Monday that there are limits to what the military may be able to contribute in battling the pandemic.
"The Department of Defense is ready, willing and able to support civilian authorities to the greatest extent possible at the direction of the president," Jonathan Hoffman, the Pentagon's chief spokesman, said. "We just want to make sure that the conversation that we have is informed by the facts of what is possible and what is not and what those trade-offs are."
The military's small mobile tent hospitals are designed for treatment of combat trauma and would be ill-suited for isolation of coronavirus patients, said U.S. Air Force Brigadier General Paul Friedrichs, the Joint Staff surgeon. Friedrichs also cautioned that the doctors who staff MASH units are trained to deal with trauma, not infectious diseases.
============