October 8, 2020 --- VA Clinic in Lake City Closing
by Carl Christophersen, Commander VFW Post 3348
I stopped by the Lake City VA Clinic to check on a rumor that they were shutting down. It is true. They will be shutting down on January 31, 2021 and moving their operations to Edmonds.
They do not, as of yet, have a address in Edmonds.
# # #
October 7 2020 --- by Carl Christophersen, Commander of VFW Post 3348
I set up a visit to see Ken today. His wife, Jan, came along. He looks OK other than needing a haircut. He does not communicate at all. He seemed to recognize me and Jan --- Jan was given gloves so she could sit next to him and hold his hand. We were in a court yard on the Columbia Lutheran Home property --- as COVID-19 forbids them letting visitors inside the facility.
I was surprised that the Social Worker had no objection to giving Ken a chocolate shake from Dick's Drive-in. Ken did reach out with his right hand to touch Jan. He does not seem to have much mobility with his left hand --- first time that I noticed that.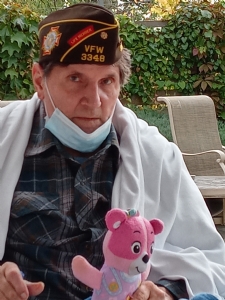 Ken Christophersen, Past Sr Vice Commander, in wheel chair, holding a Care Bear his Granddaughter gave him.
I asked the Social Worker if he was getting any physical therapy. Since Ken is in Hospice, he does not get PT. She added that the doctors who have diagnosed him, have said that Ken will never walk again.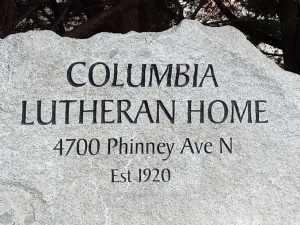 Large stone at the entrance
Jan mentioned some fellow that Ken had met when he joined the Army in the 1960's and was pleased to find that this fellow also was a Lincoln High School grad. The fellow had something wrong with his knee --- which had not initially been diagnosed.
They were all being shipped out the Vietnam --- starting on a bus. The bus was stopped --- this fellow was made to get off the bus and told that he was not qualified for the U.S. Army and he had to go home. They must have all been outside because the fellow, according to what Ken said back when he could talk, asked Ken for some money to get home because he did not have any money.
Ken gave this fellow a $20 bill. It makes no sense to me that the U.S. Army would just drop some fellow by the side of the road and tell them to leave --- but then one never lets the truth get in the way of a perfectly good story.
Jan said that about 50 years later, she & Ken were in a Coffee Shop in Ballard. Some friends saw them and came over to visit. Everyone had to be introduced since apparently that were not that good of friends --- first and last names.
A minute later, a fellow came up to their table and looked at Ken and said "I overheard you earlier. Are you Ken Christophersen from Lincoln High School?". Ken said "Yes". The fellow smiled, reached in his pocket and handed Ken a $20 bill saying "I owe you this and thank you very much". Who'd a thunk.
# # #
September 22, 2020 --- Carl Christophersen, Commander of VFW Post 3348
This past week, I have gotten phone calls "from Social Security" alerting me that my Social Security number is being misused.
If that happens to you --- Hang up!!!
Social Security does not call citizens about supposed misuse of their number --- should somehow your social security number be misused; you will get a letter, or something in writing, on social security letterhead with a name and contact data.
They will NEVER call you on the phone.
# # #
WA State veteran recognized by National VFW for stellar commitment to volunteer work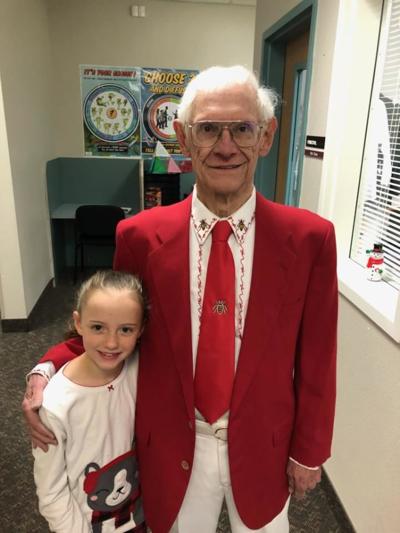 Veteran Ronald Jacobson was recognized by the National VFW #StillServing campaign for his volunteer work with the Cle Elum-Roslyn School District.
Top of Form
Posted: September 16, 2020 --- For the DAILY RECORD
Veteran Ronald Jacobson of Ronald, Washington, and VFW Post 1373 member, was recently honored by the National Veteran of Foreign Wars (VFW) #StillServing campaign. Jacobson has been volunteering for 1,000 hours per year in the Cle Elum-Roslyn School District in WA State, earning him the recognition.
The campaign honors veterans who continue to serve in their community after active duty. Even during the 2020 abbreviated school year, "Grandpa Ron," as the kids call him, still put in 900 hours of online and offsite volunteer work to help the kids in the community. Jacobson is a Vietnam War veteran and member of VFW Post 1373 in Cle Elum, WA.
When COVID-19 hit and schoolwork transferred to online, the kids, who relied on Ronald Jacobson helping more than 20 hours a week in the classroom, lunchroom and playground, had suddenly lost him. Several kids complained to the faculty that they missed "Grandpa Ron," and they complained enough that the district added him to the school's classwork website.
Faculty members and parents told Ronald how much it improved kids' attitudes to have him involved again. The school also posted his addresses and he started getting not only email but letters and, "because I was raised that way," he answered everyone. Now he has pen pals who write again and again.
Kids also regularly show up at his front door, offering to walk the dogs and checking up on him but mostly so they can share their "problems of the day." Ronald's community service led him to be chosen as one of the few VFW #StillServing Heroes nationwide. VFW invites all veterans to submit their stories at vfw.org/stillserving.
# # #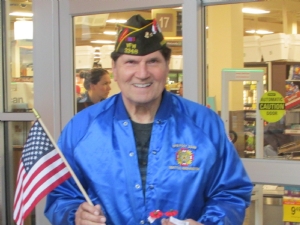 Past Sr Vice Commander VFW Post 3348, Ken Christophersen, at the 2018 Memorial Day Buddy Poppy event.
September 15, 2020
--- by Carl Christophersen, Post Commander VFW Post 3348
Ken is still at the Columbia Lutheran Home. The ban on his wife, Jan, on being allowed in the facility for a month, has been lifted. However, she, or any other relative, must meet alone with Ken outside with a chaperon i.e. a supervised visit --- which with "Unhealthy or Hazardous air quality", renders that impossible until air quality returns to Orange or better.
To my knowledge, Ken has not even gotten up by himself on his newly repaired broken leg ever since his surgery --- over 2 months ago. He now must always wear an adult diaper which has to been changed often during the day --- since he urinates and defecates while in his bed. He seems to understand what people are saying but he cannot express any emotion. Jan is allowed Zoom calls --- the nurse stands behind Ken, holding the laptop. All Ken can do is put his fingers on the screen touching his wife's face virtually.
Jan was upset when she was banned by Columbia Lutheran Home and was actively looking into bringing Ken home. She was on the phone with the VA to find out how to get a hospital bed put into her front room. Finally, a VA nurse, who oversees the Hospice aspect of the Columbia Lutheran Home, called Jan to talk.
The nurse pointed out that it takes 3 staff members to handle Ken when he has to be turned over to change his diaper, or to get him out of bed and into a wheelchair, where he usually ate his meals. The light dawned for Jan that she could not care for Ken be herself. Despite some concerned "advice", from friends and relatives to bring Ken home, no one was volunteering to come over for many hours EVERY DAY, as long as necessary, to help Jan.
Jan commented that her 3 sons were finally realizing that Ken is partly gone mentally. Ken has massive trouble communicating with anyone. He cannot say a word, cannot write a word and cannot easily move his hands, fingers or mouth to smile. He stares at you with a blank look for a short while then looks away. As a retired RN, with 35 years on experience, Jan says that she has never seen anyone who never gets out of bed, remaining alive for very long.
# # #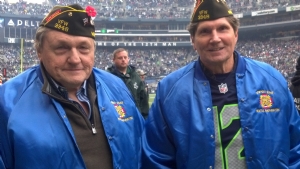 November 11, 2012 --- Veterans Day being celebrated prior to the Seahawk Game. Past Sr Vice Commander VFW Post 3348 Ken Christophersen was 1 of 6 veterans honored mid-field just prior to the Seahawks taking the field. He represented Vietnam. Ken is a Purple Heart recipient for his time in the U.S. Army, and to this day still carries metal shell fragments in his body that the doctors could not get safely remove.
August 27, 2020
--- by Carl Christophersen, Post Commander VFW Post 3348
I spent an hour with my brother earlier today. He had been lifted out of his bed, at Columbia Lutheran Home, and put into a wheelchair. Being a relative, one of us is allowed once a day to visit Ken. I sat across from him --- maintaining 6' between us. Even though I had to have a face mask on plus goggles to enter. Once in his room, I put the goggles on his bed but kept the mask on.
The problem I had was this particular face mask is mad of cloth and does not breath so well, causing most of my exhales to flow upward and that tends to fog up my goggles which makes it hard to see.
Ken cannot communicate well. He totally has lost his ability to speak, he cannot really write anything, but he does hear and seems to understand. My most success was asking his yes/no questions and showing him my thumb up for yes, and down for no. He got that.
He fidgets a bit. He likes to move his legs, one after the other. He has socks on his feet. He would put one foot on my shoe, then the other foot on my other shoe. The not long after that, he would put his feet back on the floor. Then he would put one foot on my knee, etc. He likes to hold the TV remote even though he does not use it much. They only allow disposable razors to his electric razor is at his house. This day he had not shaved, or been shaved, for at least 2 days.
He looked good. He was wearing a dark blue tee shirt and light green pajama bottoms and socks. His room is on the first floor and we could see an outside patio where some patients had gathered. I asked Ken if he wanted me to push him out there. He did not. I looked at Ken's new scar where his broken leg bone had been fixed. The scar is literally 3" away from his knee replacement scar.
Jan had mentioned that Ken tends to bounce his right leg on the ball of is his foot --- it is like a bad habit. He makes mild attempts to stand up out of his wheelchair but does not get far. On occasion Ken taps the remote on his meal table which the nurse brought in at Noon. He used his fork to pick at the meal. He drank his chocolate right away. By the time I left, Ken had taken about 6 bites.
# # #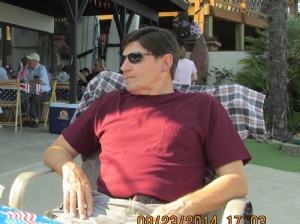 Past Sr Vice Commander, VFW Post 3348, Ken Christophersen at a summer party for VFW Post 3348 members and family in 2014
August 23, 2020– by Carl Christophersen, Post Commander VFW Post 3348
My niece, Crystal, drove here from Moscow ID, with husband (Chris) & 6 kids (aged 4-18), in order to see Uncle Kenny. She talked her way into see Ken in person who was already sitting in a wheelchair. Crystal found a nearby large window, called her kids, and pushed Ken over to the window so her kids & husband could see him. They waved wildly which Crystal says brought a smile to Ken's face.
She took a selfie with Ken, cheek to cheek --- she has a big smile on her face and Ken looked like he wanted to dive onto a upward pointed sword. Jan told me that Ken very very seldom smiles anymore so there was some comfort in what Crystal said.
Crystal is the matriarch of that family and the entire family is big on Christianity. They all ate here yesterday evening and slept here. Jan's house is big enough to hold them. After breakfast this morning they headed out to Tacoma to see her in-laws. Before they left, with all the kids piled into their van, Crystal and Chris had a little 3-way prayer which was touching and left Jan sobbing in her grief. It looked to me to be good therapy. Jan is still perplexed about what to do.
# # #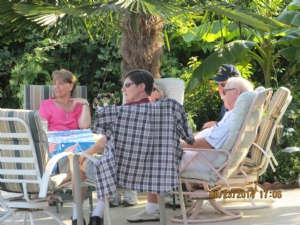 Ken & Jan with Lane & Sharon Ruud and Hal Myhre at our VFW Post 3348 summer party at Lane Ruud's house on Lake Washington in 2014.
August 19, 2020– by Carl Christophersen
Ken is taken off his bed, by Physical Therapists, and put into a wheelchair for his meals. He has always had trouble swallowing but it has heightened in recent weeks. Up till now, all of his food has been purated. He will see a throat specialist next week to see if Ken can start being fed more normal food.
His wife, Jan, has been sneaking in Dick's Chocolate shakes which he likes but the Columbia Lutheran officials would not be pleased if they knew. She pushes Ken around in his wheelchair to the dining room, and reportedly, she will be able to take Ken outside. Jan reports that Ken tries to get up in his wheelchair to his feet.
He has gotten half way up, with his butt off the chair, so he is putting some weight on his reconstructed knee. She was nervous about getting Ken to a full standing position because there were no nurses about to help if Ken lost his balance but Ken is showing initiative and he is trying. Good on him.
# # #