August 4, 2020
---

by Carl Christophersen
Ken has been at the Columbia Lutheran Home, just south of Woodland Park in Seattle, for nearly 2 weeks. The staples were removed from his broken leg. While it was expected that they would try to get him on his feet, a new development has shut that down. Ken has also now lost his balance. He cannot maintain his balance --- even when they sit him on the side of the bed, he falls over unless someone catches him.
His wife, Jan, has been allowed in, wearing full PPE, to see Ken but no one else. She gets very depressed seeing how much Ken has deteriorated. Apparently, the daily routine is for 2 nurses to lift Ken out of bed and put him into a wheelchair --- where a sling is placed for him to sit on. He can feed himself. When they decide he needs to go back to bed, they have a machine that can lift him in the sling and they then lie him down in his bed.
# # #
July 27, 2020
--- by Carl Christophersen
Ken is now at the Columbia Lutheran Home just south of Woodland Park in Seattle. He is OK and will have the staples in his broken leg removed. He is not allowed any visitors while COVID-19 is still a threat to safety. There are different sections at Columbia Lutheran; Ken is in the Hospice section --- which is initially paid for by Medicare Part A and later the VA picks up the tab.
While Ken can have no visitors, the nurses do help with Zoom connections so Jan and one their sons (Bjorn) had a Zoom conference with Ken this afternoon. Bjorn has yet to realize that Ken can't talk anymore. Ken uses limited hand gestures. Ken has twice pushed himself over the side of his bed to fall onto the floor. After the first time, they put mattresses around his bed to soften any future falls.
# # #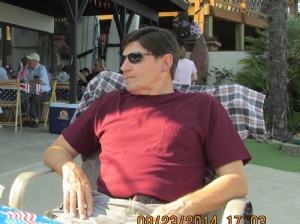 Past Sr Vice Commander, VFW Post 3348, Ken Christophersen at a summer party for VFW Post 3348 members and family in 2014
July 23, 2020 --- by Post Commander, VFW Post 3348, Carl Christophersen
According to Jan Christophersen, her husband Ken will be transferred to the Columbia Lutheran Home in Seattle later today. Ken has not been responsive to treatment and the doctor told Jan that, due to the severity of the recent leg break, just above his knee replacement, it is not likely that Ken will ever be able to walk again. Doctor's orders were that Ken was not to put any weight on his left leg for 2 weeks which ends tomorrow. His broken femur (thigh bone) was pinned back together and wrapped i.e. no cast.
Jan had considered bringing Ken home, when he finished Rehab, which he has not started since he cannot yet stand, but with the doctor's advice, and the fact that it takes 2 nurses just to turn him from side to side to combat bed sores and clean his diaper, she very sadly realized that she cannot provide the appropriate caretaking at home as he requires 24/7 attention.
Ken has a form of Dementia that prevents him from talking which greatly hinders his recovery as he cannot tell the Physical Therapist how he is doing. Jan is going through periods of severe grief so it is some relief that she has 3 sons and 3 grandkids (with more coming) who visit and console her.
# # #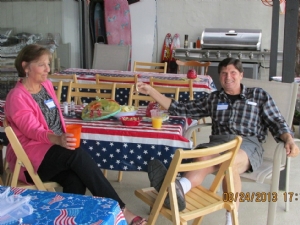 Ken & Jan @ a Summer VFW party at comrade Lane Ruud's
July 19, 2020
--- by Post Commander, VFW Post 3348, Carl Christophersen
Ken Christophersen is still at Northwest Hospital. The latest news is that he will be transferred to the Columbia Lutheran Home south of Woodland Park. His wife, Jan, asked me to go visit my brother because she just cries when she goes. It is awkward since Ken can no longer talk. His nurses tell me that that is a hindrance to the Physical Therapist because Ken cannot tell them anything.
So far, the best they have done is to get him to sit on the side of his bed. He has yet to stand on his repaired broken leg which still has a doctor's order: "do not put any weight on that leg" --- complicated by the fact that the break occurred just above his knee replacement and the split end of his thigh bone had to be pinned back together. That doctor's order is good for 2 weeks.
It has been 9 days since Ken fell and broke his leg. Jan is preparing, if it turns out this way, for Ken to never come home again. She is going through a period of grief already. Physical Therapy alone could take up to 2-3 months; then Jan will have to make a decision. She is devastated by this condition that befell Ken, but she knows that she is not capable of properly caring for Ken as technically he would need 24/7 care.
# # #
Ken Christophersen, past Senior Vice Commander, VFW Post 3348, is being prepared for Rehab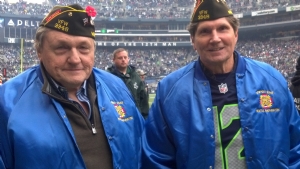 July 15, 2020--- by Post Commander, VFW Post 3348 Carl Christophersen
A social worker from Northwest Hospital will be in communication with Ken's wife (Jan) to discuss what to do with Ken. He still is not allowed to yet put any weight i.e. stand on his broken leg. The doctors pinned the broken bone back together but did not put his leg in a cast. They were able to preserve his prior knee replacement.
Jan is a critical piece of any decision due to Ken's inability to talk. Since his surgery last Sunday (July 12th), Ken has only been able, with aid, to sit on the side of his bed. Jan intends to ask Northwest Hospital to transfer Ken, when they feel it is appropriate, to the Seattle VA Hospital for his Rehab. It is not clear when that transfer will occur but when it does, it will most likely be several weeks or months before Ken can even walk with a walker.
# # #
Kenneth "Ken" Lee Christophersen, past Senior Vice Commander, VFW Post 3348, survived surgery yesterday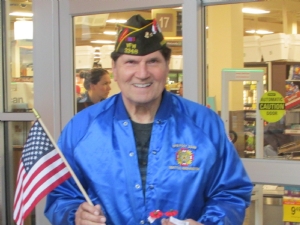 July 13, 2020--- by Post Commander, VFW Post 3348, Carl Christophersen
Ken, who earlier this year was afflicted by Dementia, fell down the stairs on Friday, July 10, 2020 in his split-level home in Shoreline. He broke a leg which was complicated since that leg had a knee replacement and the break occurred right at the joint.
The 5-hour surgery occurred yesterday at Northwest Hospital in Seattle. His wife (Janice) will find out today what the rehabilitation plans are and where they will be done --- most likely the VA hospital.
This is more complicated by Ken's decline in his ability to talk, walk and balance. He can slowly print some words which are somewhat readable. He has trouble controlling his urinating and rarely his bowel movements.
It's Official: General CQ Brown Confirmed as 1st African American Military Service Chief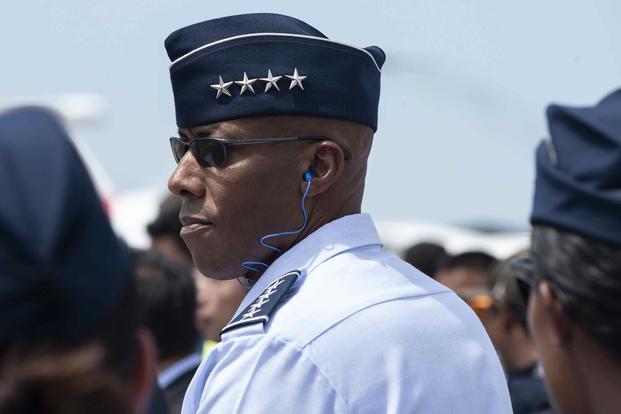 U.S. Air Force General CQ Brown Jr. gets ready for the aerial demonstrations during the Langkawi International Maritime and Aerospace Exhibition 2019 in Padang Mat Sirat, Malaysia, on March 26, 2019. On June 9, 2020, he became the 1stAfrican American Chief of Staff of any of the services. (U.S. Navy photo by Mass Communication Specialist 1st Class Leonard Adams)
June 10, 2020 --- Military.com | By Oriana Pawlyk
U.S. Air Force General Charles "CQ" Brown is officially the next leader of the U.S. Air Force and the 1st African American officer to ever serve as the top uniformed officer of any of the military branches. The Senate confirmed Brown, currently the head of Pacific Air Forces, in a unanimous 98-0 vote to be the service's 22nd Chief of Staff.
"The U.S. Air Force, Space Force and I congratulate General Brown & his wife, Sharene, on his confirmation as #CSAF!" Air Force Secretary Barbara Barrett tweeted after the vote. "General Brown's unrivaled leadership, operational experience & global perspective will prove crucial to modernizing the #USAF to meet tomorrow's national security challenges."
Last week, Brown spoke out about a life in which he has tried to fit in as an African American man in everyday life, as well as in uniform. "I'm thinking about how full I am with emotion, not just for George Floyd, but the many African Americans that have suffered the same fate as George Floyd," he said in a passionate video posted on social media.
Brown, an F-16 Fighting Falcon pilot, described his military experience as "living in two worlds," with some questioning whether he even belonged in the ranks. "I'm thinking about having to represent by working twice as hard to prove that my supervisors' perceptions and expectations of African Americans were invalid," he said in the video. "I'm thinking about the airmen who don't have a life similar to mine, and don't have to navigate through 2 worlds. I'm thinking about how these airmen see racism, where they don't see it as a problem because it doesn't happen to them, or whether they're empathetic."
While leaders across the branches have spoken out since the May 25th death of George Floyd, a black man, at the hands of police officers in Minneapolis, the Air Force has stood out on the issue. The White House in March put forth Brown's nomination. He follows General David Goldfein, who is set to retire this summer after 4 years in the position. Brown will also be the 1st black officer to sit on the Joint Chiefs of Staff since Army General Colin Powell, now retired, served as chairman between 1989 and 1993.
Before his post at PACAF, Brown was the Deputy Commander of U.S. Central Command at MacDill Air Force Base, Florida. He also served as the head of Air Forces Central Command between 2015 and 2016, during the height of the air campaign against Islamic State fighters in Iraq and Syria.
The highly decorated Commander commissioned in 1984 and has accumulated more than 2,900 flight hours, including 130 combat hours in various aircraft, according to his biography. Prior to his historic confirmation, Brown last week called airmen's attention to openly discussing disparities in the ranks. "I want to know what you are thinking about," he said. "I want to hear what you're thinking about, and how together, we can make a difference."
Here are other U.S. Air Force Generals nominated for top positions across the force:
Lieutenant General Kenneth Wilsbach was nominated for his 4th star and to replace Brown as the next Pacific Air Forces commander. Wilsbach is currently Commander of the 7th Air Force and deputy commander of U.S. Forces Korea.
Lieutenant General Mark Kelly, the Air Force's Deputy Chief of Staff for operations at the Pentagon, was nominated to pin on his 4th star and become head of Air Combat Command at Joint Base Langley-Eustis, Virginia, replacing General Mike Holmes, who will retire.
Lieutenant General Jacqueline Van Ovost, also submitted to pin on her 4th star, has been nominated to become commander of Air Mobility Command. Van Ovost is currently AMC's Deputy Commander at Scott Air Force Base in Illinois. She would replace General Maryanne Miller, who assumed the position in 2018.
The head of U.S. Air Forces Central Command, Lieutenant General Joseph Guastella Jr., was confirmed to be the next Deputy Chief of Staff for operations at the Pentagon by a voice vote in the Senate in May.
Major General Gregory Guillot, Director of Operations for U.S. Northern Command, would receive his 3rd star and, if confirmed, will replace Guastella, according to an officer promotion announcement.
The U.S. Department of Defense also announced that Major General Michael Loh, Colorado's Adjutant General, has been nominated for a 3rd star and to become the Director of the Air National Guard, taking over for Lieutenant General L. Scott Rice.
====================