'Audie Murphy of His Generation:' Why David Bellavia's Medal of Honor Is Making History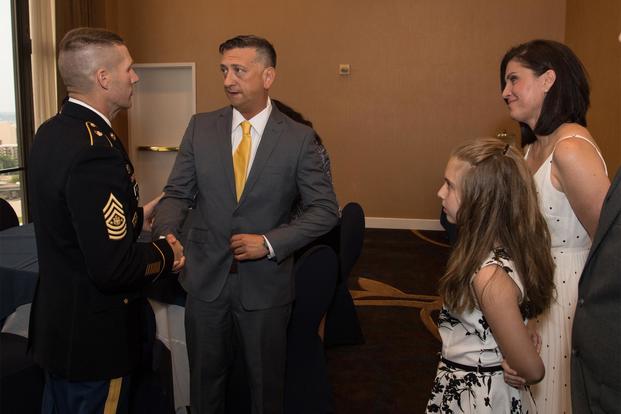 Former U.S. Army Staff Sergeant David G. Bellavia (second from left) attends a Medal of Honor reception at the Sheraton Pentagon City Hotel, Arlington VA, June 24, 2019 (U.S. Army/Sergeant Kevin Roy)
June 26, 2019--- Military.com | By Matthew Cox
Presentation of the Medal of Honor to an Army Iraq War veteran has reignited a discussion in the military community over why it took 16 years to select a living recipient for the nation's highest award for valor. Former Army Staff Sergeant David Bellavia is credited with stepping into a barrage of enemy fire in an enemy-held house in Fallujah in 2004 to suppress the enemy with an M249 squad automatic weapon, an act that opened an escape window for a squad of pinned-down 1st Infantry Division soldiers.
Bellavia, a squad leader with A Company 2nd Battalion, 2nd Infantry Regiment, then grabbed a M16A4 rifle, re-entered the darkened house and killed several enemy fighters, one with a knife during a hand-to-hand struggle. Bellavia is the 6th recipient of the Medal of Honor for combat in Iraq, but the first living medal recipient from that war.
Retired Army Major Drew Dix, president of the Congressional Medal of Honor Society, acknowledged that it's remarkable that there has only been one living recipient of the Medal of Honor so far out of combat in Iraq. But, he said, in many cases the difference between a living and posthumous recipient can be less than an inch.
"In our world, whether they are living or posthumous, they received it; whether you are alive or not -- it's just a half inch from a bullet," said Dix, who received his Medal of Honor in 1968 in heavy fighting during the Vietnam War. But military historian Doug Sterner said he has been concerned for years by the "low numbers of Medals of Honor that have been awarded for the wars in Iraq and Afghanistan."
Sterner is a 20-year military historian who created a first-of-its kind online database of military valor awards. There have been 23 Medals of Honor awarded for heroism in support of the Global War on Terrorism, Sterner said. Of the 17 Medals of Honor for actions in Afghanistan, 13 have been awarded to living recipients, Sterner said.
"They have conducted reviews of other wars and some 100 Medals of Honor awarded in the last 19 years, and only a little over 20 of them went to guys in the wars in Iraq and Afghanistan," Sterner said. "It seems like we are a little bit better at finding heroes from wars of decades past than recognizing the heroes that are right under our nose." Sterner said he began pushing for the Pentagon in 2011 to conduct a review of valor medals awarded for Iraq and Afghanistan, which then Defense Secretary Ashton Carter launched in 2016.
In addition to upgrading Bellavia's Silver Star to the Medal of Honor, the review upgraded 12 lower valor awards to the Distinguished Service Cross, the second highest award for valor, in the Army alone. Part of the reason for the low numbers of Medals of Honor in recent wars is that they haven't been large-scale, sustained conflicts like Vietnam was, Sterner said.
"By and large, most of the commanders in Iraq and Afghanistan had not really seen sustained combat in their military careers, so they didn't have something to gauge it by," Sterner said. "The commanders in the Vietnam War had served in the Korean War and had seen Medal of Honor Valor. In World War II many of the top commanders had served in World War I.
"For that reason," Sterner added, "I think there were a lot of times awards were not given the priority that they should have been." Too, actions themselves may be judged a little differently compared to past wars, even though the criteria for the Medal of Honor hasn't changed, Sterner said.
"Societally, we now tend to appreciate more the more altruistic Medal of Honor actions," Sterner said. "In other words, a wounded soldier that despite his wounds defends his position to save his buddies or the heroic medic that under fire goes out to recover the wounded or the guy who jumps on the grenade to save the lives of his comrades."
Still, Sterner said, war is also about "aggressiveness; it's about killing." "I think when you look at David Bellavia's citation, this guy was the Audie Murphy of his generation," Sterner said, comparing Bellavia to the most decorated soldier in World War II. "He went into that building, going room to room kicking butt, hand-to-hand. The guy was a badass. "I think sometimes we try to shy away from and forget that is exactly what war heroism in combat is all about."
As a staff sergeant, Drew Dix received his Medal of Honor for actions January 31-February 1 1968 when the city of Chau Phu, Vietnam was under attack by two battalions of Viet Cong, according to his citation. While serving as an advisor to South Vietnamese forces, Dix is credited with saving many civilian lives and killing several enemy fighters.
"Learning that a nurse was trapped in a house near the center of the city, Staff Sergeant Dix organized a relief force, successfully rescued the nurse, and returned her to the safety of the Tactical Operations Center," the citation states.
Dix then led another force to rescue 8 civilians located in a building under heavy mortar and small arms fire, the citation states."Upon approaching a building, he was subjected to intense automatic rifle and machine gun fire from an unknown number of Viet Cong. He personally assaulted the building, killing 6 Viet Cong, and rescuing 2 Filipinos," the citation states.
The following day, Dix led a 20-man force through "intense enemy fire" and "cleared the Viet Cong out of the hotel, theater, and other adjacent buildings within the city." Dix is also credited for capturing 20 prisoners, including a high-ranking Viet Cong official. "He then attacked enemy troops who had entered the residence of the Deputy Province Chief and was successful in rescuing the official's wife and children," his citation reads. Dix said there are likely many cases in Iraq and Afghanistan, as well as in past wars, where there were no witnesses around to document extreme cases of heroism.
After Bellavia receives his Medal of Honor, Dix will send him a letter congratulating him and welcoming him into the society. "For that point on ... he will assume the responsibility of representing not only himself and his service, but those that serviced with him and didn't survive and more importantly those that may have performed deeds that there were no witnesses for deeds greater than any one of us," Dix said. "That's a pretty serious responsibility."
==============
He Went Missing in Korea 70 Years Ago. Now, a Soldier's Body is Finally Home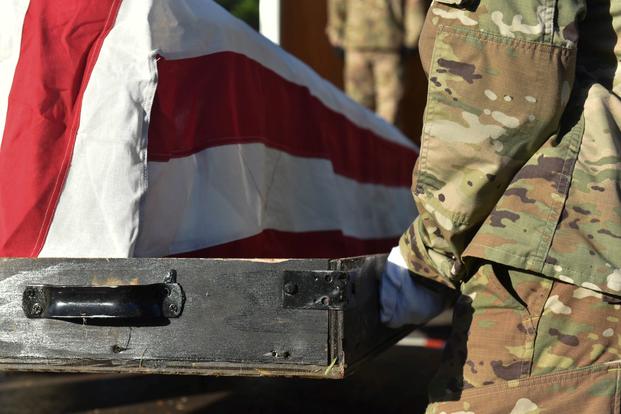 U.S. service members assigned to the Defense POW/MIA Accounting Agency (DPAA) prepare to transport a casket during a disinterment ceremony held at the National Memorial Cemetery of the Pacific, Honolulu, Hawaii, June 10, 2019. The ceremony was part of DPAA's efforts to disinter the remains of unknown service members lost during the Korean War. DPAA's mission is to provide the fullest possible accounting of missing personnel to their families and the nation. (U.S. Army photo by Sergeant Lloyd Villanueva)
June 24, 2019--- The News & Observer | By Kate Murphy
For nearly 70 years, William "Hoover" Jones's family wondered what happened to him. He left North Carolina as an 18-year-old boy from small town Nash County, off to Korea to fight as an infantryman in the U.S. Army. He has been missing-in-action since 1950. On Thursday, June 20, 2019 he came home.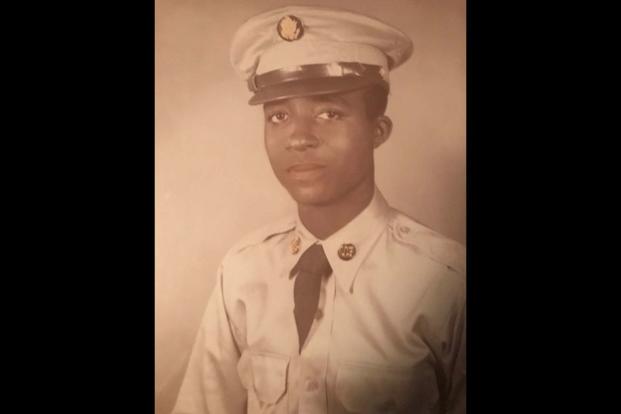 Korean War veteran Army Private First-Class William Hoover Jones. (Source: Defense POW/MIA Accounting Agency)
U.S. Army Private First-Class Jones's body was returned to his family in a casket adorned with an American flag. He was honored with salutes from veterans on the tarmac at Raleigh-Durham International Airport. His body was greeted by his 3 now-elderly sisters and other family members who've been waiting decades for answers about his disappearance.
Those answers came last fall when the U.S. Army gave the family detailed records about Jones's military service, his death and how they identified his body through DNA testing, it was previously reported. "We never gave up hope," Elizabeth Ohree, Jones' sister, said. "To hear the nice soldier tell in detail what happened, it really helped me to understand."
Jones was a teenager when he went missing on the battlefield in an attack against Chinese People's Volunteer Forces near Pakchon, North Korea. He couldn't be found when his unit made a withdrawal in November 1950. Over the next 3 years the United Nations Command asked the enemy Chinese People's Volunteer Forces and the Korean People's Army for lists of American servicemen held as a prisoner of war. But Jones' name never appeared on any lists and no other returning American prisoners had information about him.
On December 31, 1953, the U.S. Army declared him deceased and his remains non-recoverable. After his death, Jones was awarded the Purple Heart, the Combat Infantryman's Badge, the Korean Service Medal, the United Nations Service Medal, the National Defense Service Medal, the Korean Presidential Unit Citation and the Republic of Korea War Service Medal.
After Jones's family wondered in silence for decades, some closure came last year. In June 2018, President Donald Trump met with North Korea Supreme Leader Kim Jong-un in Singapore, marking the first time U.S. and North Korean leaders met. They agreed that North Korea would return the remains of American service members lost in the war.
In July 2018, the Democratic People's Republic of Korea turned over 55 boxes containing those unidentified remains. Jones was one of them. Scientists from the Armed Forces Medical Examiner System and the Defense POW/MIA Accounting Agency laboratory at Joint Base Pearl Harbor-Hickam, Hawaii used DNA analysis, dental, anthropological, chest radiograph comparison analysis and other physical evidence to identify PFC Jones' remains.
His remains were processed, traveled by plane to Atlanta and then to North Carolina, where RDU Fire Rescue welcomed the plane with a water cannon salute. The casket was loaded into a black hearse by military color guard members and escorted out of the terminal. The Patriot Guard Riders accompanied the processional.
On Friday, June 21, 2019 Jones will lie in honor at the North Carolina State Capitol in downtown Raleigh. Governor Roy Cooper will lay a wreath in his memory and give Jones's family United States and North Carolina flags that have flown over the State Capitol.
Cooper also ordered North Carolina and United States flags to fly at half-staff from sunup to sundown Friday to honor Jones and other soldiers who fought overseas and never came home. The public can pay their respects to Jones in the State Capitol from 10 a.m. to 3 p.m. Friday. Jones's family will travel to Washington D.C. in August 2019 to bury his body in Arlington National Cemetery.
=====================
Different Chambers & Parties, One Goal: Reduce Military Sexual Assaults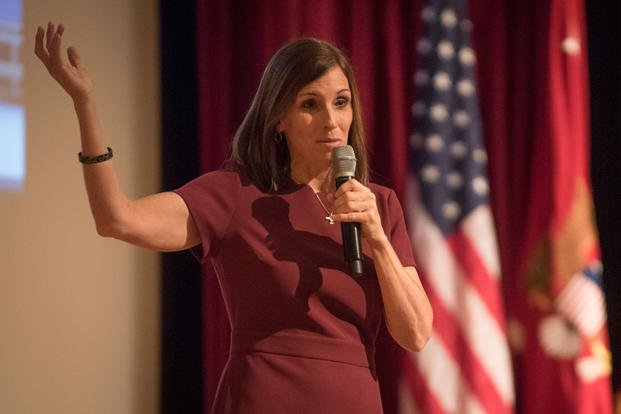 U.S. Senator Martha McSally, from Arizona, delivers the keynote address for day one of the National Discussion on Sexual Assault and Sexual Harassment at America's Colleges, Universities and Service Academies, April 4, 2019. (U.S. Navy photo/Sarah Villegas)
June 17, 2019--- Military.com | By Patricia Kime
Details emerged this week on Congress' plans to reduce sexual assaults in the military, with the proposed House and Senate defense policy bills containing no fewer than 20 sections to protect victims, encourage reporting and prosecute crimes. During a House Armed Services Committee bill markup and rollout of the Senate Armed Service Committee's bill language, members of Congress made clear they are sick of Pentagon reports that show military sexual assaults on the rise.
The Defense Department released a report in March estimating that 20,500 active-duty service members were assaulted in fiscal 2018, up from 14,900 in 2016, based on an anonymous survey conducted every two years. The report also noted that 7,623 sexual assaults were reported in 2018, a 17% increase from the previous year.
Related content:
Despite Efforts, Sexual Assaults in the Military up 40 Percent
Senator Renews Push to Distance Commanders from Military Prosecutions
Representative Jackie Speier, a California Democrat and chairwoman of the House Armed Services personnel panel, is behind several measures designed to support victims, including a "safe to report" policy to encourage victims across the services to report a crime, even if they were engaged in "collateral misconduct" such as underage drinking, fraternization or trespassing at the time of an assault.
Speier also introduced amendments that would allow service academy midshipmen and cadets to request expedited transfers to another academy if they are sexual assaulted, and implement a pilot program at the academies that would require an independent flag or general officer trained in prosecutions to review sexual-assault cases and determine whether they should be referred to court-martial.
The proposed 4-year pilot program would reduce senior academy leadership's decision authority over prosecuting sexual-assault cases -- a change that victim advocates, with the support of Sen. Kirsten Gillibrand, Democrat-New York, have sought for years to institute across the armed forces.
"I have spoken to countless survivors who saw their dreams, and bright futures, extinguished after reporting assaults and harassment," Speier said during a marathon markup of the House defense bill. "These amazing candidates, many of them who lead their academy classes in grades and citizenship, deserve a fair and just independent review process." The Senate's bill also includes a "safe to report policy," an indication that the provision likely will become law.
The Senate also would grant a request by Acting Defense Secretary Patrick Shanahan to make sexual harassment a separate punitive article under the Uniform Code of Military Justice and would require additional training for commanders ranked O-6 and above on reviewing reports and prosecuting sexual assault, harassment and domestic violence cases.
Senator Martha McSally proposed 17 of the provisions that made it into the bill. McSally, an Air Force veteran and the first female fighter pilot to fly in combat, revealed at a hearing in March that she had been raped by a senior officer early in her career. She never reported the event but, as she rose in rank, told other military officers but wasn't taken seriously.
Just 2 days before the March hearing, McSally decided to publicly disclose the assault, saying Thursday during an event hosted by The Washington Post and Wounded Warrior Project that she needed to "step up to lead on the issue." "I'll be frank. When I got appointed to the Senate and sat down with my team, and we sort of strategically planned what are our focus area's going to be and what are we going to lead on, this wasn't a topic I had planned to lead on," McSally said. However, she "felt strongly that, having been a commander and a survivor that commanders need to be ultimately accountable."
Gillibrand continues to work to remove commanders from the decision process to prosecute sexual assault and give it to military prosecutors. She reintroduced her bill, the Military Justice Improvement Act, on Thursday, saying it is necessary because "military leaders have spent decades promising 'zero tolerance' on sexual assault, but it's painfully clear that they've failed at that mission."
"The Department of Defense has tried incremental reforms, but they clearly haven't worked," Gillibrand said in a statement. "Sexual assault is still pervasive. In fact, the latest DoD numbers show that sexual assaults in the military have dramatically increased while the number of cases going to trial has gone down. None of this is acceptable." McSally said she respects Gillibrand's "passion on the issue," but "I just think she's wrong on it."
"I mean, having served myself, having been a commander, it's like nothing else in civilian society, where we are responsible for putting people's lives on the line and telling them to take lives," she said. The House and Senate offered additional measures to address sexual assault, including provisions to expand the Pentagon's special victims counsel program to cover eligible victims of domestic violence.
The House bill also would require the DoD to ensure that sexual-assault investigations are completed within 6 months. Once both bills are approved by their respective legislative chambers, they must be reconciled in committee before a final draft is approved.
===============
On May 17, 2019, New Zealand's Prime Minister Jacinda Ardern speaks during a joint press conference at the Istana or presidential palace in Singapore. (AP Photo/Yong Teck Lim)
WELLINGTON, New Zealand — New Zealand announced Monday (June 10, 2019) that it will withdraw all of its troops from Iraq by June 2020. New Zealand has a small contingent of 95 so-called noncombat personnel deployed at the Taji Military Complex northwest of Baghdad, where they are tasked with training Iraqi security forces.
The training mission is a joint operation with Australia, which has about 300 troops stationed at Taji. New Zealand's Defense Minister Ron Mark said Australia also planned to downsize its presence in Iraq, although he didn't offer any details.
New Zealand Prime Minister Jacinda Ardern said they would reduce the number of troops to 75 by July 2019; then to 45 by January 2020 before they were all withdrawn. "When it comes to Iraq, it's time to go," Ardern said. She said the troops had made a big contribution at Taji, where more than 40,000 Iraqi security forces had been trained since New Zealand's deployment began in 2015.
"I think they have done an incredible job, but their job is coming to an end," she said. "And now it's time to bring them home and look at the contribution our defense force can make elsewhere." Mark said that New Zealand would downsize alongside Australia and that both countries were working on "exiting and having an exit plan." But when pressed, he declined to offer more details.
Ardern said it was not up to New Zealand to announce Australia's long-term plans in Iraq, but she added that Australia had been kept informed of New Zealand's decision and was supportive. The 2015 decision on New Zealand's Iraq deployment was made by the conservative government at the time and was opposed by Ardern's then-opposition Labour Party. The Labour Party formed a coalition government after the 2017 general election.
Ardern said her government did not withdraw the troops sooner because it was honoring commitments made to Iraq and Australia. She also announced New Zealand would reduce the number of defense force personnel posted in Afghanistan from 13 to 11 by March 2020, and that 3 of those positions would be focused on enhancing the involvement of women in peace and security initiatives.
June 8, 2019 --- Brigadier General Laura Yeager will make history later this month when she becomes the first woman to command a U.S. Army Infantry Division. Yeager, a former Black Hawk helicopter pilot who deployed to Iraq, will assume command of the California National Guard's 40th Infantry Division during a ceremony in Los Alamitos, California, on June 29, 2019.
She received her commission from the U.S. Army in 1986 as a 2nd Lieutenant from the Reserve Officer Training Corps (ROTC) at California State University Long Beach. Three years later, Yeager completed military helicopter training and began serving as a UH-60 Black Hawk helicopter aeromedical evacuation pilot.
Though Yeager left active duty service 8 years later when her son was born, she continued her career in the California Army National Guard. In 2011, she deployed to Iraq as the Deputy Commander of the California Guard's 40th Combat Aviation Brigade.
Brigadier General Laura Yeager, pictured here as a colonel in 2015, will become the Army's first female infantry Division Commander. Yeager will assume command of the California Guard's 40th Infantry Division on June 29, 2019.
Yeager would later serve as Battalion Commander of the 3rd Battalion, 140th Aviation Regiment and Brigade Commander of the 40th Combat Aviation Brigade, before assuming her current role as Commander of Joint Task Force North in Fort Bliss, Texas.
Outside of her own career trajectory, Yeager is familiar with military leadership. Her father, Retired Major General Robert Brandt, was also a helicopter pilot who served two tours during the Vietnam War and became a top commander in the California National Guard. Brandt retired in 1999 after four decades of service.
The 40th Infantry Division was formed in 1917 with its soldiers fighting in World War I, World War II, the Korean War, Kosovo, Afghanistan, Iraq, and other locations around the world. The division most recently returned from Afghanistan in March.
California Guard Colonel Laura Yeager is seen here in 2013 with her father, retired California Guard Major General Robert Brandt.
"My father has been a tremendous role model to me, both as a parent and as an officer and I have benefited immensely from his mentorship," Yeager told the Defense Department's news service when she was promoted to Brigadier General in 2016. "He always had high expectations for me but I was given a lot of independence to pursue my own path." When Yeager became a general officer that year, she was only the 4th female General in California National Guard history.
"As a female, I have found the military to provide opportunities and benefits unmatched by any profession," she said then. "Clearly, females are in the minority within the military, yet in every assignment I have held, my mostly male peers, subordinates and superiors, have supported me, treated me with respect, coached, mentored and advised me. At the same time, I have been inspired by the incredibly strong and amazing women I have served with and for."
The 40th Infantry Division was formed in 1917 with its soldiers fighting in World War I, World War II, the Korean War, Kosovo, Afghanistan, Iraq, and other locations around the world. The division most recently returned from Afghanistan in March 2019.