Posted: June 8, 2022 --- by Post Commander, Carl "Chris" Christophersen
This Car Show is a fundraiser for the Northshore Veterans Memorial maintenance fund. It is the idea of a member of VFW Post 3348 in Shoreline. The Color Guard and Security will be handled by the U.S. Volunteers – Joint Services Command, 103rd BCT partially composed of, and commanded by, members of VFW Post 3348.
# # #
Posted: May 5, 2022 --- by Post Commander, Carl "Chris" Christophersen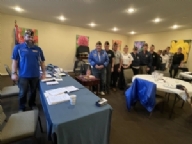 The VFW Dept of Washington Surgeon, Drew James, on the far left, installed the new 2022-2023 officers for Blackburn Aurora VFW Post 3348 at our meeting last night.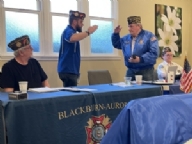 This is just after Drew handed the gavel back to Post Commander Chris Christophersen. All these photos & other photos went onto our Post Facebook page https://www.facebook.com/groups/www.vfw3348.org/ where you can see these photos in full size.
==============================
We had a good discussion in preparation for our Memorial Day Buddy Poppy event to be on Fri-Sat, May 27-28 when our Post members will be at 3 local stores: Central Market, Shoreline Fred Meyer and Thrashers Corner Fred Meyer in Bothell.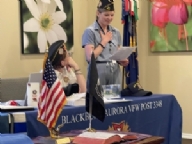 To set the stage for our Buddy Poppy discussion, at the request of Commander Christophersen, newly initiated member, U.S. Navy Lieutenant Lisa Nenno, read "The Story of the Buddy Poppy" which includes the poem "Flanders Fields" about the inspiring site of wild red poppies growing between the hastily dug graves of recently fallen soldiers from the 2nd Battle of Ypres in Belgium in 1915.
With VFW Post 3348 garnering another new member last night, we were informed that our Post was now 100% on membership and would be awarded All-State status for 2021-2022.
# # #