U.S. Marine Corps Sergeant (Sgt.) Abraham Becerra (right), a scout sniper team leader with Weapons Company, Battalion Landing Team 3/5, 11th Marine Expeditionary Unit (MEU), performs a speed reload with an M4A1 carbine during an immediate action drill aboard the amphibious assault ship USS Boxer. (Marine Corps/Dalton Swanbeck)
October 15, 2019--- Military.com | By Matthew Cox
Army Sgt. First Class Randall Broadhead today told the new Sergeant Major of the Army (SMA) that non-combat arms recruits need something like Marine Combat Training (MCT) to ensure they are ready for the next war.
The Drill Sergeant at the U.S. Army Signal School at Fort Gordon, Georgia and former Marine asked the SMA (Michael Grinston) to consider creating additional, combat-focused training like the 3-week MCT course all new Marines go to after boot camp during a forum at the 2019 Association of the U.S. Army's annual meeting in Washington, D.C.
"What is the possibility of bringing something like Marine Combat Training into the force to build up that lethality within the soft-skilled Military Occupational Specialties (MOS) and not just the infantry and combat arms?" Broadhead asked. "After Boot Camp, they go to 3 weeks of infantry training then they go on to their MOS training."
Grinston, surprised by the question, said. "Yeah, we are not going to do that, probably," prompting chuckles from the audience. "First of all, I am not sure about this whole soft-skill, hard-skill thing -- here is what I do know, in combat everybody fights."
Related: Army to Test Extended Infantry Training Program this Summer
In February 2018, the Army announced it will overhaul Basic Combat Training to add more physical fitness, marksmanship, communications and battlefield first aid skills after Commanders said some new soldiers arrive undisciplined and unprepared.
The Army also launched an effort last year to extend one-station unit training for infantry soldiers from 14 to 22 weeks to give soldiers more time to practice marksmanship, land navigation, fire and maneuver and other key infantry skills. The effort has spread to other combat-arms specialties such as armor and combat engineers.
Broadwell said that non-combat arms soldiers coming out of the redesigned Basic Combat Training are still lacking in critical combat skills. "Right now, I do get privates that can't read a map," Broadwell said. "There is a lot packed into basic and the 9 weeks they are there; a lot of them are overwhelmed ... and I am having to teach them how to read a map and having to re-teach the basics because they weren't taught enough to begin with."
After Marine boot camp, Marines that aren't going to be infantrymen still go to "the infantry school house" for 3 weeks of MCT, said Broadwell, who served the Marine Corps from 2001 to 2005 an artilleryman. "They do patrolling, land navigation, hand grenades, machine guns -- all the weapons you would have in a regular infantry squad. And then once they graduate that they go off to their MOS school," Broadwell said.
Grinston said that it's very challenging to extend initial military training because it delays when soldiers are scheduled to arrive at their 1st units. "You can't just add 3 weeks to anything without a cost. And I am not talking about the money cost, it's the time cost because you want the medics ... you want all those specialties in your units," Grinston said. "As soon as we make it 3 weeks longer, those are hundreds of soldiers that are not going to be in your units for 3 more weeks."
One solution that will help make all non-combat arms soldiers more combat ready is the Expert Soldier Badge, an effort the Army unveiled in June 2019 that's designed to test soldiers on a challenging battery of tasks that is equivalent to testing for the prestigious Expert Infantryman Badge (EIB) and the Expert Field Medical Badge (EFMB).
"This is good for our Army," Grinston said, describing the effort that units will begin testing for, in fiscal 2020. Grinston said he has told soldiers about the effort in the past, and "somebody said, 'Sergeant Major, we don't have time to do that.'"
"OK, here we are in combat, you got shot, your leg is bleeding and the soldier who runs up to you doesn't know how to put on a tourniquet. So, I just want to make sure you are OK with that," he said. "Those are the tasks for Expert Soldier Badge, it's warrior tasks and battle drills." "So, I think we have to have time to work on Expert Soldier Badge."
=================
Pay Bump: 2020 Military Retiree, VA & Social Security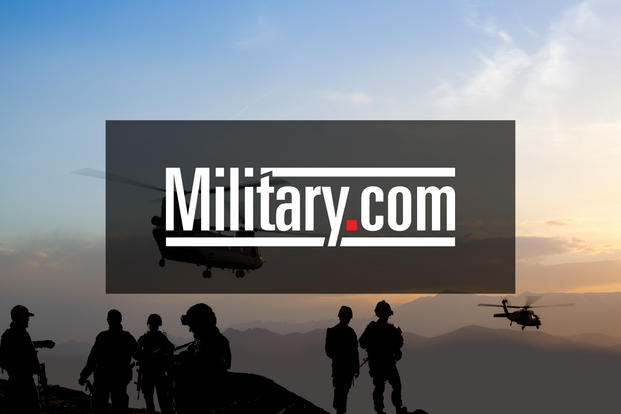 Calculating finances. Getty Images
October 11, 2019 --- Military.com | By Jim Absher
Military retirees, those who receive disability or other benefits from the Department of Veterans Affairs, federal retirees and social security recipients will see a 1.6% increase in their monthly checks for 2020.
The annual Cost Of Living Allowance (COLA) is smaller than the 2.8% increase from last year but in line with the historical increases seen over the last 10 years. Each year military retirement pay, Survivor Benefit Plan Annuities, VA Compensation and Pensions, and Social Security benefits are adjusted for the rate of inflation.
Retirement Pay Increase
As a result of the increase, average military retirement checks for an E-7 with 20 years of service will go up $38 a month, while an O-5 with the same time in uniform will see a $72 monthly increase. Retirees who entered military service on or after August 1, 1986 and opted-in for the Career Status Bonus (CSB/Redux retirement plan), have any COLA increases reduced by 1%, so they will see a smaller increase in 2020. The 1.6% increase means that you will get an additional $16 for every $1,000 in government benefits you receive.
Related content:
Military Retirement & Survivor Pay Dates
Active Duty Members On Track For 3.1% Pay Raise In 2020
VA Disability Increase
Disabled veterans will also get a bump. The average VA disability check will go up about $2 per month for those with a 10% rating, and $49 for those rated at 100%.
Other Federal Retirees and Beneficiaries
Military retirees and VA beneficiaries aren't the only ones who benefit from the COLA increase. Civil Service retirees, and Social Security recipients will also see the 1.6% jump in their monthly checks as well. For Social Security recipients, the monthly increase will mean an extra $12 per month for the average beneficiary.
How the COLA Is Determined
The Department of Labor determines the annual COLA by measuring the Consumer Price Index (CPI), which is a measurement of a broad sampling of the cost of consumer goods and expenses. The CPI is compared to the previous year, if there is an increase there is a COLA. If there is no increase, there is no COLA.
The COLA affects about 1 in 5 Americans, including Social Security recipients, disabled veterans, federal retirees, and retired military members. Last year, the COLA increase was 2.8%; in 2018, retirees saw a 2.0% increase.
Keep Up with Military Pay Updates
Military pay benefits are changing all the time -- make sure you're up to date with everything you've earned. Join Military.com for free to receive updates on all your military benefits, delivered directly to your inbox.
=====================
New 2020 Rates: Vision & Retiree Dental Insurance
October 7, 2019 --- Military.com | By Jim Absher
Military dependents and retirees and their families should check out the 2020 Federal Employees Dental and Vision Insurance Program (FEDVIP) plans and rates. The FEDVIP program offers vision insurance to military dependents, retirees and their families, as well as dental insurance for retirees and their families.
For 2020, FEDVIP offers 10 dental and 4 vision carriers to choose from. Information about the 2020 plans is now available online. You can research the costs and coverage of all the different plans as well as compare the different levels of coverage available for your location. If you're currently enrolled in a FEDVIP plan and don't want to make any changes to your coverage, there is nothing you need to do to remain in your current plan. Your coverage will remain the same in the upcoming year.
But it's still a good idea to check out all the available options you have in case the plan or your personal situation has changed over the past year, or you are anticipating any changes to your coverage in the upcoming year. For 2020 dental premiums will increase 5.6% on average, while vision premiums will increase 1.5% on average over the current year's prices.
During open season, which runs from November 11 - December 9, 2019, you can enroll in a new FEDVIP plan or change your coverage. Any changes you make to your coverage during open season will be effective January 1, 2020.
There are several different companies that offer both vision and dental coverage, and most plans have different levels of coverage. Outside of open season you can only make changes to your FEDVIP coverage if you have a Qualifying Life Event such as moving to a new area or changing your number of dependents.
==================
West Point to Honor First Female 4-Star General
U.S. Army General Ann E. Dunwoody, former Commanding General of the Army Materiel Command, salutes during the playing of the national anthem at her retirement ceremony on Joint Base Myer-Henderson Hall, VA, August 15, 2012. (U.S. Army photo/Teddy Wade)
October 3, 2019 --- The Associated Press
WEST POINT, N.Y. — The first woman to become a four-star general in the U.S. military will be honored with an award at West Point. Retired Army General Ann Dunwoody will receive the Thayer Award on October 10, 2019 at a ceremony at the U.S. Military Academy.
The award is presented by West Point's Association of Graduates to those whose service in the national interest reflects the academy's motto of "Duty, Honor, Country." Past recipients include Dwight D. Eisenhower, Bob Hope and Tom Brokaw and Robert Mueller. Last year's recipient was Leon Panetta.
Before her retirement in 2012, Dunwoody led and ran Army Materiel Command, the largest global logistics command in the U.S. Army. The award is named for Colonel Sylvanus Thayer, a revered early leader of the academy.
===================
Colt's Halt to Civilian AR-15 Sales May Prompt Other Gunmakers to Exit Market

Semi-automatic AR-15s for sale at Good Guys Guns & Range on February 15, 2018 in Orem, Utah. An AR-15 was used in the Marjory Stoneman Douglas High School shooting in Parkland, Florida. (Source: Getty Images)
October 1, 2019 --- Military.com | By Matthew Cox
Colt's recent decision to halt civilian production of AR-15s sent a tremor through the small-arms community, a sign that other gunmakers may fall victim to a market swelled to capacity with the popular semi-automatic rifle.
Just a few years ago, in the run-up to the 2016 presidential election, gunmakers couldn't make enough AR-style rifles and carbines to satisfy public demand. The fear of many gun enthusiasts that a Democratic victory would lead to the reinstatement of the 1994 Federal Assault Weapons Ban drove large gun companies to ramp up AR production and opened up a flood of small AR shops, said Mark Oliva, spokesman for the National Shooting Sports Foundation, the firearms industry trade association.
"When the 1994 assault weapons ban expired in 2004, the interest in people buying firearms, particularly these firearms, increased rapidly," Oliva said. "And as we start to look at the sales figures ... going right up until the 2016 election, in 2015 and 2016, we just had a huge spike in people buying AR-15s ... and I think that is why you saw such an exponential growth of just people coming out of the woodwork, making their own AR-15s, and a lot of the small makers jumping into the market."
Related: Colt Suspends Production of AR-15 for Civilian Market
The problem is that the gun industry was left with a huge inventory of ARs after Trump won the 2016 election, said Ryan Cleckner, a firearms industry attorney and former vice president of Remington Outdoor Company, a conglomerate that owns AR makers such as Remington, Bushmaster and DPMS.
"Up until the last year, the AR market still sells strong ... however, the market has been a rough market these past few years," said Cleckner, who served in the Army's 1st Battalion, 75th Ranger Regiment, from 1998 to 2003 and now is the owner of Gun University, a firearms review website. "The industry is going to take a downturn; it just has to. It's just the natural cyclical rate of any industry. And it will be good because it will separate some of the wheat from the chaff. We have too many AR makers right now," he said.
Colt's Manufacturing Co. LLC acknowledged the "significant excess in manufacturing" in the "sporting rifle" market in a September 19, 2019 statement explaining its suspension of civilian AR production. The company gave no indication that its decision might be tied to the current debate over the public's access to AR-15s and other semi-automatic rifles, which have been used in several mass shootings, as some have inferred.
On the same day, the Defense Department announced that U.S. Army Contracting Command had awarded a $41.9 million foreign military sales contract to Colt to produce M4 and M4A1 carbines for more than a dozen countries, including Afghanistan, Djibouti, Jordan, Kuwait and Lebanon.
"We are fortunate enough to have been awarded significant military and law enforcement contracts," said Dennis Veilleux, president and CEO of Colt. "Currently, these high-volume contracts are absorbing all of Colt's manufacturing capacity for rifles."
Military.com reached out to Colt but did not receive a response by press time. Colt became an icon of the AR-15/M16 family shortly after Eugene Stoner invented the AR-15 design for ArmaLite Company in the late 1950s. Colt purchased the design rights and produced mass quantities of the M16 during the Vietnam War.
Over the years, it has supplied the U.S. military with multiple versions of the M16, including the M4 and M4A1 up until 2013 when FN Manufacturing outbid Remington Arms Company and Colt Defense LLC to win a contract worth just under $77 million to make M4A1s for the Army. Colt has also struggled on the civilian side of the AR market over the past 10 years, Cleckner said.
"It was rare in the past decade to go into a gun shop to see more than a couple of Colts," he said, adding that "it was a great business decision" for the Hartford, Connecticut-based company to focus on its military contracts, an option smaller gun shops have not had. "We have had a bunch of smaller shops that have already shut down," Cleckner said. "The only reason the big manufacturers have stayed around is they are so big, and they will be able to weather the storm."
Despite the decrease in demand, the AR-15 is still an extremely popular rifle, Oliva said. "It's still a very competitive market; we are looking at 16 million AR-15s that are in private ownership today in America," he said. "I think this is a decision that [Colt officials] are making that is probably temporary, and I think that you [will] see them, when the time is right, re-emerge into the market."
====================
U.S. Navy Moves Ships into the High North as Arctic Competition Intensifies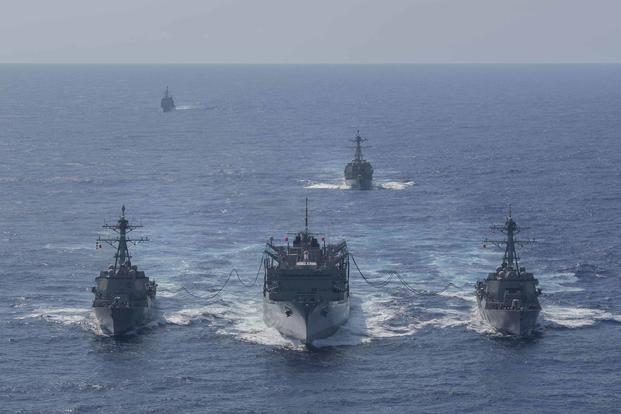 From left to right, the guided-missile destroyer Forrest Sherman (DDG 98), the fast combat support ship USNS Supply (T-AOE 6), and the guided-missile destroyer Gravely (DDG 107) conduct a refueling-at sea, while the guided-missile cruiser Normandy (CG 60) (far left) and guided-missile destroyer Winston S. Churchill (DDG 81) (center right) stand-by in the Atlantic Ocean on September 7, 2019. (U.S. Navy photo by Mass Communication Specialist 3rd Class Rebekah M. Rinckey)
September 27, 2019 --- Military.com | By Oriana Pawlyk
The U.S. Navy is moving to expand its presence in the Arctic. The service's newly reestablished 2nd Fleet has stood up a temporary expeditionary maritime operations center out of Keflavik, Iceland in recent weeks to give U.S. naval vessels a more competitive edge in a region where international interest is growing, according to service officials.
The guided-missile cruiser Normandy and destroyer Farragut have begun working in the harsh waters of the High North as they practice navigating in a region that Russia calls its backyard. "The North Atlantic is becoming more of a competitive space than it has been for the last number of years," 2nd Fleet Commander Vice Admiral Andrew "Woody" Lewis said in a phone call with reporters. "It's an imperative that we get up there and operate regularly."
Related: Norway Worries Melting Arctic Ice Will Incite Drone Ops and Conflict
"If you look at a map of the Arctic, and you look at the distances, and then you look at what we have for supportability ... it's not much," Lewis said. "Everything is an expeditionary capability -- expeditionary refueling, expeditionary loading of supplies and ... we have to ... equip the ship differently and have to go out with a different mindset."
The most ordinary tasks will become a struggle, he said. As an example, sailors will have to consistently evaluate "things as simple as, 'What kind of clothing that a sailor is wearing on exposed weather decks?'" he added. The operations center in Keflavik has roughly 30 personnel to act as liaisons between the ships, 2nd Fleet headquarters in Norfolk, Virginia, and Naval Forces Europe.
Last year's Trident Juncture exercise took place near the Arctic Circle with the Harry S. Truman Carrier Strike Group participating. That gave the Navy a taste of the region's bleak conditions, but the service needs to make training in a cold-weather environment the norm, said Captain Chris Slattery, expeditionary Maritime Operations Center director.
"Conditions here require additional considerations for all aspects of naval operations, from navigation, to logistics and medical support, to communications," he said. The guided-missile destroyers Lassen and Forrest Sherman are also in the Atlantic but will not join the Normandy and Farragut in the Arctic Circle. For now, the 4 ships of the Truman Carrier Strike Group are making up a Surface Action Group (SAG); the Truman was unable to deploy due to an electrical malfunction.
Lewis said the Truman should be able to rejoin the group but could not provide a timeframe for its arrival. The SAG, expeditionary by design, is a "deliberate effort to provide more decision space at sea," he said. In 2018, then-Chief of Naval Operations Admiral John Richardson re-established 2ndFleet, which had deactivated in 2011, to increase the service's ability to operate from the Eastern seaboard to the Barents Sea, where Russia operates its nuclear-powered and conventional submarines.
While last year's Trident Juncture -- which brought nearly 50,000 U.S. and NATO forces together for the largest iteration of the drill since 1991 -- was a clear deterrence message to Russian forces, Lewis said the latest operations aren't meant to poke the bear. "The key to this is being strategically predictable to our allies and partners and operationally unpredictable to our competitors," adding the Navy will maintain a "professional posture."
Lewis and Slattery said there haven't been any hostilities or increased malign activity from the Russian side. But "our intention was to get up into the Arctic and be able to prove to ourselves that we can get there without being noticed on the way," Lewis said. "There's no real Russian assets, whether air surface or subsurface, within the proximity of the Northern SAG," added Slattery. "There's hasn't really been an opportunity for any of that interaction." But "I'm sure the longer we stay up here, that opportunity would increase," he said.
=======================