New Technology Can Help Wounded and Ill Veterans Regrow Skin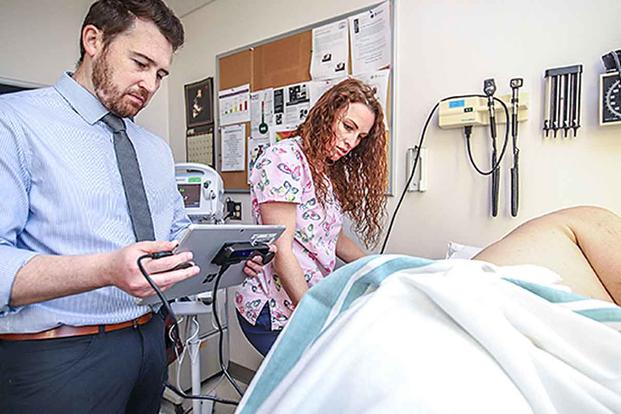 Researcher Dr. Matthew Peterson and nurse Trina Dickert measure bedsores, or pressure ulcers, a common problem for veterans with spinal cord injury, as well as other patient populations. (Photo by Dan Henry via VA.org)
December 5, 2019 --- Military.com | By Dorothy Mills-Gregg
Two skin regeneration products going to market this month may help wounded veterans heal faster and prevent limb-threatening diabetic ulcers. MTF Biologics, a global nonprofit and the world's largest tissue bank, is unveiling both an injection that promotes fat cell growth under the skin and an epidermis-like bandage at a limb salvage conference in Phoenix this week.
Both products are available at the Department of Veterans Affairs through Academy Medical, a procurement service. The first product, called Leneva, lets doctors create skin cell growth below the surface with an injection. The other, SomaGen Mesh, is a breathable cover that promotes rapid skin regrowth to speed up healing for open wounds like diabetic ulcers. Dr. Matthew Regulski, a podiatric surgery specialist who's used both products on patients, said 80% of chronic wounds occur from the knee down.
Related: Older Veterans Show how Fitness Intensity Boosts Health
Diabetics are at risk of developing chronic foot ulcers. These can result in amputation, and 40% of such patients die within 5 years from associated complications. Veterans are more likely than civilians to become diabetic, recent research has shown. Data from the Centers for Disease Control published in 2017 showed 9.4% of the general population had diabetes. The US National Health and Nutrition Examination Survey found nearly 25% of veterans had diabetes.
Regulski said most people don't know how debilitating diabetes can be: It affects the whole body physically by slowing down the immune system. There is also a mental effect because patients are told how to live their lives and what to eat, which can lead to depression. As the 7th leading cause of death, diabetes has killed more people than all cancers combined, he said.
Leneva has huge potential to heal and prevent diabetic ulcers by encouraging more blood flow under the surface of wounds by creating new fat cell growth, Regulski explained. What sets SomaGen apart from current products is its design, which lets it expand up to 150% to accommodate wounds of various sizes, making it useful for combat wounds and burn victims. "With SomaGen, you get these large pieces," he said. "It's already penetrated. It has folds to allow fluid to move through from the wound."
It's a cheaper alternative to typical skin regeneration, which must be harvested and stored. "The recurrence of chronic and complex wounds are painful and can be both life-threatening and costly to treat," said Kim Rounds, VP of wound care at MTF Biologics.
================
Pentagon Report Predicts Rise of Machine-Enhanced Super Soldiers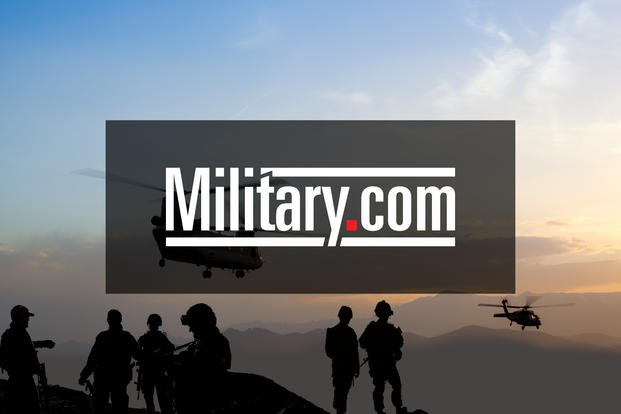 In the past, high-tech weapons programs were canceled to pay for the wars in Iraq and Afghanistan. But now the Army says new technologies for ground troops could soon be on the way. (Getty Images)
December 3, 2019 --- Military.com | By Matthew Cox
By 2050, the U.S. military could have the ability to implant sophisticated machine technology into combat troops for enhanced performance capabilities such as super eyesight and advanced brain function for controlling unmanned drones and other weapons systems, according to a recent Defense Department study.
In "Cyborg Soldier 2050: Human/Machine Fusion and the Implications for the Future of the DOD," the Biotechnologies for Health and Human Performance Council study group surveyed several current and emerging technologies designed to augment human performance to present the feasibility, military uses, and ethical, legal, and social implications of the technology.
"The study group predicted that human/machine enhancement technologies will become widely available before the year 2050 and will steadily mature, largely driven by civilian demand and a robust bio-economy that is at its earliest stages of development in today's global market," the report states.
Related: Super SEALs: Elite Units Pursue Brain-Stimulating Technologies
The report's analysis states that the development of "direct neural enhancements of the human brain for two-way data transfer would create a revolutionary advancement in future military capabilities." The study group predicted that by the half-century mark, special neural implants would enable operator's brains to interact with battlefield assets such as weapon systems and reconnaissance drones as well as personnel within "proximity or across distances through hierarchical relays with a central network."
"The potential for direct data exchange between human neural networks and microelectronic systems could revolutionize tactical warfighter communications, speed the transfer of knowledge throughout the chain of command, and ultimately dispel the 'fog' of war," the report states.
The procedure for implanting such technology could be "invasive and involve methods that use microelectrodes directly implanted into regions of the brain or extended across the surface of the brain," according to the report, which adds that noninvasive methods such as using electrodes on the scalp can also be used.
"The level of invasiveness of early iterations and the potential irreversibility of these implants may limit acceptance by military personnel and society, although specialized teams (Navy SEALs, Army Rangers, etc.) may be more inclined to accept these technologies if they could provide significant improvements in capability, lethality, survivability, and overall battlefield superiority," it continues.
The study group also predicted that the technology for enhanced vision will also be available by 2050, offering operators "enhanced computational capabilities, which would allow for target identification, selection, and data sharing with other individuals or military systems," the report states. Like the neural implants, the procedure for vision enhancement, in some cases, would be invasive.
"The eyeball itself is completely replaced, and data feeds pass directly into the optical nerve bundle behind the eye," according to the report. "The sensory input for visualization would be completely mechanical or electronic in composition, which would allow data feeds of all types and across all spectra including those previously not capable of being visualized by humans." The development of high-bandwidth, implantable interfaces that stimulate nerves at the single-neuron level will facilitate 2-way data transfer that is not currently possible, the study group predicted.
"In essence, the eye would be completely artificial and capable of pulling in any manner of sensory data and feeding it directly into the brain for interpretation," the report states. The report includes a disclaimer that stresses the study group's findings "are not an official policy or position of the Department of the Army, the National Defense University, the Department of Defense, or the U.S. Government." The Defense Department should develop legal, security and ethical frameworks for this emerging technology, the report states.
The Pentagon should also support research to validate human-machine fusion technologies, the group recommended, "before fielding them and to track the long-term safety and impact on individuals and groups." The report acknowledges that using such technology to enhanced human beings may not be accepted by the public.
"Across popular social and open-source media, literature, and film, the use of machines to enhance the physical condition of the human species has received a distorted and dystopian narrative in the name of entertainment," the report states. "Efforts should be undertaken to reverse negative cultural narratives of enhancement technologies."
The report's authors ultimately recommended that the Pentagon should conduct global assessments of societal awareness and perceptions of human-machine enhancement technologies. "A generalized perception exists in the United States that our adversaries are more likely to adopt technologies that U.S. populations are reluctant or unwilling to field because of ethical concerns," the report concluded. "However, the attitudes of our adversaries toward these technologies have never been verified."
The study group recommended that a "more realistic and balanced (if not more positive) narrative, along with transparency in the government's approach to technology adoption, will serve to better educate the public, mitigate societal apprehensions, and remove barriers to productive adoption of these new technologies."
==================
Army Awards First Master Gunner Identification Badges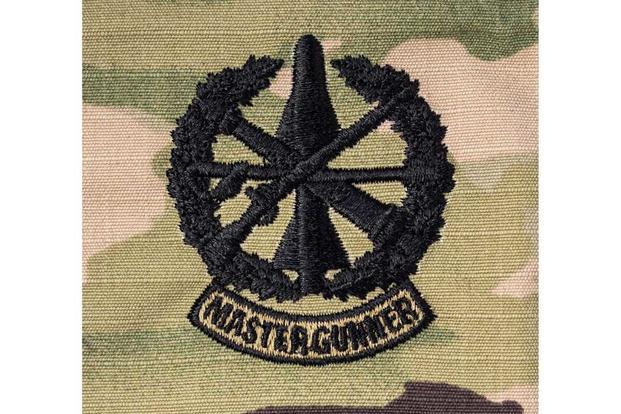 Army's new Master Gunner Identification Badge from (Image: Vanguard Industries Inc.)
Nov 30, 2019 ---Military.com | By Matthew Cox
The U.S. Army has awarded the first Master Gunner Identification Badges (MGIB) to a handful of soldiers, nearly 400 years after the prestigious position of master gunner was created. At a November 25th ceremony at Fort Benning, Georgia, 7 soldiers were awarded the new badge.
"Today marks an important step in recognizing the hard work and dedication of our subject matter experts -- the master gunners who have committed the extra effort to enhance the warfighters capabilities and effectiveness on the battlefield," 1st Lieutenant Jeremy Hesketh, of E Company, 1st Battalion, 81st (1-81) Armor Regiment, 194th Armor Brigade at Benning, said. The Army finalized the new skill identification badge on May 8, 2019, but the role has a legacy spanning 4 centuries.
Related: Expert Soldier Badge Test an Unforgiving Wakeup Call for Non-Infantry Soldiers
"Roughly 390 years ago, Samuel Sharpe was appointed Master Gunner in the Massachusetts Bay Colony, becoming the 1st Master Gunner on the continent," per a June 10 article in the Army's NCO Journal magazine. The badge is authorized for graduates of master gunner courses offered by the Army's field artillery, armor, air defense artillery and infantry schools.
"The MGIB acknowledges specific weapon system mastery and expertise that has been crucial to American combat success historically," according to the NCO Journal article. "By implementing the MGIB, the Army is recognizing the heavy responsibility that Master Gunners bear. They provide their units with an evolving mastery level of gunnery and tactics steeped in rich tradition significant throughout the Army's history."
The distinctive badge, which can be worn on Army dress and duty uniforms, features a laurel wreath to represent victory of the maneuver force. Inside the wreath is a missile to represent the air defense artillery branch, a 1795 Springfield musket for the infantry branch and a 19th-century cannon for the artillery branch.
The badge is authorized for soldiers who complete the Field Artillery Master Gunner Course, Master Gunnery-M1/M1A1 Tank Course, Infantry Fighting Vehicle Master Gunner Course, Avenger Master Gunner Course, M1A2 SEP Master Gunner Course, Stryker Master Gunner Course and Patriot Master Gunner Course, according to NCO Journal.
In total, 9 soldiers from the 1-81 have met the requirements for the badge, but only 7 received it at the ceremony, according to Sue Ulibarri, spokeswoman for Fort Benning. Here's a list of the 7 awardees:
1. Command Sergeant (Sgt.) Major Brandon Petersen
2. Sgt. Major Michael Steward
3. Sgt. First Class Brian Gurnsey
4. Staff Sgt. Kenneth Bowman
5. Staff Sgt. Eric Gould
6. Staff Sgt. Andrew Margolis
7. Staff Sgt. Timothy Poole
"It's an honor to get awarded the badge in front of my peers," Bowman said in the video. "I just work hard. ... I love to train soldiers."
====================
Marine Corps' 1,500-Foot Sea Wall Plan Raises Concern in Hawaii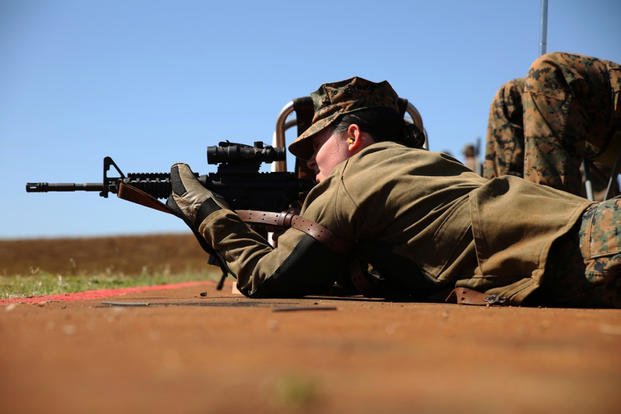 Corporal (Cpl.) Sabrena Norris, a Marine with U.S. Marine Corps Forces, Pacific, fires from the prone from the 500-yard line during the Pacific Division at Puuloa Range Training Facility February 8, 2016. (U.S. Marine Corps photo/Sarah Anderson)
November 22, 2019 --- The Honolulu Star-Advertiser | By William Cole
Some Ewa Beach residents are concerned that a Marine Corps plan to install 1,500 feet of steel barrier to protect part of the oceanfront Puuloa Range Training Facility from beach erosion could create problems for residents on either end. The proposal comes amid statewide concern over rising sea levels and eroding beaches--and a proliferation of sea walls to try to counter those effects.
"When erosion threatens the built environment, a common reaction is to armor the shoreline with a seawall or revetment, " the Hawaii Coastal Erosion Website under the University of Hawaii states. Past studies show that 70 % of Hawaii's beaches are eroding. Armoring a chronically eroding coast leads to further beach loss, according to shoreline experts. U.S. Senator Brian Schatz called on the U.S. Marine Corps to review the environmental impact of its plan to build the retaining wall in Ewa Beach.
"It is incumbent that the Marine Corps explore long-term resilience benefits for the Puuloa Range Training Facility that avoid unnecessary environmental impacts on Hawaii's beaches and the residents of Ewa Beach, " wrote Schatz. The Hawaii Democrat asked the Marine Corps to revisit alternatives "to ensure that it has assessed the feasibility of designing a project that draws on natural and nature-based features, consistent with existing engineering best practices for coastal zone management and beach erosion."
As of Tuesday, meanwhile, 1,126 people had signed a petition at change.org seeking a more thorough environmental impact statement analysis for the effects of the shoreline construction beyond the less robust environmental assessment already conducted. The Marine Corps in late August produced a proposed "finding of no significant impact " for the plan for about 1, 500 feet of "sheet pile " that likely would be steel along the boundary of long-distance ranges A and B, and a "retreat " of about 100 feet from the sea for short-distance ranges C through F.
Sheet pile would be installed on the "fast land " boundary (above the tidal influence) by driving it through sand and coral seaward of a range berm topped by a concrete wall. The modifications are needed to protect the range shoreline from continuing erosion that could compromise the heavily used range needed to train combat-capable forces for worldwide deployments, the Corps said.
"No significant impacts are expected to adjacent shoreline areas due to the predominant west to east longshore sand transport, the buffer areas provided at either end of the proposed sheet pile, and the design elements of the proposed sheet pile which would minimize impacts from end (sand ) scour, " the Marine Corps report said.
But longtime Ewa Beach resident Mike Plowman said he has concerns about the effects of the Marine Corps sea wall in combination with nine big T-head groins placed nearby off what was then Iroquois Point and now is known as Kapilina Beach Homes. Nine thousand cubic yards of sand that had drifted around into the Pearl Harbor entrance channel was dredged and used to fill the T-head groins as part of the project completed in 2013.
Although the Marine Corps' plan is to pile-drive the sheet pile into sand and coral so that only about a foot is visible, Plowman said as soon as sand is displaced, it becomes a de facto sea wall. "And how that is going to affect the Ewa Beach shoreline is undetermined, " Plowman said. "There's history with the nine groins that were placed at Iroquois Point which they cite in the (environmental assessment) and some resulting erosion at (Puuloa) because of that."
With further beach erosion, the Marine Corps sheet pile could be exposed to wave action and adversely affect one or both sides of the beaches that it's adjacent to, he said. The 165-acre Puuloa range is owned and operated by the Marine Corps but used by all military branches as well as state and county police, the FBI and other law enforcement, according to the environmental assessment.
The area was acquired by the Army between 1904 and 1905 as part of the coastal defense of Oahu. By the end of 1915, the Marine Corps had established a pistol range and rifle range up to 1, 000 yards with a tent camp for officers and enlisted service members. The range, which extends along 3,000 feet of sandy shoreline and is part of the Pearl Harbor Naval Defensive Sea Area, has six small arms ranges as well as ranges A and B on the west end that are up to 3, 000 yards.
Beginning just east of the range, the shoreline had been chronically and severely eroding for more than 60 years and prompted the T-head groin construction, the Marine Corps noted. The nearest groin is 500 feet east of the range boundary. The Marine Corps indicated it would begin the sheet pile project as soon as funding becomes available.
Schatz wrote to Marine Corps Commandant General David Berger noting that the U.S. Army Corps of Engineers "Engineering with Nature " initiative offers lessons for drawing on nature-based approaches to mitigate coastal erosion. Schatz gave the example of developing artificial reefs to reduce the effects that waves have on beach erosion. He asked for a response "with an explanation of the way forward on this project " no later than December 6, 2019.
====================
2020 Census Temp Jobs Perfect for Military Spouses & Veterans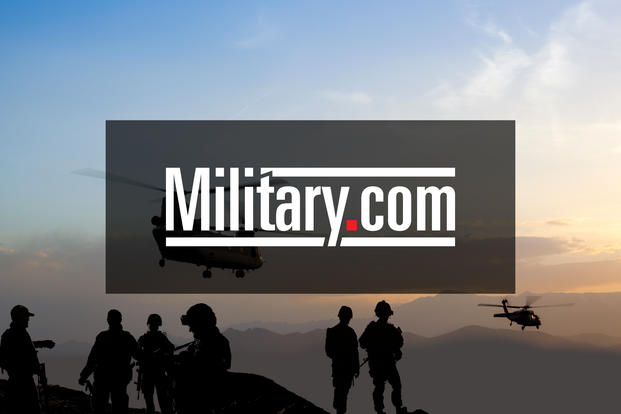 March 23, 2018, file photo shows an envelope containing a 2018 census letter mailed to a U.S. resident as part of the nation's only test run of the 2020 Census. (AP Photo/Michelle R. Smith, File)
November 4, 2019 --- Military.com | By Dorothy Mills-Gregg
U.S. Census Bureau is recruiting 2.7 million applicants for the 2020 census. Bureau staff say the temporary positions are perfect for veterans and military spouses. "This really is the ideal job for veterans and military spouses," said Megan Kindelan, assistant division chief in the bureau's field division. "It's a chance to be part of history, and we are really looking to veterans and military spouses because of their experience and their resilience and resourcefulness, which is exactly what you need in a census environment."
Job seekers can apply with one online application to 3 positions: census taker, recruiting assistant and, if available in that area, office clerk positions. Kindelan said applicants will be chosen in January, with the bulk of work happening in March, but people can start applying now at 2020census.gov/jobs. The easy-to-navigate website also explains the job requirements; what job seekers need to apply; and shows a pay chart, which is location-based. With supporting documents, a former service member can claim veterans' preference when applying for the job.
Related: Census to Count Troops by Base Home Address, Officials Say
Since the job is completed over such a short period of time, Kindelan said it is perfect for military spouses, whose transient lifestyle can make it hard to hold a job. She added that the flexibility, agility, resilience and resourcefulness veterans learned in the military also make them "excellent candidates" for the accelerated work environment needed to complete next year's census.
"When you're in the service, you're often accustomed to living and working in really fast-paced situations," she said, "having to make last-minute changes and adjustments based on operational needs, and that is incredibly similar to a decennial census."
=================