Here's the List of Military Clinics That Will No Longer Serve Retirees, Families
Lieutenant Commander Andy Hogan, a physician at Naval Hospital Jacksonville's Family Medicine Clinic, checks a sailor's heartbeat. (U.S. Navy/Jacob Sippel)
February 20, 2020 --- Military.com | By Amy Bushatz
Pentagon officials on Wednesday released a list of Military Treatment Facilities (MTFs) and clinics that will no longer provide care to military retirees and active-duty families as part of a shift in focus to supporting active-duty readiness.
"The military health system is in the midst of implementing several significant reforms aimed at building a more integrated and effective system of readiness and health," said Tom McCaffery, Assistant Secretary of Defense for Health Affairs. "We reviewed all facilities through the lens of their contributions to military readiness -- that includes MTFs [being] operated to ensure service members are medically ready to train and deploy.
It means MTFs are utilized as platforms that enable our military medical personnel to acquire and maintain the clinical skills and experience that prepares them for deployment in support of combat operations around the world." The list is included in a 61-page report to Congress. The report lays out the process through which officials selected the locations slated for changes.
Those changes, first announced in a February 3, 2020 memo obtained by Military.com, are slated to impact 200,000 retirees and active-duty family members. Of those, officials said Wednesday, about 80,000 are active-duty family members, while the remaining 120,000 are retirees and their families.
Related: Some Retirees Have Already Been Pushed to Off-Base Providers in Tricare Shift
Of the 38 facilities that no longer see retirees or family members, 24 are slated to shift to active duty only over the several years, officials said. Eleven clinics have already started the process of moving to active duty only, and three are slated to close to all users.
An additional 4 facilities are slated for downgrades. For example, the hospital at Marine Corps Air Station Beaufort, South Carolina, will downgrade to an ambulatory care center under the plan. Two facilities will shift to mostly active duty care, but will take families as needed. And two hospitals could be given upgrades, including the hospital at Camp Lejeune, North Carolina.
While officials said military readiness, not cost savings, is the primary driver for the changes, pushing retirees and active-duty families into the community for care should save the system money. For 2021, that savings is expected to reach about $36 million.
"We have generally found that, through our contracts, that our care often is cheaper in the network from a government purchase point of view than the cost of actually doing it within our direct-care system in some locations," Dr. Dave Smith, deputy assistant secretary of defense for force health, told reporters. "And clearly, as part of our methodology, that was one of the questions we asked, but our principal question was, 'Are we getting readiness value out of this location that is worth the cost, if you will, compared to putting that somewhere else in the system.'"
Changes bring higher costs to users forced to see doctors in the civilian community. For retirees on Tricare Prime, receiving care off base, costs $20 per visit for primary care and $31 for specialty care. That's for in-network doctors outside the MTF and comes on top of a $600 per family annual registration fee. For active duty families on Tricare Prime, the change will carry no out-of-pocket costs. The February 3, 2020 memo noted that "in many cases" all users will be able to receive pharmacy services at the impacted facilities.
All the clinics listed as shifting to active duty-only were noted as keeping pharmacy service for all users. However, pharmacy services provided by the facilities slated for complete closure will cease. That means users who previously received drugs from those facilities will need to shift to a different military pharmacy or pay out of pocket for drugs from a local retail pharmacy or mail order.
Officials told reporters Wednesday that no clinics identified for transition will do so until care is secured within the civilian community for each patient, a process that they said could take as long as five years. The Defense Health Agency, which manages the Tricare program and its private contractor, will oversee that process, McCaffery said.
"It will be the Defense Health Agency working with the local MTF leader, the installation commander and our Tricare network partners in making those determinations in terms of assessing the ability of that civilian health care market to take on additional patients," he said. "We recognize that this is an MTF by MTF, market by market implementation."
Officials said they examined more than 300 military health facilities as part of their review. Of those, they looked at 77 for a "detailed assessment" and determined that 50 warrant changes. Thirty-eight were then identified as having the necessary nearby civilian medical support to absorb an influx of new patients, they said. That civilian capacity was assessed by surveying the local provider network and working with base commanders and MTF officials.
Researchers looked at primary, specialty and in-patient care within specific drive-time standards. For primary care, officials looked at providers within 15 miles of the current MTF for urban areas, and 30 miles for rural areas. For specialty care, the standard was 40 miles for urban areas and 55 miles for rural areas. And for in-patient hospital care, the standard was a 60-minute drive time.
For in-patient care, special attention was paid to labor and delivery services, the report states. In many cases, it notes, decisions were made specifically based on that issue. For example, at Fort Campbell, Kentucky, closing Blanchfield Army Medical Center to non-active duty patients is not an option because the local hospitals, in nearby Hopkinsville, Kentucky, and Clarksville, Tennessee, would not be able to handle a resulting 267% increase in annual deliveries.
Facilities below are slated for changes or closures. The list can also be downloaded here. The complete report to Congress is available here.
Facilities closing to non-active duty patients include:
· Goodfellow Air Force Base, Texas, outpatient clinic
· Barksdale Air Force Base, Louisiana, outpatient clinic
· Maxwell Air Force Base, Alabama, outpatient clinic
· Dover Air Force Base, Delaware, outpatient clinic
· Hanscom Air Force Base, Massachusetts, outpatient clinic
· MacDill Air Force Base, Florida, outpatient clinic
· Robins Air Force Base, Georgia, outpatient clinic
· Dyess Air Force Base, Texas, outpatient clinic
· Joint Base McGuire-Dix-Lakehurst, New Jersey, outpatient clinic
· Navy Weapons Station Earle, New Jersey, Colts Neck Earle clinic
· San Onofre Marine Corps Base, California, San Onofre Health Clinic
· Fort Bragg, North Carolina, Joel clinic and Robinson clinic
· Marine Corps Logistics Base Albany, Georgia, Naval Branch Health Clinic Albany
· Naval Support Facility Dahlgren, Virginia, Naval Branch Health Clinic Dahlgren
· Naval Submarine Base New London, Connecticut, Naval Branch Health Clinic Groton
· Naval Support Facility Indian Head, Maryland, outpatient clinic
· Naval Air Station Belle Chasse, Louisiana, outpatient clinic
· Naval Support Activity Mid-South, Tennessee, outpatient clinic
· Portsmouth Naval Shipyard, New Hampshire, outpatient clinic
· Fort Detrick, Maryland, Barquist outpatient clinic
· Defense Distribution Center in New Cumberland, Pennsylvania, outpatient clinic
· Redstone Arsenal, Alabama, outpatient clinic
· Fort Lee, Virginia, Kenner-Lee outpatient clinic
· Aberdeen Proving Ground, Maryland, Kirk Army Health outpatient clinic
Facilities that have either already transitioned to active duty-only, or are in process:
· Fort Riley, Kansas, Farrelly Health Clinic
· Fort Hood, Texas, Fort Hood Medical Home and Charles Moore clinic
· Naval Support Activity Lakehurst, New Jersey, Naval Behavioral Health Clinic Lakehurst
· Marine Corps Air Station Miramar, California, Rancho Bernardo clinic
· Presidio of Monterey, California, outpatient clinic
· Rock Island Arsenal, Illinois, outpatient clinic
· Naval Air Station Corpus Christi, outpatient clinic
· Naval Station Newport, Rhode Island, Naval Health Clinic New England
· Naval Air Station Patuxent River, Maryland, outpatient clinic
· Joint Base Lewis-McChord, Washington, Okubo Medical Home
· Fort Carson, Colorado, Robinson-Carson outpatient clinic
Facilities that will close completely to all users:
· MacDill Air Force Base's Sabal Park community clinic in Brandon, Florida
· Fort Benning, Georgia, North Columbus-Benning clinic
· Fort Irwin, California, Department of Behavioral Health
Facilities that could see upgrades:
· Camp Lejeune, North Carolina, upgrade to Level II Trauma Center
· Tripler Army Medical Center, Hawaii, could be closed to non-active duty patients if officials determine that the local community can handle providing the necessary medical care.
Facilities slated for downgrade:
· Fort Meade, Maryland, Kimbrough, Ambulatory Care Center to downgrade to a clinic
· Marine Corps Air Station Beaufort, South Carolina, Naval Hospital Beaufort downgrade to ambulatory surgery center
· Joint Base Langley-Eustis, Virginia, downgrade to an ambulatory surgery center and outpatient clinic; McDonald clinic downgrade from ambulatory surgery to an outpatient clinic
· Fort Leavenworth, Kansas, downgrade from ambulatory surgery to an outpatient clinic
Facilities that may continue to see active-duty families
· Naval Technical Training Center Meridian, Mississippi, outpatient clinic
· Southern Command (SOUTHCOM), Miami, Florida, Gordon outpatient clinic
===============
There's More Than One Right Way to Treat PTSD in Veterans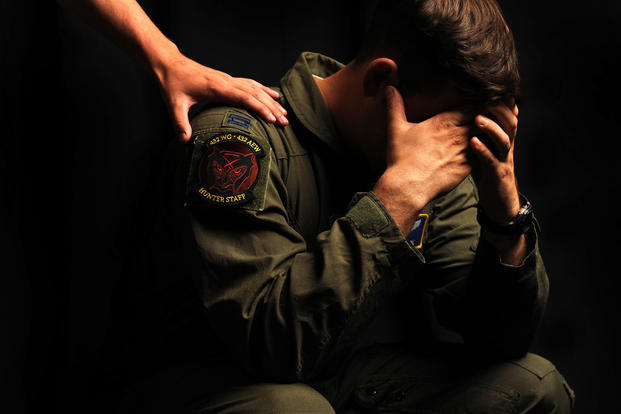 February 19, 2020 --- Military.com | By Kacie Kelly
Recent media reports surrounding a study on military Post Traumatic Stress Disorder (PTSD) treatment highlight some important ongoing challenges -- but they don't tell the whole story. And because of that, people could be getting the wrong message about effective care. In a January 30, 2020 study published by the Journal of the American Medical Association, the authors assessed findings from many years of research on PTSD treatment outcomes.
While the study rightly notes that trauma-focused therapies are good at treating PTSD, the authors made some conclusions that suggest trauma-focused therapies should not be prioritized as a first-line treatment. The headlines, jumping on this, unfortunately fail to paint a complete picture of the current state of care for veterans and service members with trauma-related injuries and may inadvertently reinforce negative perceptions about seeking mental healthcare.
Mental health, like physical health, often has a range of valid treatment options. Leading scientists in the field regularly review existing research to determine what should be the best choice for any given condition and provide guidance for practicing clinicians. Treatment options for PTSD might include various types of talk therapy, medication, or some combination, but research has consistently demonstrated that trauma-focused treatments are the best first choice for treatment.
Specifically, Cognitive Processing Therapy (CPT) and Prolonged Exposure Therapy (PE) are good options and do work for many veterans. Some 30-50% of veterans who participate in one of these treatments experience significant symptom reduction and no longer meet criteria for PTSD diagnosis following treatment.
While a recent publication called into question the effectiveness of CPT and PE with all veterans, another recent review of the literature on treatments of veterans and servicemembers with PTSD (supported by the International Society of Traumatic Stress Studies) concluded that these treatments should be used as first-line treatments while acknowledging the limitations (such as dropout rates and treatment complexities with often co-occurring conditions).
It seems the solution should be advocacy for research into new treatments for individuals who do not benefit from the first-line treatments. The study's coverage unfortunately took a different and concerning approach, inaccurately suggesting that the treatments do not work. For comparison, there are multiple courses of treatment for an individual experiencing colorectal cancer.
The first-line treatment for this disease is a partial or complete surgical removal, and according to the American Cancer Association, the 10-year survival rate is 59 percent. Would we suggest that someone with colorectal cancer not have surgery for this cancer, knowing that the treatment only works for some? Of course not. While we encourage innovation in healthcare, we must also value context and nuance in data, so people are not discouraged from reaching out for help that works.
There should be more precision in diagnosing, understanding and treating veterans and service members with PTSD, but there must also be more accuracy in describing the evidence on diagnostic and treatment advances that have been made. We should take into consideration the fact that, like most health care, that there is no one-size-fits-all approach when it comes to treating each individual.
Andrew Coughlin, a retired U.S. Army Specialist and an avid mountain biker, struggled for many years during his transition from active-duty service. He connected to high-quality care at the Marcus Institute for Brain Health to address his PTSD and challenges associated with traumatic brain injury (TBI). At MIBH, Andrew participated in a 4-week comprehensive and integrated program that included Eye Movement Desensitization & Reprocessing (EMDR) and other trauma-focused treatments.
Andrew today tells others "help is available, and people want to help." Based on his life-changing experiences in the program, he encourages other veterans "not to give up and to take some responsibility for treatment." He's right. Veterans need to be engaged in treatment decisions, recognizing that mental wellbeing isn't transactional, and PTSD is usually not binary or isolated. And they should also become educated on what effective treatments are available to them, including innovative solutions.
The Wounded Warrior Project's Warrior Care Network, for instance, provides 70 hours of therapy during a 2-3 week program, demonstrates exciting results with more symptom reduction, overall improvement in outcomes, and a completion rate of over 90%. Treatments such as CPT, PE, and EMDR are effective treatments for many with traumatic military experiences, and veterans should know about and ask for them.
Innovation, education, and partnerships are key in this effort. That's why the Bush Institute's Warrior Wellness Alliance has united 15 organizations around a single mission to connect more veterans to high quality care when they need it. By linking veteran peer networks to high quality clinical programs for the invisible wounds of war, our hope is that together we will help more veterans reach out for help and navigate to high-quality care for PTSD that exists across the country.
Continued research and innovation to improve treatment options are certainly important, so veterans can access the right care at the right time, and at the right place. While we have much work to do, the invisible wounds of war are real injuries that can be treated successfully. It's our duty to get it right for those who have sacrificed much for our country. By helping more men and women in uniform seek and access quality care for the invisible wounds, we'll enable each of them to continue to lead and serve our country even after they have taken off the uniform.
===============
While US Worries about China, Europe Stays Focused on Russia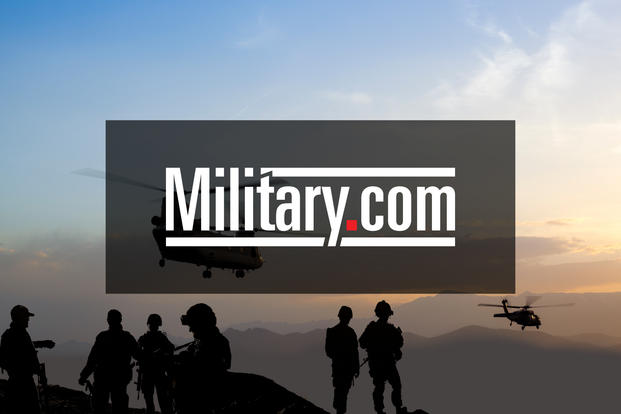 U.S. Secretary for Defense Mark Esper, center, speaks with military representatives as he attends a meeting of the North Atlantic Council at NATO headquarters in Brussels, Thursday, February 13, 2020. (AP Photo/Virginia Mayo)
February 14, 2020 --- The Associated Press | By Robert Burns
BRUSSELS — China and its increasingly sophisticated and far-flung military sit atop U.S. Defense Secretary Mark Esper's list of international security worries, but in Europe a bigger concern is closer to home: Russia. The Trump administration has been trying since 2018 to reorient its defense strategy toward China, with reduced focus, when possible, on Russia and the years-long insurgency wars in the greater Middle East.
Russia remains a U.S. worry, but Esper and other administration officials want the allies to see China as Washington does – as a far more capable adversary. China was not on the formal agenda when Esper met with allies at NATO headquarters Wednesday and Thursday, but he made a point of publicly expressing American concerns. "I've raised it every time I've been here, about the 'great power' competition with China and Russia — but China in particular," he told reporters.
NATO's emphasis on Russia over China reflects the alliance's 71-year history. Throughout that time, it has been focused mainly on Russia and the former Soviet Union. And NATO nations — especially those on Russia's eastern flank — have grown warier of Moscow since its takeover of Crimea in 2014 and its incursion into eastern Ukraine.
More recently, Russian President Vladimir Putin has trumpeted his nation's pioneering development of futuristic weaponry, calling into question the effectiveness of U.S. defenses and raising the possibility of a new arms race. European allies have also been uneasy with President Donald Trump's approach to Russia. Trump's warm words for Putin, his resistance to accepting intelligence findings of Russian interference in U.S. elections and his desire to withdraw U.S. troops from areas, like Syria, where Moscow could fill the vacuum have caused distress within NATO.
Trump's decision to delay military aid to Ukraine last year was at the core of impeachment proceedings that ended in the president's acquittal. The Trump administration, meanwhile, sees Europe as slow to respond to threats posed by China. It worries that China's economic engine is driving it to greater international influence, not just on the military front but also in global trade, in space and in technological advances.
Russia, by contrast, is seen by the U.S. administration as a second-rate power, albeit with a huge nuclear force. Trump's national security adviser, Robert O'Brien, recently touched on this China-Russia distinction in describing the administration's interest in nuclear arms control talks that include China as well as Russia. Trump has said his priority is an arms control deal that would include China for the first time, though China has not publicly expressed an interest in such negotiations.
"Candidly speaking, the Chinese are better prepared to have an arms race and to do what they want than the Russians ever were," O'Brien said. Secretary of State Mike Pompeo delivered his own beware-of-China message during a recent trip to Europe and Central Asia. He denounced China's human rights record, criticized its aggressive trade practices and urged his hosts to be wary of Chinese investment and influence. He warned that China's tech giant Hauwei poses a risk as countries develop next-generation, high-speed wireless networks.
The Trump administration has cast Huawei as a de facto arm of the Chinese government that could enable global espionage through its 5G networks. Huawei has denied these allegations. Esper told reporters Thursday that "NATO allies must carefully consider the long-term risks of the economic and commercial choices they make." "At the end of the day, Chinese telecom firms have a legal obligation to provide 'technical support and assistance' to the Communist Party, and that concerns us deeply," he said.
NATO hasn't ignored China. Last December, for the first time, NATO leaders agreed they must as a group consider the implications for their security of China's rise to economic and military prominence. "We recognize that China's growing influence and international policies present both opportunities and challenges that we need to address together as an alliance," the leaders said in a statement.
But they have said and done little about China since. Instead, at this week's NATO defense ministers meeting, competition with Russia was high on the agenda, including talks aimed at fashioning a NATO response to Moscow's deployment of nuclear-capable cruise missiles within reach of many allied countries. That deployment was the Trump administration's stated rationale for withdrawing last year from the Intermediate-range Nuclear Forces treaty.
Moscow also says it has begun deploying a hypersonic glide vehicle, called the Avangard, that poses new challenges for the U.S. as well as Europe because of the weapon's greater capacity for evading missile defenses. Russia also has announced intentions to deploy a nuclear-powered cruise missile, known in the West as Skyfall, that could be nuclear armed, and that Moscow says will have nearly unlimited range.
The Trump administration remains committed to Europe's defense, as evidenced by U.S. participation this month in a NATO-led exercise, "Defender Europe 20," the largest deployment of U.S.-based forces to Europe in 25 years. But in the 2021 budget presented to Congress this week, the Pentagon proposed cutting spending on its European Deterrence Initiative, meant to demonstrate U.S. resolve, to $4.5 billion from this year's $6 billion.
The allies also are concerned about the possibility that the Trump administration will not take Moscow up on its offer to extend the New START treaty, which governs the number of U.S. and Russian strategic nuclear weapons, before it expires next February. In addition, some European officials have questioned the wisdom of an American decision to deploy a submarine-launched missile armed with a lower-yield nuclear warhead. Washington argues that it counters a Russian strategy for the potential use of battlefield nuclear weapons in Europe.
Europe and North America aren't NATO's only areas of interest. The organization has been contributing troops and other resources to the U.S.-led conflicts in Iraq and Afghanistan for years, and it also has conducted combat air operations in Libya. In his review of Wednesday's first rounds of discussions among defense ministers, NATO Secretary-General Jens Stoltenberg said they had agreed to explore what more the alliance can do to combat extremists in the Mideast and North Africa. They also discussed the war in Afghanistan. He made no mention of China.
==================
Navy Settles Lawsuit, Won't Scrape Ship Hulls in Puget Sound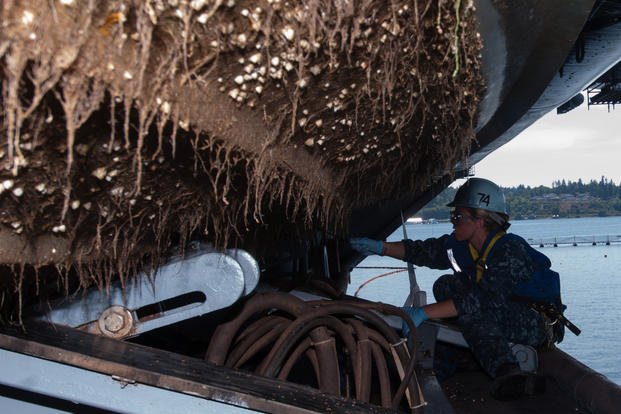 Seaman Audriana Wheeler scrapes barnacles from the bottom of a rigid hull inflatable boat aboard the Nimitz-class aircraft carrier USS John C. Stennis (CVN 74), August 12, 2014. (U.S. Navy photo/Christopher Frost)
January 30, 2020 -- The Associated Press | By The Associated Press
TACOMA, Wash. — The U.S. Navy agreed to a 10-year moratorium on scraping the hulls of decommissioned vessels in Puget Sound. The deal, filed in U.S. District Court in Tacoma, settles a lawsuit filed by the Suquamish Tribe and 2 environmental groups, Washington Environmental Council and Puget Soundkeeper Alliance. Washington Attorney General Bob Ferguson joined the lawsuit.
The lawsuit alleged that when the Navy cleaned the hull of the decommissioned aircraft carrier Independence at the Puget Sound Naval Shipyard in 2017, they used abrasive scrubbers and blasted the hull with powerful jets of water. That sent bits of paint, the metals zinc and copper, and other contaminants into Sinclair Inlet. The Navy disputed that it caused pollution and said it was cleaning the hull so that as the aircraft carrier was towed to Texas for dismantling, it wouldn't bring any invasive species with it.
In the settlement agreement, the Navy said it would not conduct further hull cleaning in Sinclair Inlet except to the extent it is required for hull integrity tests or to prepare the vessel to be put in dry-dock. It agreed the preferred method for cleaning vessel hulls is to do so in dry-dock where the pollution can be contained.
The Navy also agreed that by 2022 it will place a 10-centimeter thick layer of clean sand over the area where it scrubbed the Independence. Among the 6 decommissioned ships covered by the agreement are the former aircraft carrier Kitty Hawk.
===================
Survey: Nearly Half of Afghans Want US Troops Out after Deal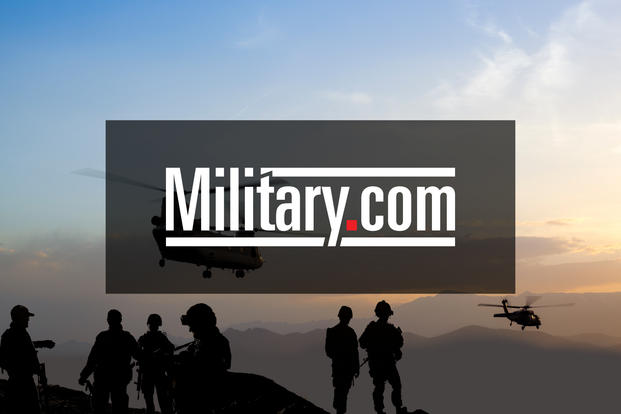 In this September 11, 2011 file photo, 3 soldiers sit beneath a new American flag just raised to commemorate the 10th anniversary of the 9/11 attacks September 11, 2011 at Forward Operating Base Bostick in Kunar province, Afghanistan. (AP Photo/David Goldman, File)
January 24, 2020 --- The Associated Press | By Tameem Akhgar
KABUL, Afghanistan — Nearly half of all Afghans want U.S. and NATO troops to leave Afghanistan once a peace deal to end the country's 18-year war is signed with the Taliban. The American Institute of War and Peace Studies found that 80% of Afghans surveyed said a political solution was the only way to bring about an end to fighting, 20% said a military solution was possible.
The survey found that 46% of Afghans want U.S. and NATO troops out of the country once a deal is struck, while 33% would have them stay. The survey polled 5,038 Afghans in 34 provinces. It was conducted between November 23-December 20, 2019 and has a 5% margin of error. 61% of participants answered online with the remaining 39% were interviewed in person.
While 57% of those surveyed wanted the Taliban to evict the foreign fighters among them. Many of those foreigners are believed to have links to al-Qaida and other militant organizations. Washington has been talking directly with the Taliban since September 2018, when the White House appointed Afghan-American Zalmay Khalilzad to start peace talks. The talks are aimed at finding an agreement to end America's longest conflict and allow the U.S. to bring home its troops.
The survey showed Afghans were divided over the choice of Khalilzad as chief negotiator, with 41% favoring his appointment; 39% opposed; 20% had no opinion. Of the 5,038 Afghans surveyed, 3,274 were men and just 1,764 were women. A strong 83% of those surveyed said women should be involved in the peace negotiations, while just 17% were opposed.
A peace agreement, which is being negotiated between Khalilzad and Taliban negotiators, will leave it to Afghans on both sides of the conflict to negotiate the face of a post-war Afghanistan. They must decide on constitutional changes enshrining the rights of women, media and free speech. The negotiations will decide the future of Taliban fighters as well as the heavily armed militias belonging to warlords ruling in Kabul.
The majority of Afghans surveyed said they feared their homeland would descend into civil war if America pulls out its troops without first getting a peace deal. As Afghans contemplate a future without a U.S. military troop presence, in Iraq the killing earlier this month of Iranian General Qassem Soleimani has bolstered Iran's efforts to see U.S. troops leave Iraq. The withdrawal of American forces from Iraq has been a long-standing goal of Iran's.
Meanwhile, Taliban fighters took responsibility Thursday for the ambush and killing of an Afghan intelligence official in southern Helmand province. The officer, who headed the intelligence department's press office for the province, was ambushed late Wednesday, according to provincial police chief spokesman Zaman Hamdard. In the country's north, a roadside bomb killed a military commander and his bodyguard early Wednesday.
The attack in northern Faryab province killed the commandeer of the Afghan army's 1st Battalion and his bodyguard and wounded 2 other bodyguards. The Taliban control or hold sway over roughly half of Afghanistan and continue to stage near-daily attacks targeting Afghan and U.S. forces, Kabul government officials or those seen as linked to the government. That's the case as they hold peace talks with the U.S. and have given the U.S. envoy a document outlining their offer for a temporary cease-fire in Afghanistan.
====================