Different Chambers & Parties, One Goal: Reduce Military Sexual Assaults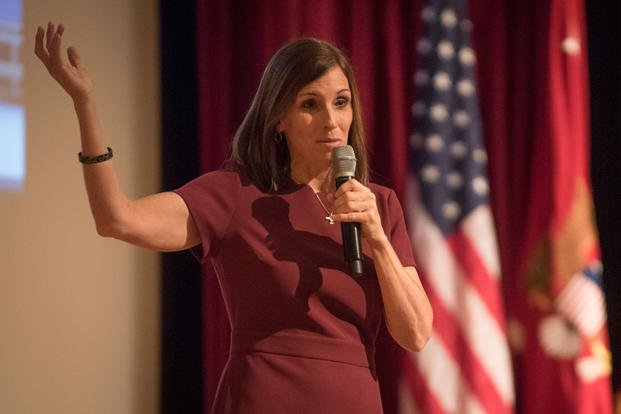 U.S. Senator Martha McSally, from Arizona, delivers the keynote address for day one of the National Discussion on Sexual Assault and Sexual Harassment at America's Colleges, Universities and Service Academies, April 4, 2019. (U.S. Navy photo/Sarah Villegas)
June 17, 2019--- Military.com | By Patricia Kime
Details emerged this week on Congress' plans to reduce sexual assaults in the military, with the proposed House and Senate defense policy bills containing no fewer than 20 sections to protect victims, encourage reporting and prosecute crimes. During a House Armed Services Committee bill markup and rollout of the Senate Armed Service Committee's bill language, members of Congress made clear they are sick of Pentagon reports that show military sexual assaults on the rise.
The Defense Department released a report in March estimating that 20,500 active-duty service members were assaulted in fiscal 2018, up from 14,900 in 2016, based on an anonymous survey conducted every two years. The report also noted that 7,623 sexual assaults were reported in 2018, a 17% increase from the previous year.
Related content:
Despite Efforts, Sexual Assaults in the Military up 40 Percent
Senator Renews Push to Distance Commanders from Military Prosecutions
Representative Jackie Speier, a California Democrat and chairwoman of the House Armed Services personnel panel, is behind several measures designed to support victims, including a "safe to report" policy to encourage victims across the services to report a crime, even if they were engaged in "collateral misconduct" such as underage drinking, fraternization or trespassing at the time of an assault.
Speier also introduced amendments that would allow service academy midshipmen and cadets to request expedited transfers to another academy if they are sexual assaulted, and implement a pilot program at the academies that would require an independent flag or general officer trained in prosecutions to review sexual-assault cases and determine whether they should be referred to court-martial.
The proposed 4-year pilot program would reduce senior academy leadership's decision authority over prosecuting sexual-assault cases -- a change that victim advocates, with the support of Sen. Kirsten Gillibrand, Democrat-New York, have sought for years to institute across the armed forces.
"I have spoken to countless survivors who saw their dreams, and bright futures, extinguished after reporting assaults and harassment," Speier said during a marathon markup of the House defense bill. "These amazing candidates, many of them who lead their academy classes in grades and citizenship, deserve a fair and just independent review process." The Senate's bill also includes a "safe to report policy," an indication that the provision likely will become law.
The Senate also would grant a request by Acting Defense Secretary Patrick Shanahan to make sexual harassment a separate punitive article under the Uniform Code of Military Justice and would require additional training for commanders ranked O-6 and above on reviewing reports and prosecuting sexual assault, harassment and domestic violence cases.
Senator Martha McSally proposed 17 of the provisions that made it into the bill. McSally, an Air Force veteran and the first female fighter pilot to fly in combat, revealed at a hearing in March that she had been raped by a senior officer early in her career. She never reported the event but, as she rose in rank, told other military officers but wasn't taken seriously.
Just 2 days before the March hearing, McSally decided to publicly disclose the assault, saying Thursday during an event hosted by The Washington Post and Wounded Warrior Project that she needed to "step up to lead on the issue." "I'll be frank. When I got appointed to the Senate and sat down with my team, and we sort of strategically planned what are our focus area's going to be and what are we going to lead on, this wasn't a topic I had planned to lead on," McSally said. However, she "felt strongly that, having been a commander and a survivor that commanders need to be ultimately accountable."
Gillibrand continues to work to remove commanders from the decision process to prosecute sexual assault and give it to military prosecutors. She reintroduced her bill, the Military Justice Improvement Act, on Thursday, saying it is necessary because "military leaders have spent decades promising 'zero tolerance' on sexual assault, but it's painfully clear that they've failed at that mission."
"The Department of Defense has tried incremental reforms, but they clearly haven't worked," Gillibrand said in a statement. "Sexual assault is still pervasive. In fact, the latest DoD numbers show that sexual assaults in the military have dramatically increased while the number of cases going to trial has gone down. None of this is acceptable." McSally said she respects Gillibrand's "passion on the issue," but "I just think she's wrong on it."
"I mean, having served myself, having been a commander, it's like nothing else in civilian society, where we are responsible for putting people's lives on the line and telling them to take lives," she said. The House and Senate offered additional measures to address sexual assault, including provisions to expand the Pentagon's special victims counsel program to cover eligible victims of domestic violence.
The House bill also would require the DoD to ensure that sexual-assault investigations are completed within 6 months. Once both bills are approved by their respective legislative chambers, they must be reconciled in committee before a final draft is approved.
===============
New Zealand to Withdraw All Troops from Iraq by June 2020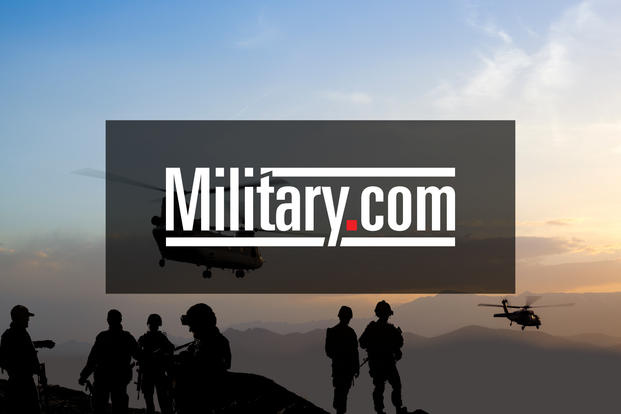 On May 17, 2019, New Zealand's Prime Minister Jacinda Ardern speaks during a joint press conference at the Istana or presidential palace in Singapore. (AP Photo/Yong Teck Lim)
June 11, 2019--- The Associated Press | By Nick Perry
WELLINGTON, New Zealand — New Zealand announced Monday (June 10, 2019) that it will withdraw all of its troops from Iraq by June 2020. New Zealand has a small contingent of 95 so-called noncombat personnel deployed at the Taji Military Complex northwest of Baghdad, where they are tasked with training Iraqi security forces.
The training mission is a joint operation with Australia, which has about 300 troops stationed at Taji. New Zealand's Defense Minister Ron Mark said Australia also planned to downsize its presence in Iraq, although he didn't offer any details.
New Zealand Prime Minister Jacinda Ardern said they would reduce the number of troops to 75 by July 2019; then to 45 by January 2020 before they were all withdrawn. "When it comes to Iraq, it's time to go," Ardern said. She said the troops had made a big contribution at Taji, where more than 40,000 Iraqi security forces had been trained since New Zealand's deployment began in 2015.
"I think they have done an incredible job, but their job is coming to an end," she said. "And now it's time to bring them home and look at the contribution our defense force can make elsewhere." Mark said that New Zealand would downsize alongside Australia and that both countries were working on "exiting and having an exit plan." But when pressed, he declined to offer more details.
Ardern said it was not up to New Zealand to announce Australia's long-term plans in Iraq, but she added that Australia had been kept informed of New Zealand's decision and was supportive. The 2015 decision on New Zealand's Iraq deployment was made by the conservative government at the time and was opposed by Ardern's then-opposition Labour Party. The Labour Party formed a coalition government after the 2017 general election.
Ardern said her government did not withdraw the troops sooner because it was honoring commitments made to Iraq and Australia. She also announced New Zealand would reduce the number of defense force personnel posted in Afghanistan from 13 to 11 by March 2020, and that 3 of those positions would be focused on enhancing the involvement of women in peace and security initiatives.
=====================
June 8, 2019 --- Brigadier General Laura Yeager will make history later this month when she becomes the first woman to command a U.S. Army Infantry Division. Yeager, a former Black Hawk helicopter pilot who deployed to Iraq, will assume command of the California National Guard's 40th Infantry Division during a ceremony in Los Alamitos, California, on June 29, 2019.
She received her commission from the U.S. Army in 1986 as a 2nd Lieutenant from the Reserve Officer Training Corps (ROTC) at California State University Long Beach. Three years later, Yeager completed military helicopter training and began serving as a UH-60 Black Hawk helicopter aeromedical evacuation pilot.
Though Yeager left active duty service 8 years later when her son was born, she continued her career in the California Army National Guard. In 2011, she deployed to Iraq as the Deputy Commander of the California Guard's 40th Combat Aviation Brigade.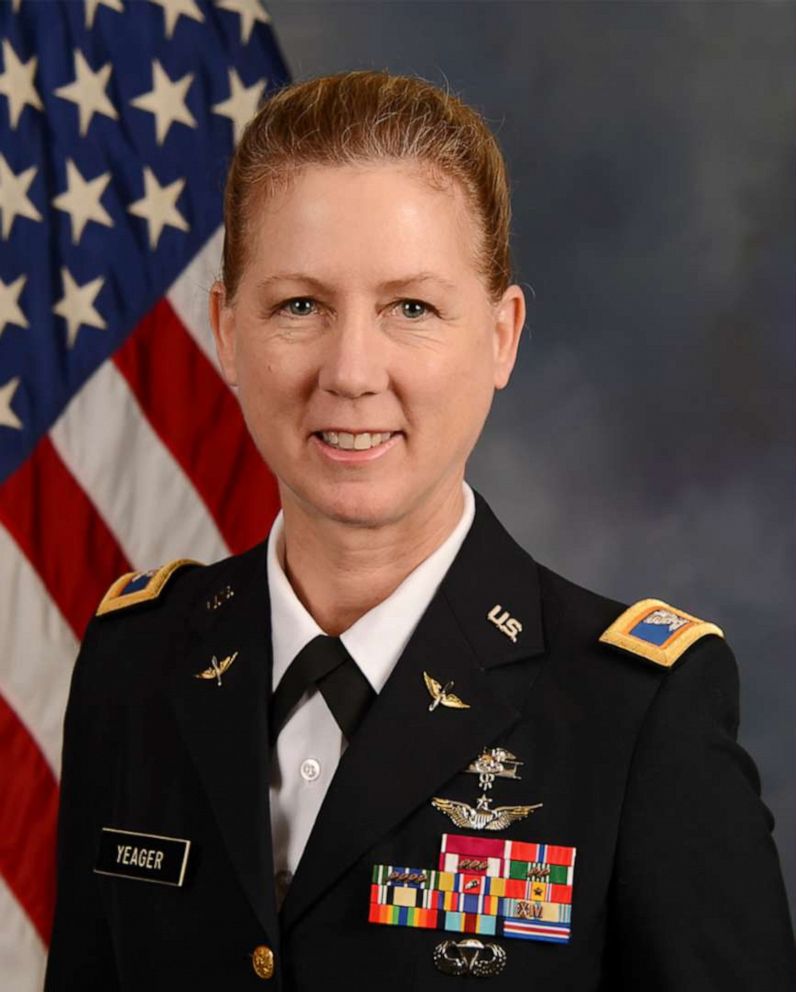 Brigadier General Laura Yeager, pictured here as a colonel in 2015, will become the Army's first female infantry Division Commander. Yeager will assume command of the California Guard's 40th Infantry Division on June 29, 2019.
Yeager would later serve as Battalion Commander of the 3rd Battalion, 140th Aviation Regiment and Brigade Commander of the 40th Combat Aviation Brigade, before assuming her current role as Commander of Joint Task Force North in Fort Bliss, Texas.
Outside of her own career trajectory, Yeager is familiar with military leadership. Her father, Retired Major General Robert Brandt, was also a helicopter pilot who served two tours during the Vietnam War and became a top commander in the California National Guard. Brandt retired in 1999 after four decades of service.
The 40th Infantry Division was formed in 1917 with its soldiers fighting in World War I, World War II, the Korean War, Kosovo, Afghanistan, Iraq, and other locations around the world. The division most recently returned from Afghanistan in March.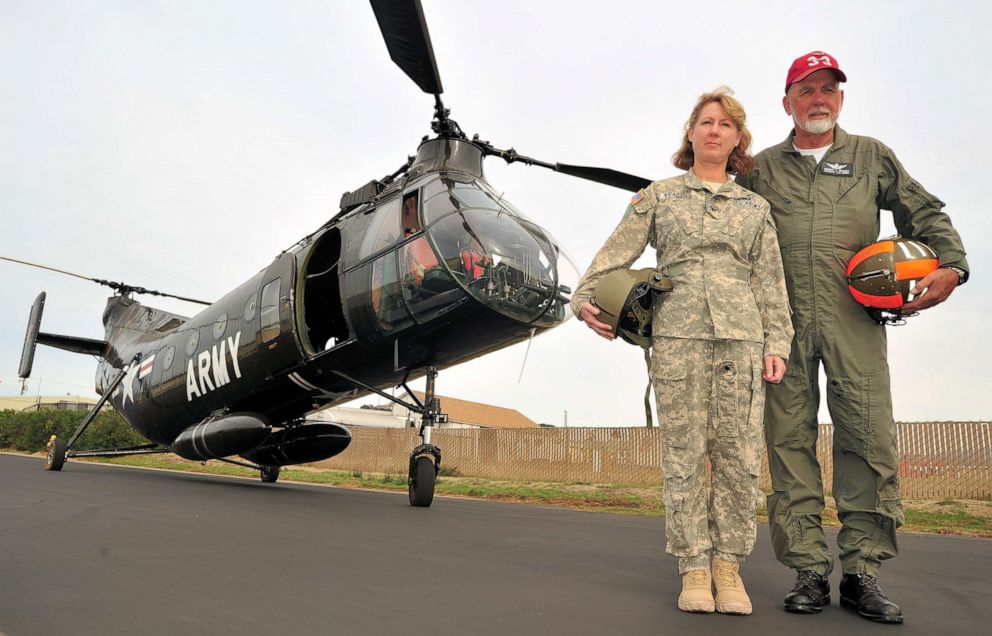 California Guard Colonel Laura Yeager is seen here in 2013 with her father, retired California Guard Major General Robert Brandt.
"My father has been a tremendous role model to me, both as a parent and as an officer and I have benefited immensely from his mentorship," Yeager told the Defense Department's news service when she was promoted to Brigadier General in 2016. "He always had high expectations for me but I was given a lot of independence to pursue my own path." When Yeager became a general officer that year, she was only the 4th female General in California National Guard history.
"As a female, I have found the military to provide opportunities and benefits unmatched by any profession," she said then. "Clearly, females are in the minority within the military, yet in every assignment I have held, my mostly male peers, subordinates and superiors, have supported me, treated me with respect, coached, mentored and advised me. At the same time, I have been inspired by the incredibly strong and amazing women I have served with and for."
The 40th Infantry Division was formed in 1917 with its soldiers fighting in World War I, World War II, the Korean War, Kosovo, Afghanistan, Iraq, and other locations around the world. The division most recently returned from Afghanistan in March 2019.
=====================
Retirees Can Soon Stay at This Military Lodge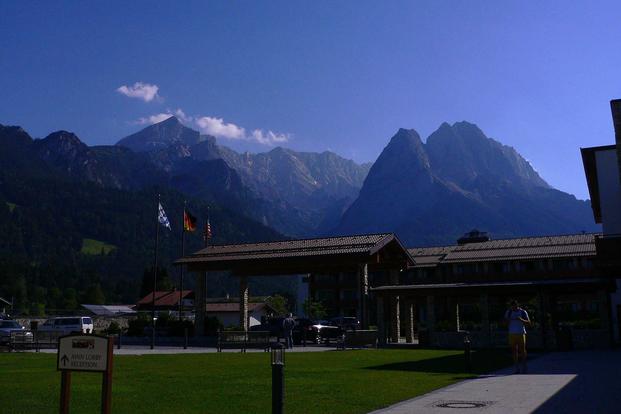 Mountain view from the Edelweiss Lodge and Resort's main entrance. Wikipedia photo
June 3, 2019--- Military.com | By Amy Bushatz
Military retirees and troops stationed outside Europe can once again stay at the U.S. military's resort in Germany after a 2015 rule change was overturned late last month.
Through mid-2015, the Edelweiss Lodge and Resort in Garmisch, Germany, was open to all military ID card holders.
But a review of an agreement between Germany and the State Department that governs military personnel living in the country, known as the Status of Forces Agreement (SOFA), resulted in the resort clamping down on who could stay.
Starting in June 2015, retirees or troops who were not stationed in Europe were no longer eligible for the benefit unless they had been visiting Germany for more than 30 days.
==========================