2019-2020 TEACHER OF THE YEAR PROGRAM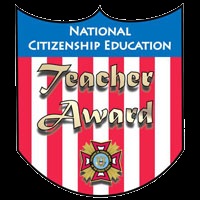 Contact your VFW Post 3348 to participate.
THE PROGRAM
The VFW will recognize and honor the top Elementary (K-5), Junior High (6-8), and High School (9-12) Teacher of the Year, who teaches citizenship and education topics, and promotes America's history, traditions, and institutions. Attributes considered will be the scope of the teaching on both the students and the community.
For details, contact Eli Smith (206) 387-6139