Air Force's 1st Female Demo Team Commander Relieved After 2 Weeks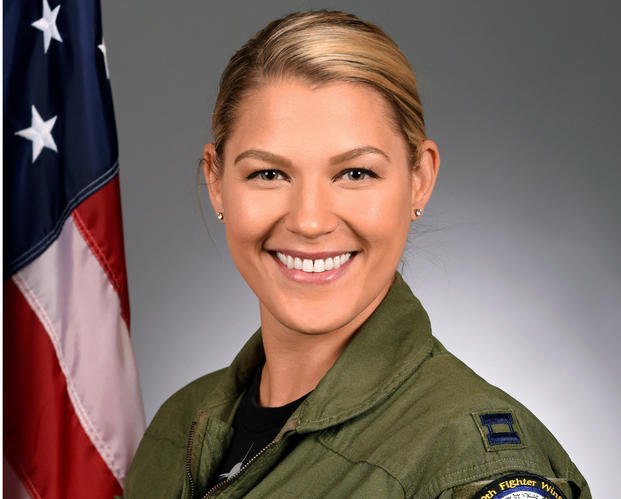 Captain Zoe M. Kotnik was the first female commander of the United States Air Force F-16 Viper Demonstration Team (U.S. Air Force)
February 13, 2019 --- Military.com | By Oriana Pawlyk
The 1st female commander of the U.S. Air Force's Viper demonstration team was relieved of command after a couple of weeks on the job. Captain Zoe Kotnik, an F-16 Fighting Falcon demonstration pilot at Shaw Air Force Base, South Carolina, was removed from her post Monday.
"Captain Kotnik, former Air Combat Command F-16 Viper Demonstration Team pilot, was relieved from her position as Commander of the Viper Demonstration Team by Colonel Derek O'Malley, the 20th Fighter Wing Commander, due to a loss of confidence in her ability to lead and command," wing spokeswoman Captain Alanna Staver said. In a Facebook post, O'Malley noted Kotnik had made "mistakes."
"We have thousands of Airmen across our Air Force serving our country, and not one of them is perfect. Good people, like Captain Kotnik, make mistakes, I want them to have the opportunity to learn from their mistakes without being under public scrutiny, and to continue to be a part of this great service".
O'Malley continued, "In these types of situations, I never forget that we're dealing with real human beings, that I care deeply about, and that we are charged to take care of. This will be a difficult time for Captain Kotnik, but she's surrounded by wingmen that will help her every step of the way. It was exciting to have the 1st female demo team pilot here at Shaw, but I'm also just as excited about the many other females that are serving with great distinction across our Air Force."
Kotnik will no longer perform with the demo team "but will continue to serve in a non-supervisory role in the 20th Fighter Wing," Staver said. General Mike Holmes, Commander of Air Combat Command, certified Kotnik to lead the team on January 29, 2019. Kotnik, whose call sign is SiS, was recently profiled by the Air Force as its 1st female single-ship tactical demonstration pilot. Kotnik, of Poynette, Wisconsin, comes from an aviation-enthusiast family.
She graduated from the Air Force Academy in 2011 and was selected for undergraduate pilot training, flying the T-6B Texan II and the T-38C Talon, according to her official Air Force biography. After earning her wings in October 2013, she moved to Luke Air Force Base, Arizona, and learned to fly the F-16C Fighting Falcon.
Kotnik was the Chief of training for the 55th Tactical Fighter Squadron at Shaw for 3 years before switching to the Viper team. She flew missions in support of Operation Noble Eagle -- the air defense operation stood up following the 9-11 attacks -- and has more than 1,000 flight hours in military aircraft. Major John "Rain" Waters, last season's Viper demo pilot, has resumed command in Kotnik's place.
===================
February 8, 2019 --- MIA Update: The Defense POW/MIA Accounting Agency announced 4 new identifications. Returning home with full military honors are:
1) Army Air Forces 2nd Lieutenant Lynn W. Hadfield a member of the 642nd Bombardment Squadron, 409th Bombardment Group, 9th Bombardment Division, 9th Air Force. On March 21, 1945, Hadfield was piloting an A-26B when his aircraft was hit by anti-aircraft fire and went missing during a combat mission from Couvron, France. Hadfield, and his two crewmen, Sergeant. Vernon Hamilton and Sergeant John Kalausich, had been participating in the interdiction campaign to obstruct German troop movements in preparation for the Allied crossing of the Rhine River on March 23, 1945. Interment services are pending. Read about Hadfield.
2) Army Private 1st Class Clifford M. Mills was a member of the 319th Glider Field Artillery Battalion, 82nd Airborne Division, which participated in Operation Market Garden, the invasion of the German-occupied Netherlands. On Sept. 18, 1944, Mills was reported missing in action in the vicinity of Wyler and Zyfflich, Germany. Interment services are pending. Read about Mills.

3) Marine Corps Reserve Private Ted Hall was stationed aboard the USS Oklahoma, which was moored at Ford Island, Pearl Harbor, when the ship was attacked by Japanese aircraft on December 7, 1941. It sustained multiple torpedo hits, which caused it to capsize. The attack on the Battleship resulted in the deaths of 429 crewmen, including Hall. Interment services are pending. Read about Hall.
4) Marine Corps Private Waldean Black was stationed aboard the USS Oklahoma, which was moored at Ford Island, Pearl Harbor, when the ship was attacked by Japanese aircraft on December 7, 1941. It sustained multiple torpedo hits, which caused it to capsize. The attack on the Battleship resulted in the deaths of 429 crewmen, including Black. Interment services are pending. Read about Black.
=============================
February 5, 2019
Took the Bertha Tunnel on Monday (Feb 4th) --- the day it opened to vehicle traffic. I had to get to the VA Hospital for an appointment. Going South, you must take the "Exit" to get to either stadium or I-5. Anything other than SR-99 South, requires that you exit at "Exit" --- which is the left lane. The point is --- it is not crystal clear. Traffic was light due to the snow and overcast.
Same thing going North --- if you do not want to stay on SR-99 North (Aurora Ave), you must take the "Exit" --- which is the right lane.

For shiggles & gits, today again I went south on SR-99, thru the Bertha Tunnel but this time I took the exit. Once out of the Tunnel, the signs are still not clear. Not seeing a "I-5" sign at the first traffic light I came to, I stayed on the road I was on, went thru the green traffic light and soon saw the "I-5" sign at the next traffic light.
I turned east at that traffic light and I turned again to go south on 1stAve. I took the on-ramp to the West Seattle Bridge and went west towards West Seattle. I made a U-turn, where allowed, and went east on the West Seattle Bridge looking for the SR-99 North sign. That was easy and I took it and was soon as the Bertha Tunnel again going North.
The last time I was on the West Seattle Bridge going east, Thom Fermstad was driving. We were coming back from visiting Evolette LeBlanc (our Patriot's Pen winner). The traffic (pre-Bertha opening) was a nightmare. It was bumper-to-bumper, moving at 5 mph. It was much better today. There were no backups; traffic was moving right along.
However, the traffic in the Bertha Tunnel today was 5X yesterday's traffic. It was moving at the speed limit (45) but there were cars all around me. The lanes are 11' wide but inside the Bertha Tunnel, with cars all around me and the closeness of the tunnel walls, it did seem a bit cramped. Unlike the Battery Street Tunnel, the Bertha Tunnel is not only cleaner and better lit, but it has a shoulder. It is only 6-8' wide but there is one. Plus, there are many exit points for foot traffic if needed.
It is obvious that if a car breaks down inside the Bertha Tunnel, one of the two lanes, will be impassible.
Today is a much nicer day; blue skies & sunny. The main streets are all cleared; some are even dry e.g. parts of I-5. Every street has ice or snow on it but it is melting --- it is not warm enough to melt & evaporate all of it. So, when it freezes tonight, back roads could be treacherous. There will be many icy roads; some with black ice.
=================
VFW Blue Water Navy Vet Wins Federal Appeals Court Ruling
Court of law now joins court of public opinion
January 31, 2019
WASHINGTON — The U.S. Court of Appeals for the Federal Circuit reversed a decade-old ruling yesterday that potentially paves the way for the return of earned disability benefits for some 90,000 so-called Blue Water Navy veterans from the Vietnam War.
The case, Procopio v. Wilkie, was supported by the Veterans of Foreign Wars (VFW) of the United States and a number of other veterans service organizations and advocates. It had Secretary of Veterans Affairs (VA) Robert L. Wilkie Jr. being sued by Navy veteran and VFW Life member Alfred Procopio Jr., who was denied service connection for prostate cancer and diabetes mellitus because he never stepped foot on dry land or served within Vietnam's inland waterways.
Procopio, a Life member of VFW Post 6587 in Spring Lake Park, Minn., was assigned aboard the aircraft carrier USS Intrepid, which was stationed inside Vietnam's 12-mile territorial waters. Both of his illnesses are listed among the VA's 14 presumptive diseases associated with exposure to Agent Orange.
The Federal Appeals Court focused on the intent of the 1991 Agent Orange Act, which was to grant a presumption of service connection for certain diseases to veterans who "served in the Republic of Vietnam." At issue was whether service within territorial waters constituted service in the "Republic of Vietnam." By a 9-2 decision, the Appeals Court ruled it did.
"Although very pleased with the ruling, the VFW isn't quite ready to celebrate," said VFW National Commander B.J. Lawrence. "That's because the VA can always appeal the ruling and Congress has yet to pass a Blue Water Navy bill," he said. "But, it is very encouraging to now have a court of law support Blue Water Navy veterans along with the court of public opinion.
We need to get this done and reinforce to tens of thousands of veterans that our nation does have your back when you come home from war. "The VFW now calls on VA to make Blue Water Navy veterans whole as soon as possible, and we stand ready to assist VA." ==================
Wednesday, January 30, 2019
Notice to Blue Water Navy & Coast Guard Veterans from the Joint Service Committee.
According to a recent decision from the U.S. Court of Appeals for the Federal Circuit, Navy and Coast Guard Veterans of the Vietnam War may be entitled to compensation for disabilities resulting from exposure to Agent Orange within the territorial waters of the former Republic of Vietnam.
Those "Blue Water" veterans that suffer one or more of the following disabilities are covered by the scope of the Court's decision which includes the following:
- Non-Hodgkin's lymphoma
- soft tissue sarcoma, chloracne
- Hodgkin's disease
- porphyria curtanea tardia
- respiratory cancers (cancer of the lung, bronchus, larynx or trachea)
- multiple myeloma
- diabetes mellitus (type II)
- peripheral neuropathy
- ischemic heart disease
- prostate cancer
- B-cell leukemias
- Parkinson's disease
- L Amyloidosis
In its January 29th decision, the Federal Circuit overturned the Department of Veterans Affairs' (VA) long-standing policy of refusing compensation for Agent Orange related disability claims from Navy and Coast Guard Vietnam veterans that had not set foot ashore in Vietnam.
The Court overruled the VA policy and determined that Congress intended to include "Blue Water" veterans within the scope of the 1991 Agent Orange Act to include veterans serving within the 12-mile territorial waters of the former Republic of Vietnam.
The Courts have now opened the door to tens of thousands of Navy and Coast Guard veterans suffering with Agent Orange related disabilities. Given the extraordinary numbers of "Blue Water" veterans, the scope of the Courts decision could include several thousand Navy and Coast Guard Vietnam Veterans that were previously denied compensation for their disabilities.
The Joint Service Committee, working from the American Legion Hall in Mountlake Terrace WA encourages any Navy or Coast Guard Veterans with Agent Orange related disability to call or stop by any Tuesday or Wednesday. Assistance will be provided with any questions they may have, or claims they may seek, to make with the VA.
The Joint Service Committee is committed to helping any veterans from any branch of the military with new claims and denial of claims by the VA. For more information, contact Rob Caldwell at (206) 963-2864, or go to Wilcox Hall located at 22909 56th Avenue West in Mountlake Terrace, WA.
=====================
USS Michael Monsoor Commissioning Honors Legacy of Navy SEAL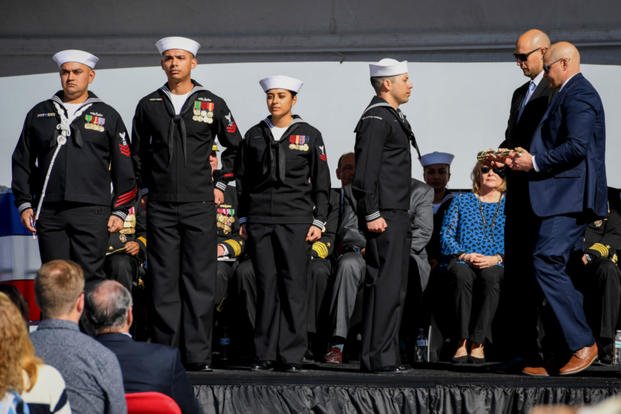 James and Joseph Monsoor, brothers of Michael Monsoor, pass the long glass to the first watch during the January 26th commissioning ceremony of USS Michael Monsoor (DDG 1001). The warship is the 2nd Zumwalt-class destroyer to enter the fleet and is named for fallen Master-at-Arms 2nd Class (SEAL) Michael Monsoor, posthumously awarded the Medal of Honor for his heroic actions while serving in Ramadi, Iraq. (US Navy photo/Alex Millar)
January 28, 2019 --- U.S. Navy | By Petty Officer 1st Class Woody Paschall
The Navy's newest Zumwalt-class destroyer, USS Michael Monsoor (DDG 1001), was commissioned January 26th at Naval Air Station North Island. 20 Gold Star families and 4 Medal of Honor recipients witnessed the destroyer's commissioning, the 2nd of its class to enter service.
The ship honors Petty Officer 2nd Class Michael Monsoor, a Navy SEAL who was posthumously awarded the Medal of Honor for his heroic actions in Ramadi, Iraq on September 29, 2006. At the ship's 2008 naming ceremony, former Secretary of the Navy Donald C. Winter recognized Monsoor as "a consummate professional who faced terrorist enemies with aplomb and stoicism."
Medal of Honor - Michael Monsoor's Story
Michael Monsoor's teammates share his story of his courageous and selfless actions. "When you man the rails today and you man your first watch stations at general quarters, you bring this ship to life in the spirit and legacy of Michael Monsoor with toughness, courage and love, and you will be the defenders," said Vice Admiral Timothy Szymanski, the deputy commander of U.S. Special Operations Command. "You will defend. Stay in the Fight."
"The USS Michael Monsoor is an incredible honor that the Navy has bestowed upon Michael and his family," said Chief Warrant Officer Benjamin Oleson, one of Monsoor's teammates in Ramadi. "I went out to the christening event, and I was completely blown away by the sheer size of what this ship represents.
I think if Mikey saw the ship, he'd be like, 'That's too much. That's not for me. I'm just laid back.' But I think it's truly an honor that the Navy did this, especially the type of destroyer that it is. ... with its cutting-edge, advanced technology. I think, with Mikey in the platoon, always at the front, leading the way, the way the ship is designed, it's going to be leading the way in the future."
California Congressman Scott Peters delivered the commissioning ceremony's principal address for the ship named for the southern California native. "'You never quit.' Those are the words Michael Monsoor wrote with permanent marker inside the camouflage hat he wore throughout his Basic Undersea Demolition School training at the Naval Special Warfare Training Center here at Coronado."
"If you visit the quarterdeck of the magnificent new ship, we commission this morning, you will see his hat there with those words inscribed within it. It is encased in glass where and it will remain on display permanently for the life of the ship. The letters are faded from time and wear but their significance and how Michael applied them to his life are as vivid and meaningful today as they were that day when he wrote them many years ago as his reminder to persevere.
The words 'you never quit' are also brandished prominently throughout the ship as if Michael himself is offering encouragement to every man and woman who sets sail upon her. "She was constructed for stealth and speed and will navigate and operate using the newest and most sophisticated technology and weaponry available. She was built for battle and reflects the highest level of combat readiness as was her namesake, Petty Officer Michael Monsoor."
Sally Monsoor, Michael Monsoor's mother, served as the ship's sponsor and delivered the time-honored first order to "man our ship and bring her to life!" The crew of 148 officers and enlisted personnel were joined by service members who served with Monsoor in Ramadi as they raced on board to man the rails and watch stations. "I can't go without saying thank you for coming today," said Sally Monsoor. "You came because you were following his story and you cared. Thank you to our military men and women, the best in the world, SEAL Team, you have our hearts."
Captain Scott Smith noted the crew's dedication to the ship and one another as well as the community in Maine. He credited then with carrying forward the character of the ship's namesake. "They not only learned new technologies, they advanced them, and stand today at the leading edge of the Navy our nation needs," said Smith. "This is the crew that mans Michael Monsoor: 143 Sailors performing acts they believe are ordinary.
The soldiers and SEALs that stand alongside them, they too perform their seemingly anonymous, ordinary acts which are anything but, and ladies and gentlemen that's why this ship is so important. Because it is the recognition that the true source of American power lies in its people.
"In all of the descriptions of Michael a consistent theme emerges: He was a good dude," said Smith. "He was good. He affected the lives of those who served alongside him and through his example, he continues to affect history and will as long as this ship sails. This is what we give you today: the good ship USS Michael Monsoor."
The nearly 16,000-ton USS Michael Monsoor was built by General Dynamics Bath Iron Works in Bath, Maine. The ship is 610 feet in length, has a beam of 87 feet, and a navigational draft of 27 feet. The ship is powered by two Rolls-Royce main turbine generators, two Rolls-Royce auxiliary turbine generators, two 34.6 MW advanced induction motors to speeds up to 30-plus knots.
Zumwalt-class destroyers maximize stealth, size, power and computing capacity -- fielding an array of weapons systems and cutting-edge technologies to fight forces in the air, on and under the sea, and on land.
===================
Lawmakers Race to Introduce Veterans' Medical Marijuana Bills in New Congress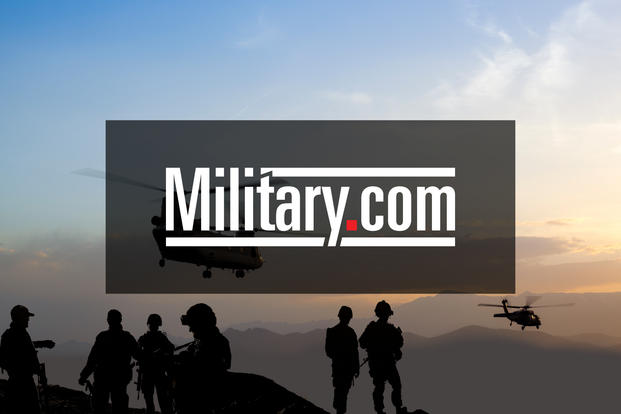 A newly transplanted cannabis cutting grows at a medical marijuana cultivation facility in Massachusetts. (AP Photo/Steven Senne)
January 25, 2019 --- Military.com | By Patricia Kime
Less than a month into the 116th Congress, lawmakers on both sides of the aisle in the House and Senate have introduced 4 bills that, if signed into law, would require the VA to conduct research on medical marijuana.
Tennessee Republican Representative Phil Roe, an MD and ranking member of the House Veterans Affairs Committee, introduced legislation Thursday that would require VA to conduct research on medicinal cannabis, to include marijuana and cannabidiol -- a component extract of marijuana - for post-traumatic stress disorder (PTSD), pain and other conditions. The bill, H.R. 747, is similar to one introduced Wednesday by Representative Lou Correa, Democrat California, H.R. 601.
Great Pay & High Demand Why Cybersecurity Careers are Ideal for Vets
In the Senate, Senators Jon Tester, Democrat Montana, and Dan Sullivan, Republican Alaska, introduced a bill, S. 179, on January 17th directing the VA to carry out clinical trials on the effects of medical marijuana for certain health conditions.
And on January 16, 2019 Rep. Matt Gaetz, Republican Florida, introduced legislation that would create a pathway for VA to obtain the marijuana needed for research. Gaetz's bill, H.R. 601, would increase the number of manufacturers registered under the Controlled Substances Act to grow cannabis for research purposes. It also would authorize VA health care providers to provide information to veterans on any federally approved clinical trials.
"For too long, Congress has faced a dilemma with cannabis-related legislation: we cannot reform cannabis law without researching its safety, its efficacy, and its medical uses -- but we cannot perform this critical research without first reforming cannabis law," Gaetz said in a statement.
"The VA needs to listen to the growing number of veterans who have already found success in medicinal cannabis in easing their pain and other symptoms," said Tester, ranking member of the Senate Veterans' Affairs Committee, in introducing his bill.
Lawmakers have tried for years to influence the debate on medical marijuana, offering numerous proposals on veterans' access to marijuana and its derivatives. Marijuana remains classified as a Schedule 1 drug under federal legislation, meaning they have a high potential for addiction and "no currently accepted medical use."
In 2018, bills were introduced that would have required the VA to conduct research on medical marijuana, allowed VA providers to complete the paperwork patients need to obtain medical marijuana in states where it has been legalized and decriminalized the drug for veterans regardless of where they live. None made it into law.
In August, 2018, Tester, Roe, Sullivan and former Democrat Representative Tim Walz, now governor of Minnesota, wrote VA Secretary Robert Wilkie urging him to support "rigorous clinical trials" on medical marijuana. They pointed out that VA is currently conducting 2 small-scale studies, adding that veterans "deserve to have full knowledge of the potential benefits and side effects of this alternative therapy."
"The pervasive lack of research makes [providers'] jobs even more difficult, leaving VA clinicians flying blind without concrete recommendations to veterans," they wrote. To date, 33 states, the District of Columbia, Guam and Puerto Rico have made marijuana legal for medical purposes. Roe said that, as a doctor, he believes medical research is needed to determine whether treatments are safe and effective.
"While data remains limited, surveys have shown that some veterans already use medicinal cannabis as a means to help with PTSD. ... I would never prescribe to my patients a substance unless I was confident in its proven efficacy and safely and we need to hold medicinal cannabis to the same standards ... if research on the usage of medicinal cannabis is favorable, I am confident that it could become another option to help improve the lives of veterans and other Americans," he said.
In 2017, the American Legion, the largest veterans organization with nearly 2 million members, urged the federal government for marijuana to be removed from the list of controlled substances. The organization also adopted a resolution urging passage of laws that would allow VA doctors to recommend medical marijuana. ======================
SpecOps Recruiting Squadron Helps Air Force Combat 'Runaway Attrition'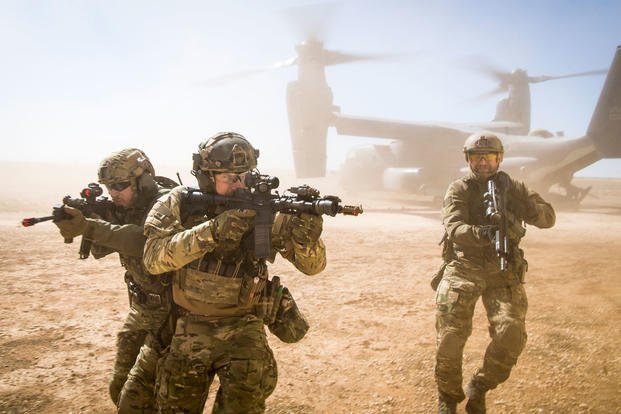 A joint special forces team move together out of a U.S. Air Force CV-22 Osprey February 26, 2018, at Melrose Training Range, New Mexico. (U.S. Air Force photo/Clayton Cupit)
January 18, 2019 --- Military.com | By Oriana Pawlyk
With the help of a new recruiting squadron, the U.S. Air Force is getting a better sense of what type of airmen are needed for the next dynamic conflict. The service established its first Special Operations Recruiting Squadron last year to find next-generation combat airmen. Recruiters and mentors train the airmen in a step-by-step, streamlined program, explained Maj. Heath Kerns, commander of the 330th Recruiting Squadron, headquartered at Joint Base San Antonio-Randolph, Texas.
Great Pay & High Demand Why Cybersecurity Careers are Ideal for Vets
"We needed a different answer to the runaway attrition," Kerns said in an interview with Military.com last week. While each of the Air Force specialty code varies, the average attrition rate in the special operations community hovered around 80% throughout initial selection and training just a few years ago.
"This was a decision to go with a different model to focus on quality, so it's the first step of what is now a comprehensive change from initial ascensions all the way to training … and operations as well," he said. The Air Force had already identified recruiters in 2017 to focus on special operations and combat support recruiting. The 330th Recruiting Squadron was stood up June 29, 2018, according to Air Education and Training Command (AETC).
The squadron has 120 airmen and 12 flight chiefs spread across the U.S., all focused on bringing special warfare and combat support recruits into the ranks. Previously, an airman would be assessed by a traditional recruiter, head to Basic Military Training (BMT) and go on to the indoctrination course from there.
But airmen now get a firsthand glimpse of what their duties will be like, with recruiters and mentors by their side a few times a month. "Our recruiters find them, and then work with them and with our developers," Kerns said.
Developers are airmen who previously served in one of the six specialties -- combat controllers; pararescuemen; special operations weather technicians; tactical air control party; survival, evasion, resistance, and escape (SERE); and explosive ordnance disposal airmen (EOD) -- and wanted to serve as coaches or mentors to candidates entering the unit.
SERE and EOD are considered combat support, while pararescue (PJ), combat controller, special operations weather technician (SOWT), and tactical air control party (TACP) are considered special operations. "They know what it takes to thrive in those jobs and then also just help [the recruits] so they understand what they're getting into and prepare them mentally and physically," Kerns said.
They stress working together as a team, he said. But also, "Can they lead? Can they endure difficult circumstances … and come back for more?" AETC and Air Force Special Operations Command have brought in mental health and physical fitness coaches who are designing the recruit training, "to make them healthier, faster, better, stronger," AETC Commander Lieutenant General Steven Kwast said last year.
Special operations recruiters assess candidates for specialized training through the developers to hone their skills. The recruits then continue to BMT and the Special Warfare Preparatory Course.
According to AETC, the prep is a 7-week course designed to ensure candidates are prepared as much as possible for the two-year training pipeline of the various special operations careers. Once in that pipeline, airmen undergo some of the most grueling technical training in the U.S. military.
The Air Force hasn't deviated in what it's looking for: airmen who present an aptitude for the high-stress battlefield career, as well as those eager to maintain physical fitness and healthy lifestyles. "We're just trying to be realistic with them from the very beginning," added Master Sergeant Michael Williams, a flight chief with the 330th. "Our candidates, whenever we bring them into our program … we can usually have them ready, passing the physical fitness standards, depending on their mental capacity … and resiliency, in about three to four months."
It's also about "focusing more on what we have in common than the specialties that make us separate," Kerns said. The squadron shipped out roughly 1,000 special operator candidates to BMT in 2018, he said, adding that it's too early to tell if the unit has had an effect on the overall attrition rate in those career fields.
But he said there have been production increases, including a 20 to 24 percent increase in the number of candidates moving into the combat controller and special operations weather technician initial production rate and course. Kerns said the focus is more on quality than quantity of recruits.
The 330th has also helped women with an interest in special operations. The 330th has had 12 female candidates since October 1, 2017 -- 6 SERE, 4 EOD, 1 TACP, and 1 SOWT. 5 of those women -- 3 EOD and 2 SERE -- were recently recruited and have moved on this fiscal year. "We cannot say with certainty if these females are currently in the training pipeline, as some may have self-eliminated or gotten injured," Gonzalez said. There are currently 17 female applicants in development and working with their recruiter, she said.
"We want to build a better candidate at the end of the day," said Master Sergeant Daniel Jones of the Survival, Evasion, Resistance and Escape Specialist Screening Course at the 66th Training Squadron, Detachment 3, at Joint Base San Antonio-Lackland. Jones helps oversee the initial entry for SERE courses a candidate would take after his or her time at the 330th.
"And what we've seen is a higher success rate in the initial physical standards test" since the 330th's inception, he said. "They're in better overall physical shape. "Physical conditioning aside, the goal is to give new airmen the proper idea of what it takes to be in a high-intensity career field. "It's the airman that's making it happen," Kerns said, referring to combat skills on the ground.
"Being ground operators in the Air Force -- we find ourselves at the center of all activity -- you bring the might of the Air Force to the joint battle," he said. "You're connecting all the dots. Since we're always in the center, always in the chaos and having to be the calm through that storm … it's the airmen that are going to start making things happen."
======================
Navy's F-35C on Track to Be Combat Ready Next Month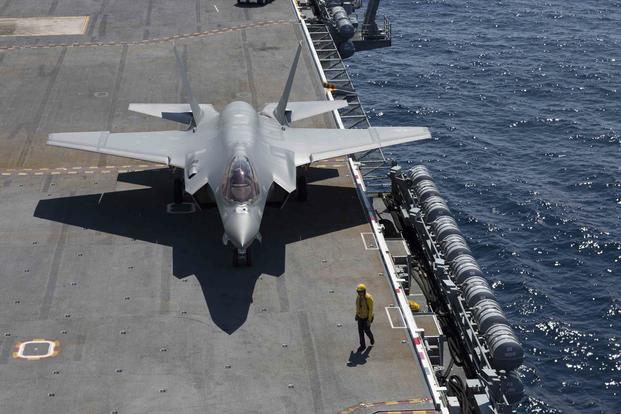 An F-35C Lightning II assigned to the Grim Reapers of Strike Fighter Squadron (VFA) 101 taxis on the flight deck of the Nimitz-class aircraft carrier USS Abraham Lincoln (CVN 72). (U.S. Navy/Mass Communication Specialist Seaman Shane Bryan)
January 7, 2019 --- Military.com | By Oriana Pawlyk
The U.S. Navy is on track to reach critical milestones and declare its F-35 Joint Strike Fighters ready for combat next month. There have been no reported delays in the service's F-35C reaching initial operating capability (IOC) next month, according to Navy spokeswoman Lt. Lauren Chatmas.
The Joint Strike Fighter Fleet Integration Office "is confident in meeting milestones as planned," Chatmas said. While no official February date has been announced, the work "is still on target, still proceeding as planned," she said.
Last month, the Strike Fighter Squadron (VFA) 147 "Argonauts" out of Naval Air Station Lemoore, California, completed a critical milestone aboard the USS Carl Vinson, a turning point in reaching IOC for the Navy's stealth jet. The "Argonauts" are slated to become the service's first operational F-35C squadron. Once IOC ready, VFA-147's first deployment is scheduled aboard the Vinson in 2021.
The progression comes as the Navy plans to deactivate its F-35 squadronat Eglin Air Force Base, Florida, and move operations to NAS Lemoore, centralizing its Joint Strike Fighter operations out west. The JSF program as a whole is continuing its formal operational test phase, which it entered in December.
The Joint Program Office and the aircraft's manufacturer, Lockheed Martin Corp., announced December 6, 2018 that all three F-35 variants belonging to the Air Force, Navy and Marine Corps will be field-tested "for the purposes of determining the weapons systems' operational effectiveness and operational suitability for combat."
For example, F-35 pilots at Edwards Air Force Base, California -- home to the Air Force Test Center, which tests a variety of aircraft and weapons -- have flown more than 30 missions since the testing was announced, according to the Air Force.
"Formal Initial Operational Test & Evaluation will test the system and identify areas for improvement in the most stressing operationally representative environments," JPO spokesman Joe DellaVedova said last month.
Pilots, maintainers, engineers and Lockheed Martin officials, among other experts, will work with the JPO and the Defense Department to identify operational and technical areas that could be upgraded or enhanced. The IOT&E testing is expected to be complete late 2019.
===================
Class-Action Suit Could Aid More Than 50,000 Iraq, Afghanistan War Veterans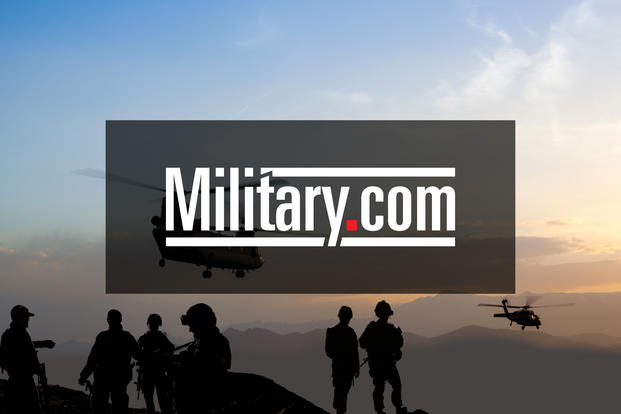 Veterans with PTSD participate in a yoga class at Open Center Yoga in Bristol, Pa. A class-action lawsuit filed against the U.S. Army challenges less-than-honorable discharges given to soldiers who may have had undiagnosed PTSD or other mental conditions. (Kim Weimer/Bucks County Courier Times via AP)
December 31, 2018 --- New Haven Register, Connecticut
NEW HAVEN -- Through the efforts of a Yale Law School clinic, more than 50,000 U.S.Army veterans of Iraq and Afghanistan are part of a newly certified class-action lawsuit that challenges the less than honorable discharges they received.
A federal judge Friday certified the suit for those veterans who developed Post Traumatic Brain Injury or other mental health conditions in the service, and subsequently were pushed out for infractions that could be attributable to undiagnosed mental health problems stemming from their military service.
Steve Kennedy and Alicia Carson, Army veterans who served at the height of the Iraq and Afghanistan wars, were the named plaintiffs in the April 2017 suit on behalf of themselves and tens of thousands of others who have been similarly affected in order to ensure fair treatment when veterans apply to have these service characterizations changed.
The plaintiffs are represented by the Yale Law School Veterans Legal Services Clinic and co-counsel at Jenner & Block. Since September 2001, more than 2 million Americans have served in either Iraq or Afghanistan. Nearly a third of them suffer from Post-Traumatic Stress Disorder (PTSD) and related mental health conditions, but the military continues to issue less-than-honorable ("bad paper") discharges at historically high rates, often for minor infractions.
Such characterizations often impose a lifetime of stigma, impair veterans' employment prospects, and deny veterans access to critical government services such as the GI bill, disability benefits and mental health treatment.
Although the Army Discharge Review Board (ADRB) promises these veterans a path to correct unjustly harsh discharges, the ADRB frequently denies claims in defiance of recent Department of Defense policies intended to ease this process for veterans with service-connected PTSD and related conditions, according to the plaintiffs.
"This decision means that thousands of service members who have been denied the support of VA resources because of an unfair discharge status may have another chance at relief," said Kennedy, who served in Iraq and is a founder of the Connecticut chapter of the Iraq and Afghanistan Veterans of America.
"The cost of this continuing refusal to reckon with the reality of mental illness in the military is more than unjustly denied benefits -- it is a generation of lost promise and opportunity for countless soldiers suffering the invisible wounds of war as a result of their sacrifice for country," Kennedy said.
The decision follows another recent one approving a nationwide class-action lawsuit of Marine and Navy veterans against the Naval Discharge Review Board, which is also pending in the District of Connecticut. "Almost 5 years ago, the Department of Defense ordered the Army and other service branches to take into account the role that PTSD and other mental health conditions play in veterans' discharges," said Jordan Goldberg, a law student in the Yale Veterans Legal Services Clinic.
"But the ADRB continues callously to dismiss veterans' claims in open defiance of these rules. This lawsuit is about holding the Army to its commitments and securing justice for the veterans whose honorable service has gone unrecognized for too long," Goldberg said.
=========================
December 28, 2018 --- Richard Arvin Overton has died.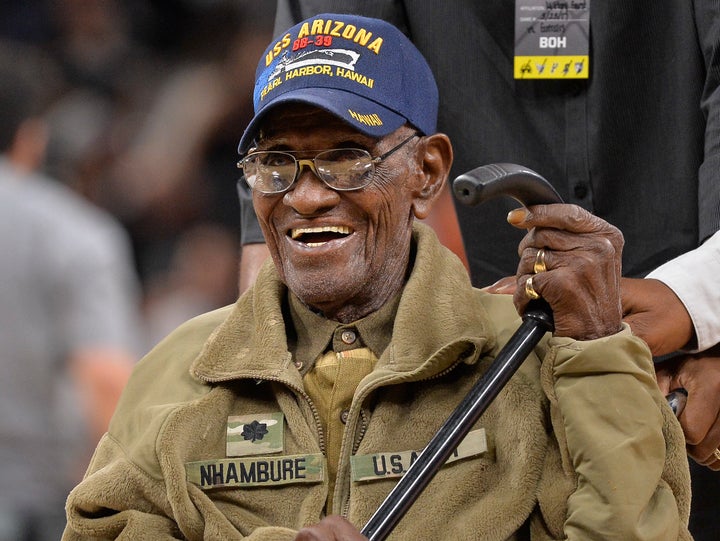 Richard Arvin Overton was an American supercentenarian who at age 112 years, 230 days was the oldest verified surviving U.S. World War II veteran and oldest living man in the United States. He served in the United States Army. In 2013, he was honored by President Barack Obama. He resided in Austin, Texas, until his death.
Born: May 11, 1906 · Bastrop County, TX
Death place: Austin, TX
Parents: Gentry Overton , Sr. · John Overton , Jr. · Jim Gentry Overton
Years of service: 1940–45
Allegiance: United States of America
Rank: Technician fifth grade, U.S. Army
======================================
2019 Military Pay Raise Amounts Released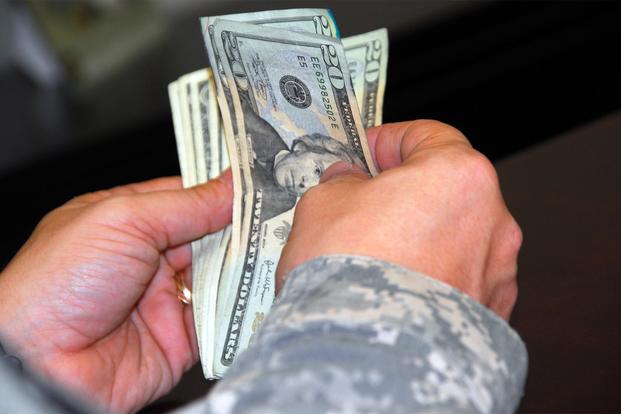 (Photo Credit: U.S. Army/C. Todd Lopez)
December 28, 2018 --- Military.com | By Jim Absher
The Defense Department has released the active-duty and reserve drill pay tables for 2019. Most military members will see a 2.6% increase in their base pay for 2019. Allowances, such as Basic Allowance for Housing (BAH), will also see an increase next year.
The raise will go into effect January 1, 2019, for most military members. Military retirees also will see an increase in 2019. Service members should see the 2.6% raise in their first January paycheck, typically January 15 for active-duty service members, and the payday following their first "drill weekend" for Guard and reservists.
The current partial government shutdown won't affect most military members, since the DoD is funded for 2019. However, Coast Guard members may see their pay, along with any raises, delayed, since they operate under the Department of Homeland Security. That department did not have its 2019 funding approved before the government went into partial shutdown as Congress departed the capital for its holiday break.
Check out the 2019 pay charts here.
Factors That Affect Military Pay
· The annual pay raise
· Longevity raises virtually every 2 years (based on the number of years in service)
· Promotions
· Number of Drill Periods (Guard and Reserve Only)
· Basic Allowance for Housing Increases: BAH (based on location).
· Basic Allowance for Subsistence Increases: BAS
· Special Pay(s) (based on occupations: Language Skills, Combat, Flight, Hazardous Duty).
==================