March 23, 2019 --- Volunteers are needed:
These volunteers are needed for this one and only District #2 Fundraiser for 2019. The District #2 Fundraiser is on Sat, Apr 13th @ the Rainier VFW Post. Social hour starts @ 4:00pm ; Dinner starts @ 5:00pm.

We are getting more volunteers; currently our status is:
· Choosing/Preparing the Dinner (we have 2 of 3) --- we need 1 more volunteer
· Serving the dinner (we have 2 of 4) --- we need 2 more volunteers

· Breakdown/Cleanup (we have 5 of 6) --- we need 1 more volunteer
District #2 pays rewards to all the Youth Essay Contest winners (Voice of Democracy, Patriots Pen and the WA State Youth Essay).
Secondarily, there is an auction. Items are needed that we can put on the auction table. You can bring any donated items to Commander Carl. They need to not be too big to fit in his car; otherwise you will have to take them to his residence --- or call him to come pick up your donation. His phone is (206) 362-1657.
The April 13th event is the only District #2 Fundraiser for the entire year. We have the auction to finalize and Raffle to hold. It all should wrap up no later than 9:00pm. The address for the Rainier VFW Post is 6038 S. Pilgrim St, Seattle.
====================
April 1st --- Purple Heart Recipients will Get Claims Priority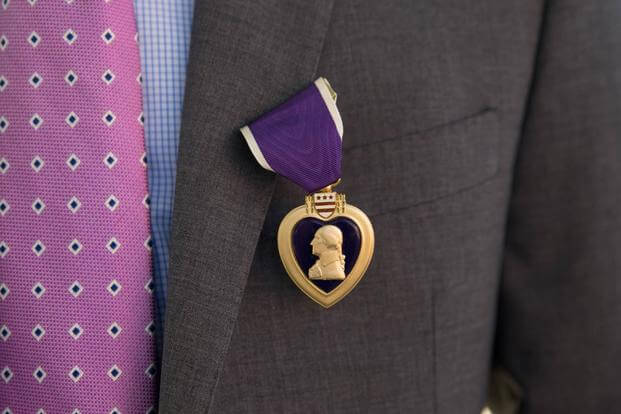 Marine veteran Matthew R. Follett was presented with a Purple Heart in Pasadena, CA on October 19, 2018. Staff Sergeant Follett received the award for injuries sustained while serving as an active duty counter intelligence specialist with 3rd Battalion, 4th Marine Regiment, 1st Marine Division, on January 7, 2010. (Samantha Schwoch/U.S. Marine Corps)
March 3, 2019 --- Military.com | By Patricia Kime
The Department of Veterans Affairs (VA) on Friday released details on a new policy that will allow Purple Heart recipients to move to the front of the line regarding claims. Starting April 1, 2019 veterans who have earned the Purple Heart and are submitting initial disability compensation claims will be added to the existing list of categories that receive priority processing within the Veterans Benefits Administration, according to the VA. The distinction does not apply to claims appeals.
Purple Heart recipients already are treated as a priority for medical care at VA facilities and are exempt from co-payments for care. VA officials said Friday they hope that, by adding combat-wounded veterans to the claims priority list, it will "further improve their overall experience with VA and shows the department's commitment to improving the claims process."
Several groups of veterans receive priority processing for initial claims. They include: Medal of Honor recipients; homeless or indigent veterans; the terminally ill; those older than 85; former prisoners of war or survivors of a POW; the very seriously injured who aren't already receiving VA disability benefits; and those with amyotrophic lateral sclerosis (ALS).
In a hearing before the House Appropriations Subcommittee on Military Construction, Veterans Affairs and Related Agencies on Wednesday, VA Secretary Robert Wilkie announced the change. He said the department is doing it in "recognition of wounds taken in battle."
Wilkie's father, Robert L. Wilkie Sr., was an Army artillery officer who was severely injured during the Vietnam War. He retired as a lieutenant colonel. Wilkie often speaks about the impact his dad's military service and injuries had on his life and his philosophy in leading the VA.
=======================
March 1, 2019 --- MIA Update: This week, the Defense POW/MIA Accounting Agency announced 12 new identifications. Returning home with full military honors are:
1) Navy Reserve Journalist 3rd Class Raul A. Guerra was a passenger on board an E-1B Tracer, en route from Chu Lai Air Base to the aircraft carrier USS Oriskany. On Oct. 8, 1967, radar contact with the aircraft was lost, and adverse weather hampered subsequent search efforts. Wreckage was spotted along a mountainside approximately 11 miles northwest of Da Nang. Because of the location and presence of hostile forces, ground recovery could not be conducted. Guerra, as well as the four other service members on board, were declared killed in action. Interment services are pending. Read about Guerra.
2) Army Corporal Benjamin W. Scott Company M, 3rd Battalion, 21st Infantry Regiment, 24th Infantry Division. In July 1950, his unit was engaged in combat actions against the North Korean forces in the vicinity of Choch'iwon, South Korea. Scott was declared missing in action on July 12, 1950. Interment services are pending. Read about Scott.
3) Army Captain Rufus J. Hyman was an infantry officer with Company A, 1st Battalion, 34th Infantry Regiment, 24th Infantry Division. In July 1950, his unit was engaged in combat actions against the North Korean forces in the vicinity of Kwonbin-ni, South Korea. Hyman was declared missing in action on July 30, 1950. Interment services are pending. Read about Hyman.
4) Army Private 1st Class James C. Williams Medical Company, 34th Infantry Regiment, 24th Infantry Division, when he was killed in action near Taejon, South Korea. On July 20, 1950, eye witnesses stated that Williams was killed while trying to transport patients from the Taejon Air Strip. Despite multiple attempts to recover Williams' remains, he was declared non-recoverable on Jan. 16, 1956. Interment services are pending. Read about Williams.
5) Army Corporal Stephen P. Nemec was a member of Company A, 1st Battalion 5th Cavalry Regiment, 1st Cavalry Division. In late 1950 his unit was engaged in heavy fighting against the Chinese People's Volunteer Forces at Turtle Head's Bend, near the village of Unsan, North Korea. Nemec was killed in action on November 2, 1950 and was buried at United Nation's Military Cemetery (UNMC) Pyongyang. Interment services are pending. Read about Nemec.
6) Army Air Forces Staff Sergeant Carl M. Shaffer was a member of the 38th Bombardment Squadron, 30th Bombardment Group, stationed at Hawkins Field, Betio Island, Tarawa Atoll, Gilbert Islands, when the B-24J bomber aircraft he was aboard crashed into Tarawa lagoon shortly after takeoff. Shaffer and the nine other servicemen aboard the aircraft were killed. Interment services are pending. Read about Shaffer.
7) Army Air Forces 1st Lieutenant Burleigh E. Curtis was a member of the 377th Fighter Squadron, 362nd Fighter Group, piloting a P-47D aircraft on a dive-bomb attack near Briouze, France, when his plane crashed. Witnesses reported that he was not seen bailing out of the aircraft prior to the crash. Interment services are pending. Read about Curtis.
8) Navy Reserve Seaman 2nd Class Ira N. Slaton was stationed aboard the USS Colorado, which was moored approximately 3,200 yards from the shore of Tinian Island, Commonwealth of the Northern Mariana Islands. Early in the morning, the USS Colorado came under attack by a concealed Japanese shore battery. From the attack, four crewmen were declared missing in action, and 39 personnel were killed, including Slaton. Interment services are pending. Read about Slaton.
9) Army Private 1st Class Clifford M. Mills was a member of the 319th Glider Field Artillery Battalion, 82nd Airborne Division, which participated in Operation Market Garden, the invasion of the German-occupied Netherlands. On Sept. 18, 1944, Mills was reported missing in action in the vicinity of Wyler and Zyfflich, Germany. Interment services are pending. Read about Mills.
10) Army Air Forces 2nd Lieutenant Walter B. Stone was a pilot in the 350th Fighter Squadron, 353rd Fighter Group, VIII U.S. Fighter Command. On Oct. 22, 1943, Stone was killed when his P-47 Thunderbolt aircraft crashed in northern France during a bomber escort mission. Because France was enemy-occupied territory at the time of the crash, search and recovery operations were not possible. Interment services are pending. Read about Stone.
11) Navy Machinist's Mate 2nd Class Archie T. Miles was stationed aboard the USS Oklahoma, which was moored at Ford Island, Pearl Harbor, when the ship was attacked by Japanese aircraft on Dec. 7, 1941. The battleship sustained multiple torpedo hits, which caused it to quickly capsize. The attack on the ship resulted in the deaths of 429 crewmen, including Miles. Interment services are pending. Read about Miles.

12) Navy Seaman 2nd Class David B. Edmonston was stationed aboard the USS Oklahoma, which was moored at Ford Island, Pearl Harbor, when the ship was attacked by Japanese aircraft on Dec. 7, 1941. The battleship sustained multiple torpedo hits, which caused it to quickly capsize. The attack on the ship resulted in the deaths of 429 crewmen, including Edmonston. Interment services are pending. Read about Edmonston.
===============
Much Has Been Made from the Sale of Surplus M1 Rifles to Civilians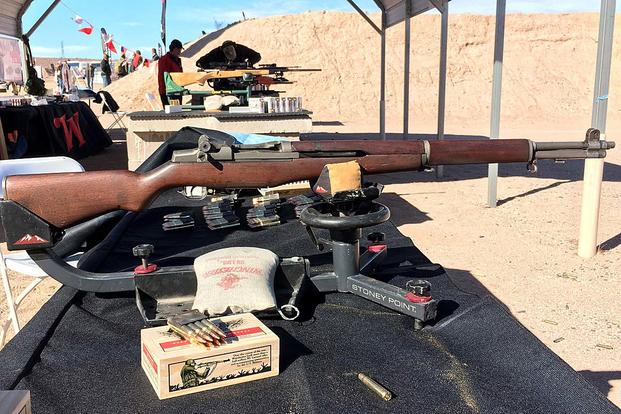 The Civilian Marksmanship generated $196.8 million in revenue from sales of surplus M1 Garand rifles between fiscal years 2008 through 2017, according to the Government Accountability Office. Here, a surplus M1 rifle is shown at SHOT Show 2018.
February 20, 2019 --- Military.com | By Matthew Cox
The Civilian Marksmanship Program (CMP) is well known as the go-to place to buy surplus military firearms, so the Government Accountability Office (GAO) recently tallied up how much money the nonprofit has generated from selling tens of thousands of M1 Garand rifles over the past decade.
Looking backward 9 years from 2017, the GAO reports that the government-chartered CMP has brought in $323 million in revenue. About 61% of those earnings comes from selling M1 rifles, many of which were used in World War II and the Korean War.
The primary source of CMP's revenues from fiscal years 2008 through 2017 was from the sale of surplus rifles, which, according to CMP's internal financial documents, generated $196.8 million in revenue," according to the GAO. The National Defense Authorization Act (NDAA) for fiscal 1996 authorized the CMP to sell certain types of surplus Army firearms to U.S. citizens, including M1 .30 caliber rifles. The program reimburses the Army for the costs to prepare and transport surplus firearms to the CMP, according to the GAO report. Since then, the Army has transferred more than 700,000 surplus firearms to the federally chartered corporation, which is also known for instructing U.S. citizens in marksmanship and promoting firearms safety, according to the GAO report.
"The profit that CMP realized from the sales of surplus rifles could not be determined because CMP's methodology to calculate expenses did not account for all of CMP's costs associated with the sale of these rifles," it added.
The CMP also began selling surplus M1911 .45-caliber pistols in November 2018, so any revenue from that effort was not included in this GAO review, the report states. The NDAA for fiscal 2018 required the Army to transfer 8,000 to 10,000 surplus M1911 pistols for sale to the public during fiscal 2018 and 2019.
In addition to firearms, the CMP also sold commercial ammunition and memorabilia, which generated $76.4 million in revenue. According to its Internal Revenue Service filings for this time frame, the CMP reported earning $49.8 million in interest and dividends from its investment account, the GAO states.
The GAO estimates that surplus handgun and rifles currently available for sale could generate as much as $104.9 million, or "enough to fund CMP's operations for several years. Further, as of September 30, 2017, CMP reported having cash of $3.6 million, and an investment account valued at $188.6 million. This could also allow CMP to continue operations for several years," the GAO states."
===================
A Navy Ship Sailed to Hawaii and Back With No One on Board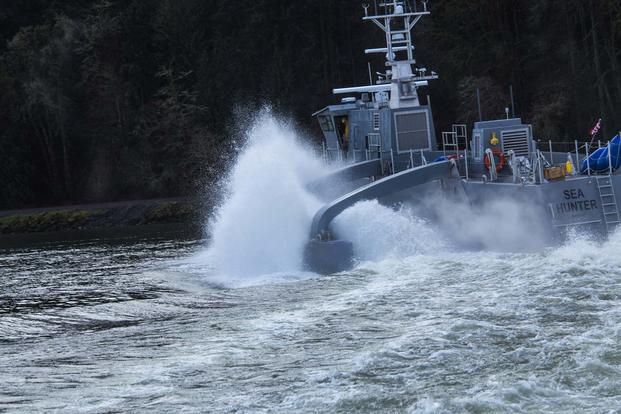 The Sea Hunter, a 132-foot-long self-driving ship, made history by traveling from San Diego to Pearl Harbor and back again without sailors aboard to guide its way. (DARPA photo)
February 18, 2019 --- Military.com | By Gina Harkins
A 132' self-driving ship made history by traveling from San Diego to Hawaii's Pearl Harbor and back again without sailors aboard to guide its way. The Sea Hunter, an autonomous trimaran developed for submarine hunting and counter-mine missions, traveled thousands of miles between San Diego and Pearl Harbor last month. Naval News was first to report on the ship's breakthrough voyage.
Crew members from an escort vessel boarded the Sea Hunter for short durations to check electrical and propulsion systems, according to a press release from Leidos, a science and technology company that designed and built the Sea Hunter. For most of the voyage, though, the ship was unmanned.
"The recent long-range mission is the first of its kind and demonstrates to the U.S. Navy that autonomy technology is ready to move from the developmental and experimental stages to advanced mission testing," Gerry Fasano, the defense group president at Leidos, said in the release. The Office of Naval Research (ONR), which led the test transit to and from Hawaii, declined a request for an interview, citing operational security concerns.
Dan Brintzinghoffer, with Leidos' maritime systems division, said the idea isn't to replace ships with vehicles like Sea Hunter, but to free up personnel aboard bigger vessels to take on more complex tasks. "Autonomous vehicles will likely focus on the 'dull, dirty or dangerous' missions sets and could operate around the world's oceans," Brintzinghoffer said. "For example, an autonomous vessel can conduct hydrographic survey missions, freeing manned ships to accomplish other missions."
When the Navy christened the Sea Hunter in 2016, officials said it could change the nature of U.S. maritime operations. It uses a suite of navigation tools and automated lookouts that allow it to safely sail near other vessels in any weather or traffic conditions during the day or night. The Defense Advanced Research Projects Agency led the design and construction of the vessel and then teamed with ONR for open-water testing.
The project was fully transferred to ONR in early 2018, said Bob Freeman, an agency spokesman, when it moved into a "much more security-sensitive area of research." Leidos is currently building a second Sea Hunter hull, Brintzinghoffer said. The company was awarded a $43 million contract to start construction on the ship that will build on some of the first Sea Hunter's capabilities, Leidos announced last month.
================
February 16, 2019
VFW Attends Secretary of the Army Roundtable: On February 14th, VFW Director of National Security and Foreign Affairs John Towles joined the Secretary of the Army Mark Esper and senior Army officials to discuss the department's priorities for FY 2020, how to improve benefits and care for our nation's service members and their families, and the future of Arlington National Cemetery.
Additional topics of discussion included the need for a robust and strategically driven FY 2020 budget, the success and expansion of the Military Health System GENESIS across military treatment facilities within the Defense Health Agency, an Army Accessions Command modernization update, and an overview of current Army operations occurring worldwide.
Towles provided feedback to Secretary Esper on proposed changes to eligibility for burial at Arlington National Cemetery. Read Federal Advisory Committee's December report, which includes the new eligibility proposals.
===========================
VA to Implement High Tech Training Program: In anticipation of launching the Veteran Employment Through Technology Education Courses (VET TEC) program in April, VA is seeking training providers to help implement this new training course.
The VET TEC program will provide training on information technology, computer software, information science, media application, data processing and computer programming fields. The VET TEC program is part of the VFW-supported Forever GI Bill that made many reforms to education and training programs for veterans. Learn more or apply for the VET TEC program.
===================
VA to Receive 3 New Buildings: VA announced yesterday that it is scheduled to receive 3 new buildings from the Fisher House Foundation. The new facilities will be located in 1) Ann Arbor, Michigan, 2) Aurora, Colorado and 3) Omaha, Nebraska.
The Fisher House Foundation donates housing facilities to VA and the military to act as a "home away from home" for active duty military, veterans, and their families when receiving treatment at a VA medical facility or major military installation.
These facilities are located within walking distance from treatment facilities and provide cost-free housing. Currently, there are 80 Fisher Houses around the world –– 38 are located next to VA facilities. An expansion from 38 to 64 is planned over the next few years. Read more about VA Fisher Houses.
=========================
VFW Blue Water Navy Vet Wins Federal Appeals Court Ruling
Court of law now joins court of public opinion
January 31, 2019
WASHINGTON — The U.S. Court of Appeals for the Federal Circuit reversed a decade-old ruling yesterday that potentially paves the way for the return of earned disability benefits for some 90,000 so-called Blue Water Navy veterans from the Vietnam War.
The case, Procopio v. Wilkie, was supported by the Veterans of Foreign Wars (VFW) of the United States and a number of other veterans service organizations and advocates. It had Secretary of Veterans Affairs (VA) Robert L. Wilkie Jr. being sued by Navy veteran and VFW Life member Alfred Procopio Jr., who was denied service connection for prostate cancer and diabetes mellitus because he never stepped foot on dry land or served within Vietnam's inland waterways.
Procopio, a Life member of VFW Post 6587 in Spring Lake Park, Minn., was assigned aboard the aircraft carrier USS Intrepid, which was stationed inside Vietnam's 12-mile territorial waters. Both of his illnesses are listed among the VA's 14 presumptive diseases associated with exposure to Agent Orange.
The Federal Appeals Court focused on the intent of the 1991 Agent Orange Act, which was to grant a presumption of service connection for certain diseases to veterans who "served in the Republic of Vietnam." At issue was whether service within territorial waters constituted service in the "Republic of Vietnam." By a 9-2 decision, the Appeals Court ruled it did.
"Although very pleased with the ruling, the VFW isn't quite ready to celebrate," said VFW National Commander B.J. Lawrence. "That's because the VA can always appeal the ruling and Congress has yet to pass a Blue Water Navy bill," he said. "But, it is very encouraging to now have a court of law support Blue Water Navy veterans along with the court of public opinion.
We need to get this done and reinforce to tens of thousands of veterans that our nation does have your back when you come home from war. "The VFW now calls on VA to make Blue Water Navy veterans whole as soon as possible, and we stand ready to assist VA." ==================
Wednesday, January 30, 2019
Notice to Blue Water Navy & Coast Guard Veterans from the Joint Service Committee.
According to a recent decision from the U.S. Court of Appeals for the Federal Circuit, Navy and Coast Guard Veterans of the Vietnam War may be entitled to compensation for disabilities resulting from exposure to Agent Orange within the territorial waters of the former Republic of Vietnam.
Those "Blue Water" veterans that suffer one or more of the following disabilities are covered by the scope of the Court's decision which includes the following:
- Non-Hodgkin's lymphoma
- soft tissue sarcoma, chloracne
- Hodgkin's disease
- porphyria curtanea tardia
- respiratory cancers (cancer of the lung, bronchus, larynx or trachea)
- multiple myeloma
- diabetes mellitus (type II)
- peripheral neuropathy
- ischemic heart disease
- prostate cancer
- B-cell leukemias
- Parkinson's disease
- L Amyloidosis
In its January 29th decision, the Federal Circuit overturned the Department of Veterans Affairs' (VA) long-standing policy of refusing compensation for Agent Orange related disability claims from Navy and Coast Guard Vietnam veterans that had not set foot ashore in Vietnam.
The Court overruled the VA policy and determined that Congress intended to include "Blue Water" veterans within the scope of the 1991 Agent Orange Act to include veterans serving within the 12-mile territorial waters of the former Republic of Vietnam.
The Courts have now opened the door to tens of thousands of Navy and Coast Guard veterans suffering with Agent Orange related disabilities. Given the extraordinary numbers of "Blue Water" veterans, the scope of the Courts decision could include several thousand Navy and Coast Guard Vietnam Veterans that were previously denied compensation for their disabilities.
The Joint Service Committee, working from the American Legion Hall in Mountlake Terrace WA encourages any Navy or Coast Guard Veterans with Agent Orange related disability to call or stop by any Tuesday or Wednesday. Assistance will be provided with any questions they may have, or claims they may seek, to make with the VA.
The Joint Service Committee is committed to helping any veterans from any branch of the military with new claims and denial of claims by the VA. For more information, contact Rob Caldwell at (206) 963-2864, or go to Wilcox Hall located at 22909 56th Avenue West in Mountlake Terrace, WA.
=====================
Lawmakers Race to Introduce Veterans' Medical Marijuana Bills in New Congress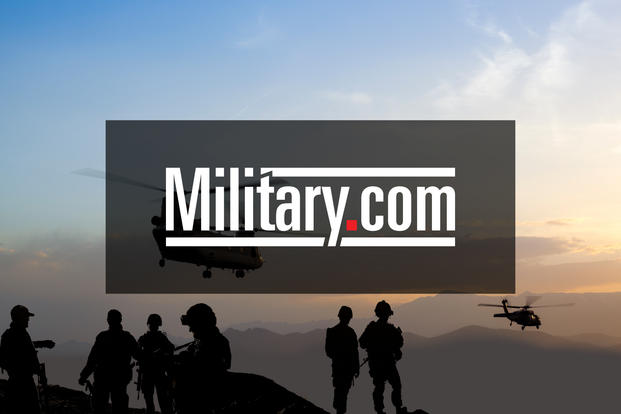 A newly transplanted cannabis cutting grows at a medical marijuana cultivation facility in Massachusetts. (AP Photo/Steven Senne)
January 25, 2019 --- Military.com | By Patricia Kime
Less than a month into the 116th Congress, lawmakers on both sides of the aisle in the House and Senate have introduced 4 bills that, if signed into law, would require the VA to conduct research on medical marijuana.
Tennessee Republican Representative Phil Roe, an MD and ranking member of the House Veterans Affairs Committee, introduced legislation Thursday that would require VA to conduct research on medicinal cannabis, to include marijuana and cannabidiol -- a component extract of marijuana - for post-traumatic stress disorder (PTSD), pain and other conditions. The bill, H.R. 747, is similar to one introduced Wednesday by Representative Lou Correa, Democrat California, H.R. 601.
Great Pay & High Demand Why Cybersecurity Careers are Ideal for Vets
In the Senate, Senators Jon Tester, Democrat Montana, and Dan Sullivan, Republican Alaska, introduced a bill, S. 179, on January 17th directing the VA to carry out clinical trials on the effects of medical marijuana for certain health conditions.
And on January 16, 2019 Rep. Matt Gaetz, Republican Florida, introduced legislation that would create a pathway for VA to obtain the marijuana needed for research. Gaetz's bill, H.R. 601, would increase the number of manufacturers registered under the Controlled Substances Act to grow cannabis for research purposes. It also would authorize VA health care providers to provide information to veterans on any federally approved clinical trials.
"For too long, Congress has faced a dilemma with cannabis-related legislation: we cannot reform cannabis law without researching its safety, its efficacy, and its medical uses -- but we cannot perform this critical research without first reforming cannabis law," Gaetz said in a statement.
"The VA needs to listen to the growing number of veterans who have already found success in medicinal cannabis in easing their pain and other symptoms," said Tester, ranking member of the Senate Veterans' Affairs Committee, in introducing his bill.
Lawmakers have tried for years to influence the debate on medical marijuana, offering numerous proposals on veterans' access to marijuana and its derivatives. Marijuana remains classified as a Schedule 1 drug under federal legislation, meaning they have a high potential for addiction and "no currently accepted medical use."
In 2018, bills were introduced that would have required the VA to conduct research on medical marijuana, allowed VA providers to complete the paperwork patients need to obtain medical marijuana in states where it has been legalized and decriminalized the drug for veterans regardless of where they live. None made it into law.
In August, 2018, Tester, Roe, Sullivan and former Democrat Representative Tim Walz, now governor of Minnesota, wrote VA Secretary Robert Wilkie urging him to support "rigorous clinical trials" on medical marijuana. They pointed out that VA is currently conducting 2 small-scale studies, adding that veterans "deserve to have full knowledge of the potential benefits and side effects of this alternative therapy."
"The pervasive lack of research makes [providers'] jobs even more difficult, leaving VA clinicians flying blind without concrete recommendations to veterans," they wrote. To date, 33 states, the District of Columbia, Guam and Puerto Rico have made marijuana legal for medical purposes. Roe said that, as a doctor, he believes medical research is needed to determine whether treatments are safe and effective.
"While data remains limited, surveys have shown that some veterans already use medicinal cannabis as a means to help with PTSD. ... I would never prescribe to my patients a substance unless I was confident in its proven efficacy and safely and we need to hold medicinal cannabis to the same standards ... if research on the usage of medicinal cannabis is favorable, I am confident that it could become another option to help improve the lives of veterans and other Americans," he said.
In 2017, the American Legion, the largest veterans organization with nearly 2 million members, urged the federal government for marijuana to be removed from the list of controlled substances. The organization also adopted a resolution urging passage of laws that would allow VA doctors to recommend medical marijuana. ======================